Sanjeev Kapoor is another name that is very well known all over the world.This book comes from this master chef who has come up with these drool worthy recipes that need no oil for cooking!!!!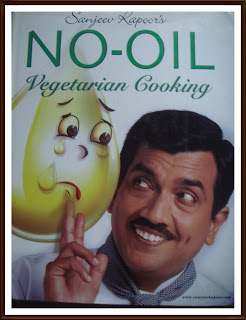 The book starts with an authors note on why using less oil in cooking is beneficial to health and moves on to the measurements table.
Color photographs accompany most of the recipes and its a total delight to the senses.The pictures are sure to make you drool.
The book covers
Beverages,Soups & Salads – 18 recipes
Snacks and Starters – 16 recipes
Main course – 24 recipes
Accompaniments – 19 recipes
Sweets – 7
Annexure – 3 basic recipes + From our nutritionists' desk
There is everything from total Indian recipe like the Dahi Idli,Patra,Suji kheer to Thai dishes like the Thai green curry with vegetables,to continental dishes like Jacket potatoes with baked beans stuffing.
Looking at the clicks it makes me drool at the point that food looks so good without oil especially the Soya kheema,Anjeer ka meeta[Figs dessert],Red capsicum soup with lemon…
A lovely book for those looking for fat free cooking and trying to lose weight / maintain a healthy weight.
At a glance:
Book – No Oil Vegetarian Cooking – No-Oil Vegetarian Cooking
[Click link to buy from Amazon]


Author – Sanjeev Kapoor


Publisher – Popular Prakashan


No. of pages – 131


No.of recipes – 87
Please note that I have not been paid to write this review.
We,Srivalli ,Reva , Monika and myself, are doing a blogging marathon this month.Peek into their kitchen to see what's cooking there..
Happy Browsing..