Lil Angel loves crispy dosa's.Well,I think that's the case with most of the kids.Rawa dosa is yet another favorite of hers.Instead of going out to eat this yummy dosa, I make it at home for her to relish.This dosa is very quick to prepare and requires no grinding or fermentation.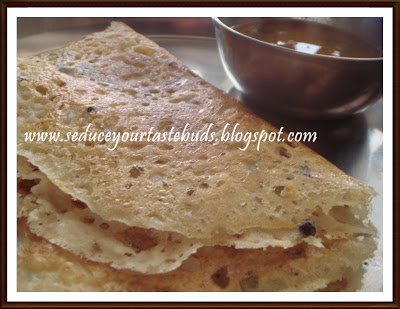 Rawa roast


I use:
Roasted Semolina – 1 cup
All Purpose Flour / Maida- 1/4 cup
Rice flour -1/4 cup
Sour yogurt / curd – 1- 2 cups
Peppercorns- 1 teaspoon
Cumin seeds- 1 teaspoon
Curry leaves- a few torn
Salt to taste
In a large bowl combine semolina, rice flour, all purpose flour , salt and mix well.
Beat curd and add to the semolina-flour mixture.[See No.3 in note below]
Stir well to get a batter of pouring consistency.
Put in peppercorns, cumin seeds and curry leaves.
Let it rest for 10 minutes.You can utilize this time to prepare a side dish[chutney]
Heat a griddle.Take a ladle full of batter and start pouring it in a circle from the edge to the center.Do not spread the batter with the ladle and do not fill the small gaps.
Drizzle a little oil around the edges.
Cook till it turns crispy and the edges leaves the griddle.
Gently flip it over and cook for a couple of minutes
Fold into a semi circle / triangle and serve hot with a side dish of your choice.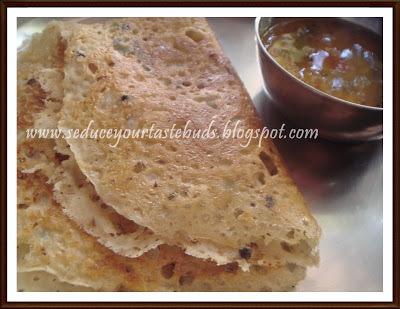 Rawa Roast served with Sambar
Note:
Rawa dosa take a couple of minutes longer to cook than the regular dosas.So please be patient till it cooks.If you try to flip it before it gets cooked, the dosa is bound to tear.
If the first dosa sticks to the griddle, add some more rice flour to the batter.Pour a teaspoon of oil on the griddle and rub the griddle with the cut surface of an onion and then proceed.
The amount of curd used depends on the absorption capacity of the flour and semolina.Use at least 1 cup sour curd and the rest can be made up with water.
Since Lil Angel does not like to bite into green chilli pieces, I don't add it to the batter.If you don't mind biting into them you can add finely chopped green chillies to suit your taste.
You can add chopped roasted cashews to the batter to give a nice crunch to the dosa
Another variation is onion rawa dosa.After pouring the batter in step 6, sprinkle a hand full of finely chopped onions and cook for a few minutes.[You need not flip it over].Fold in a triangle and serve.
For a spicier version, sprinkle a teaspoon of milagai podi over the onions and fold and serve.
You can also add chopped onions and coriander leaves to the batter and prepare it in the usual way.
This crispy dosa is on its way to Kids delight- Restaurant recreation hosted by Champa of Versatile Vegetarian Kitchen,an event started by Srivalli.Check out the other delicious kid's favorite in running roundup posted here
Bon Appetit…