After the blogging marathon, I took a few days off from blogging and today I am back with Horsegram crepes.Are you thinking that this recipe is being repeated? Yes, I have posted Kollu dosai earlier.It was more like the instant variety.Today's recipe is the one which needs time to soak, grind and ferment. I saw this in Red Chillies blog and knew I had to make this. Those of you who are regulars to my blog will know how much I like this legume.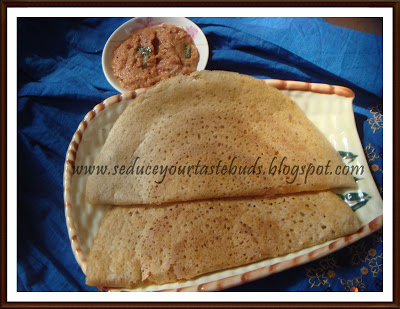 I used:
Horsegram – 1/2 cup
Rice – 1 cup
Urad dal-1/2 cup
Channa dal – 2 tablespoons
Salt to taste
Soak horsegram, urad dal, rice and channa dal over night.
The next morning wash with fresh water and grind to a smooth paste using a little water.Do not add too much water as the batter will become watery.
Remove the batter from the grinder / mixie into a vessel and mix salt and allow to ferment for 7-8 hours or till the batter doubles in volume.
Once it is fermented, mix once again and prepare dosas on a heated griddle.
Serve with a side dish of your choice.
Store the remaining batter in the refrigerator and use within a couple of days.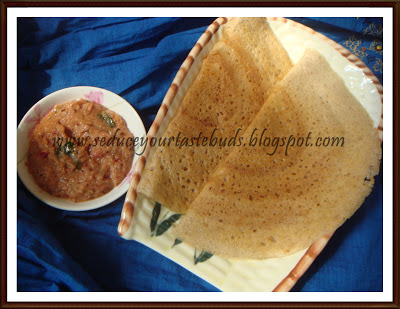 Sending this to Srivalli who is celebrating her blog anniversary with Breakfast Mela and to Jaya Wagle who is hosting the 34th edition of My legume Love Affair, an event started by Susan of The Well Seasoned Cook
If you too love this legume, here are a few dishes that may interest you…
Kollu Kadaiyal – A creamy side dish to go with steamed rice.Also known by the names kollu masiyal,kadanja kollu.This dish is a typical one from the Kongu cuisine.
Sprouted horsegram salad -Horsegram sprouts cooked and lightly seasoned.Can be had as a snack with tea / as a side dish for lunch.
Kollu paruppu podi – A spice mix to go with steamed rice.
Kollu Rasam – Tasty horsegram soup ,can be served as such or with steamed rice.


Horsegram Dosa / Kollu dosai / Horsegram crepes-A tasty and healthy breakfast dish.This is the instant variety
Kollu-paruppu vadai – A Crispy crunchy snack,perfect with lunch or a piping cup of hot tea
Kollu Idli– A tasty and healthy variation to the regular Idli's
This day That year…
2010 – Read a short piece of food and fiction and indulge on an Oriental Curd Rice
2009 – Crispy Onion Roast
Bon Appetit…