Most of the times when I give a diet advice to my diabetic patients, I find that they are more comfortable if I tell them to have chapathi's for dinner.In case I suggest some other dinner menu,they would look at me like I have said something terribly wrong.Be it educated or illiterate people, young or old, most diabetic prefer to have chapathi for dinner. So I go along with their idea and very soon even before they are due for their next check up with the doctor, they find chapathi 'boring'.Then I go ahead and suggest other dishes that are suited for them and they are still not convinced yet they promise to try.
MIL too prefers Chapathis for dinner and like most of them finds it monotonous.So I started make chapathi's with other flours that have a low glycemic index like Buckwheat flour.Buckwheat flour has a glycemic index of 54 meaning it falls under the low glycemic index foods.[Foods that have glycemic index less than or equal to 55 is considered to be in the low category.].
Buckwheat has a high fiber content and thus low in net carbs.Adding spices to the flours enhances the taste and pairing it with a pulse makes all the amino acids available to the body.[Read here to know more about making protiens more available to the body from plant sources].So this is another alternative to plain chapathi.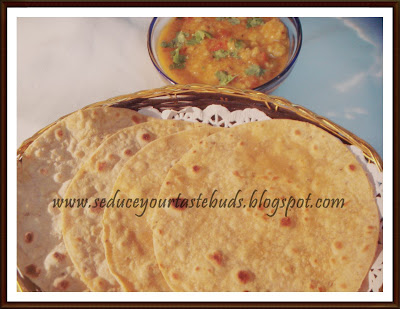 I used:
Buckwheat flour – 1 cup
Wheat flour- 1/2 a cup
Turmeric powder- a large pinch
Carom seeds- 1/2 a teaspoon.lightly crushed
Garam masala – 1/2 a teaspoon
Salt to taste
In a bowl combine all the ingredients.
Add water little by little to make a firm dough
Pinch out balls and roll into chapathis.
Cook on a heated griddle till brown spots appear on both sides.[I usually don't drizzle oil while cooking Chapathi]


Note:
Buckwheat chapathi's taste best when served hot.When the cooked chapathi is kept for sometime, they turn a little hard.
You can also add fenugreek leaves, coriander leaves etc to the dough to add taste and nutrition.
Sambar power or any other masala powder can be used instead of garam masala.
I have paired it with Mangois Ki Khadi ,so that the amino acids from the cereal and pulse combine to form a complete protein.
Sending this to Srivalli of Cooking 4 all seasons,who is celebrating her blog's Birthday with a Breakfast mela….
More buckwheat recipes….
Buckwheat noodles with vegetables
Galettes De Sarrasin – French Buckwheat crepes
Check out the topics and the marathoners for this week….
Diabetes Diet/Management: Srivalli, Champa, Harini, PJ
Kid Friendly Recipes: Kalyani, Shylaja, Veena
Seven Days of Soup:Usha, Sowmya
30 Minutes Meals: Priya Suresh
Seven days of Cakes: Anusha
This day that year….
2009 – Chapathi Wrap
Bon Appetit…