After I made the Dragon fruit banana smoothie, I wanted to try a milkshake and made this as a breakfast substitute. With the summer heat becoming unbearable, we had this one morning before taking off on a trip to the vegetable market. Lil Angel found it filling and did not ask for anything to eat till we came back home some one and a half hours later. Yes, we spent that much time walking around the new farmers market near our home . Most of the time was taken up by out quest to locate a rare or new[ to us] vegetable or fruit.
So back to the recipe, as I said, it is filling and a delicious one. I am not giving the quantity of the ingredients as you can add it to suit your taste. Well, the actual fact is that I forgot to measure and just added the ingredients one by one as and when I saw them.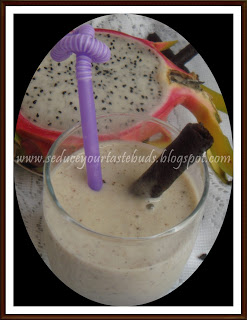 I used:
Dragon fruit cubes
Banana slices
Chilled milk
Raisins
Quick cooking Oats[ slightly roasted]
Blend all the ingredients till smooth and serve immediately.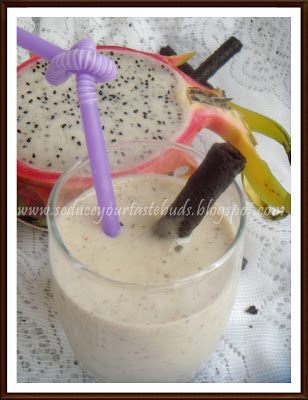 Note:
I did not add sugar as the bananas were way too sweet.
This goes to Srivalli's kid's delight event hosted here with the theme Cool Comforts , Nayna's Mocktails and cooler event, started by Pari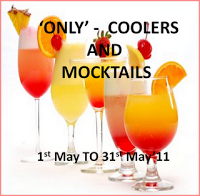 and also to Divya's Show me your summer cooler event


Other recipes with Dragon fruit
Dragonfruit Salad
Dragon fruit Banana Smoothie
This day That year…
2010 –Rasa Vadai
Catch up with my fellow marathoners in BM#5 and check out what they are cooking today…
Curry in a hurry under 30 min: Priya Suresh, Srivalli, Usha
Seven Days of Colorful Dishes Kid's Special: Vardhini,
Seven Days of Indian Sweets: Harini, Suma, Veena
Seven Days of Regional Specials: Aarthi, Kalyani, Pavani, Shylaja
Summer Coolers: PJ– That's me, Vaishali
Under 15 mins Quick Breakfast: Sushma Pinjala
Happy cooking…