It's time again for the Blogging Marathon initiated by Srivalli. This time I chose the theme "Seven different ways to use an Ingredient". As the title of the post suggests and as you may have guessed, I have chosen Oats and plan to post different types of recipes using this famous grain. I have already written about this nutritious grain here.
Ven Pongal, as we all know, is a famous South Indian breakfast. In this recipe I used oats instead of rice and followed the same method of preparation.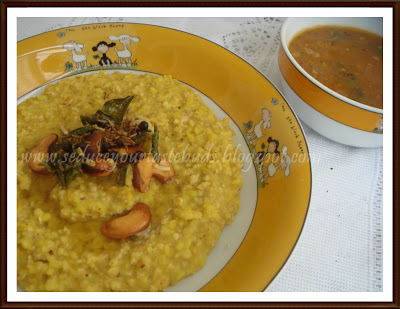 I used:
Quick cooking Oats -3/4 cup
Moong dhal – 1/4 cup
Turmeric powder – a pinch
Cumin seeds – 1 teaspoon
Whole black pepper, lightly crushed – 1 teaspoon
Ginger- a small piece, minced
Curry leaves – a few
Roasted cashew nuts – a few
Salt – to taste
Ghee- 1 tablespoon
Roast the moong dhal till light brown and fragrant.This step is optional. Roasting the dal enhances the taste of the dish.
Pressure cook moong dhal with turmeric and enough water till mushy.
In a pan put in the oats and roast till fragrant.
Switch off the flame and add the cooked moong dal, salt. Mix well.[You can simmer here but sometimes the oats gets burnt before we mix in the dhal.Switching off the flame , mixing well and then cooking it is safer]
Switch on the flame and cook till the oats is soft and the extra water has been absorbed. In case it is too dry add a little warm water.Remove from flame.
Heat a small pan with ghee and add cumin seeds, black pepper, curry leaves, ginger.
When it splutters add the roasted cashew and remove from flame.
Pour over the oats pongal and mix well.
Serve hot with sambar / chutney.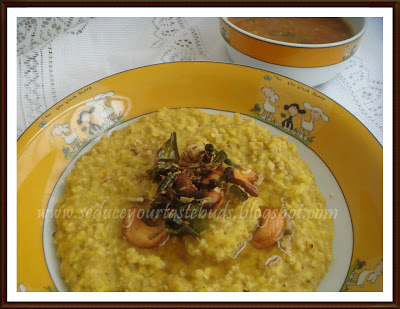 Note :
You can omit Turmeric powder if you prefer white colored pongal
Whole black pepper can be used as such if you feel the crushed pepper is very spicy
Any vegetable oil can be used instead of ghee


Check out blogging marathon page to see what my fellow marathoners are cooking this week.
The Oats page also has some delicious ways to use this grain. Do check it out…
Other Pongal varieties that you may like
Ven Pongal
Rava Pongal
Sakkarai Pongal
This day That year…
2010 – Nutrient demystified – Viamin B1 – Thiamine
Bon Appetit…