An abundance of curry leaves in our backyard is always a source of this fresh herb for the meal. When ever the need arises,which is everyday,I just go and grab a handful. Since we use this herb for seasoning most of our dishes, the presence of this fresh herb seems like a blessing for me.
Today, I made this curry leaves chutney with a slight variation.Usually I add a variety of roasted dals to this chutney but today recipe has no dal.It is curry leaves in the concentrated form.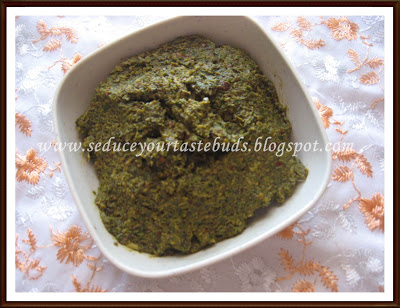 Curry leaves – 2 bunches
Roasted mustard- 1/2 teaspoon
Garlic – 5 pods
Ginger – 1″ piece
Tamarind paste- 1 teaspoon
Asafoetida powder – a pinch
Coconut grated – 2 tablespoons
Salt – to taste
Oil-1 tablespoon
Heat oil in a pan and put in asafoetida,garlic cloves and chopped ginger.Saute for a couple of minutes.
Reduce the heat and add the curry leaves, grated coconut.Saute for 2 minutes.Switch off flame and let it cool.
Grind the roasted ingredients along with mustard, tamarind paste,salt.[Add water according to the consistency you prefer.]
Remove into a dish and serve with steamed rice.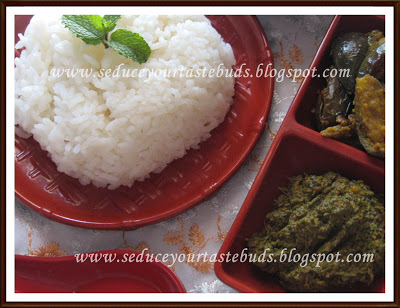 Here are some other recipes with curry leaves
Karuveppilai Thuvaiyal #1
Curry leaves flavored rice # 1
Curry leaves flavored rice rice # 2
Curry leaf powder
An easy way to Dry curry leaves at home in your microwave if you have surplus and use later.
This Day That Year….
2010 – Carrot rice with flax seed spice mix
2009 – Potato Podimas
Bon Appetit….