I sat on the,cross legged, surrounded by charts, stickers, marker pens, glitter pens,scissors and the craft book.I looked at the clock and it showed 9 pm,Sunday. I was clueless and I had very less time to finish off the project.I asked dad for some ideas and tried to visualize the pages.
Soon, I started and when I was no where near the half way mark, the time was 10.30 and my legs were already aching . I thought sitting on the floor was a better option so that I can spread all the stuffs around me. But I was wrong!
The project, dear friends, was for my daughter who has just started school and today [Monday] is the last day to submit it. Blame my memory for forgetting the last date and pushing stuffs to the last minute.
Well, mdist Lil dude waking up , an upset Lil Angel going to bed because she could not sit with me to finish the project, me not able to work at night, the project and this post that was due yesterday got postponed.
Getting up early this morning and finishing off the remaining of what I started yesterday, the project was adjudged the best work by Lil Angel who saw it when she woke up!What more do I need!
Now that she is off to school, it is time to post the recipe – A treat for my Lil Angel when she comes home this evening.Her favorite – Ice cream and that too with loads of nuts.
This kulfi / Indian style ice cream is made for the South Vs North Challenge. We are a group of food bloggers who love to challenge ourselves with new Indian dishes. This group was started by Divya Pramil of You Too Can Cook and this month is the 11th edition.This month Shruti of Shruti Rasoi challenged the South Indian team to prepare these kulfis.
A little note on the challenge…The members are divided into two teams – The north and the South team depending on where they hail from. The members of the opposite group pose challenges each month to the other group and the challenge is to prepare and post it. Each and everything gets points here.Like, whoever posts the first, earns extra points for the group, then there are points for posts getting most number of comments,best presentation and even for the maximum number of participants. This is real fun for us but I wonder how Divya has been patiently ranking us!
This is also my second post for Moderator's choice, where Srivalli had given us several options
to choose from and it made my life a lot easier.So from the choices I
have this ice cream / kulfi today that falls under the category – Kid's Delight – After school treats.
This is also off to Nisha whos is hosting Srivalli's Kid's delight series, with the theme After school treats
I used:
Full fat milk -1 litre
Condensed milk- 50 ml [See notes below]
Sugar – 1/2 cup
Cornflour – 2 tablespoons
Cardamom powder- 1/4 teapoon
Saffron – a few strands, soaked in a tablespoon of warm milk
Chopped pista nuts- 1/2 cup
Take the corn flour in a small bowl and add a little milk to it and make a thin paste without lumps. Keep aside
Heat the remaining milk,condensed milk,sugar and bring to boil. Simmer till it reduces to 3/4 the original volume.Scrap off the cream from the sides and add to the milk so that it is all the more creamier.
Put in the corn flour mixture and stir well without any lumps.
Cook for a few minutes till the mixture thicken a little more
Gently rub the saffron into the milk in which it is soaked and add it to the milk mixture.
Next in goes the chopped nuts and cardamom powder.
Remove form heat and cool completely.
Pour into Kulfi molds / Popsicle molds / Earthen pots[cover with a foil before freezing].Freeze till set and serve….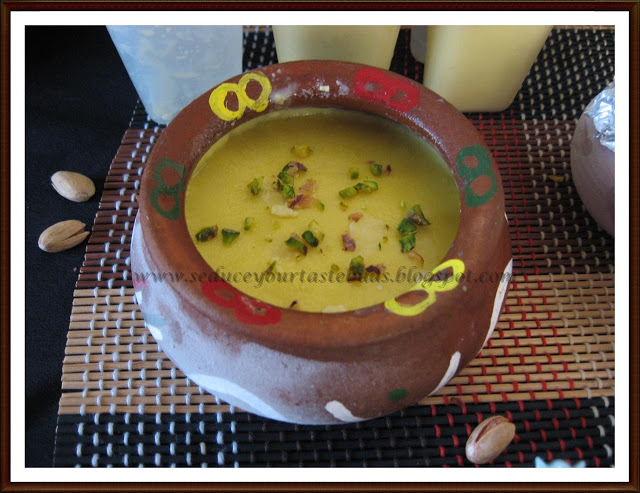 Note :
The original recipe uses 1/2 a tin of condensed milk. I had 50 ml only So used it up and the taste and creaminess was still great!
Also I omitted the rose essence from the original recipe. If using , add 1/4 teaspoon after taking off the kulfi mixture from the heat.
Lil Angel loved every bite of it .We have a lot more of these kulfis in the freezer to share with our friends who will be visiting us shortly. Shruti, this is indeed a keeper recipe and something I will be preparing quite often…
Bon Appetit…