I had written this post – Huo Guo, along time back [exactly 4 years ago!] and I noticed that the pics were not so clear and then there was something more to add to the write up. I wanted to share this special post with my BM team and hence wanted to re-write this post for the special A-Z blogging.
When compared to the old post, this once has clearer pics and also new pics from another place we dined at. So I will take you on a out for dinner now….
H- Huo Guo
Theme – Misc / Non Recipe Food Post
I will start this post with a question…
Which type of restaurant would you like to dine out at?
I will give the options –
1.A restaurant which is so very fancy and serves the meal on exquisite plates and each dish you ordered keeps flowing- piping hot from the kitchen one after the other….
Or
2. A restaurant that's not too fancy, you order the menu and the ingredients are brought to your table and you cook your own meal??
I know…!! Most of us prefer the option 1, rite.
Who would go out to a restaurant and cook their meal there.. Do I hear-"Rite!!I would rather stay at home and cook my meal than dress up and go out for dinner and cook the meal there"?
You might just change your mind about option 2 after reading this post….
Let me introduce you to option 2 –Welcome to Huo Guo!!!!
"Huo guo" is the Chinese style of 'self- cooking- way- of- eating'.It literally means Fire pot,meaning there is a pot bubbling with a soup/broth where you can put in a wide range of goddies ranging from veggies,tofu,meat ,eggs ,fish and other forms of meat ,wait till they are cooked and enjoy a leisure dinner.
A stove or a hot plate is placed beneath the centre of the table and a vessel is placed above it, into which the veggies/meat are to be cooked in the stock. The stock/soup can be vegetable broth or meat based and the meat based broth are widely famous here.
Let me start from the very beginning. Wait, I don't mean to start the history of hotpot ,just my experiences…
Eating out in here in China is a very daunting task for me, especially since I am a vegetarian.. I would rather prefer simple rice based dish at home than eating out because of my experiences in the restaurants. Here vegetarianism seems to be unheard of,specially in the restaurants.
During the initial periods[that was 2 years ago!] of "trying" to find out a vegetarian meal in a restaurant, I have encountered so many events that have made me a "restaurant-food hater".All the dishes seem to have a little bit of pork, egg or shrimp in spite of being labelled "vegetarian". Now, how good can that be!!!
In any case, I have very few choices for eating out like Dumplings or KFC, and pizza hut but there too my choice for vegetarian menu is very limited.
This being the case, one day hubby dear took me out for dinner the first time after I returned from India with our lil angel. Before we started he said he was taking us[me and lil angel] to a new restaurant. My repeated questioning just got a smile as the reply!! I was a bit skeptical if I would be able get anything at all to eat .Soon a friend of ours joined us and off we went to the 'anonymous' restaurant.
As soon as we entered the restaurant, I found myself being in a large, smoky place packed with people. Each and every table, almost 200 of them, was full and people were sitting around something that gave off 'vapors'! Now that's not very encouraging rite?
It was the peak of winter and place was 'welcomingly' warm! I followed hubby through the tables where I noticed what gave out those vapours and we managed to get a table and off my friend went to order for us.
A little while later, a cute little waitress got us trays of assorted "dishes". There were a medley of thinly sliced vegetables – Pumpkin,cauliflower,potato.varieties of mushrooms,tapioca ,a wide range of bean curd products,uncooked noodle varieties,and of course some starters and cool drinks.As hubby and my friend took me through the process of eating at a hotpot,I grew excited….
Thus began my love affair with huoguo…
Once you step into the restaurant you feel that you are entering a forest with giant mushroom,cherry trees and the tables are places between these giant trees.The ambiance is very good .
You have two types of vessels for the hot pot-one is a like a basin into which a single type of soup is poured and the other is the one with a partition so that you can have plain broth on one side and spicy broth on the other side. We always select the partitioned one as hubby is extremely fond of spicy food whereas I like my food mildly spiced.I also like to add a bunch of coriander leaves to the broth for extra flavor.
The soups/broth have some flavorings.You can find a slice of tomato ,some spices , a few mushrooms, bean sprouts in the non spicy broth and a dark colored, flavored and highly spicy broth on the other side of the partition has sechuan pepper, cinnamon stick, and other whole spices
The vessel with the soup,getting heated and awaiting the dishes!!!
Veggies and other goodies added with the soup and boiling-awaiting hungry tummies!!
When the vessel is brought to the table,this vessel is half full and the waitress adds more broth and you let it come to a mild boil before adding the veggies inside. Since they are boiling all the time [i.e till you finish your meal ] we have to keep adding more soup as the volume decreases. A waitress is usually available with a pitcher of soup to help you refill the pot.
Here is what you do at a hotpot restaurant…You have to put in the veggies or any other "dish" you ordered and wait for it to cook,just a couple of minutes since they are thinly sliced, and use your chopsticks to pick them out,eat them as they are or use a dipping sauce-you get a wide range starting from a very spicy version of chillipaste,to mildly spiced tomato-chillipaste,peanut butter,soy sauce,vinegar etc.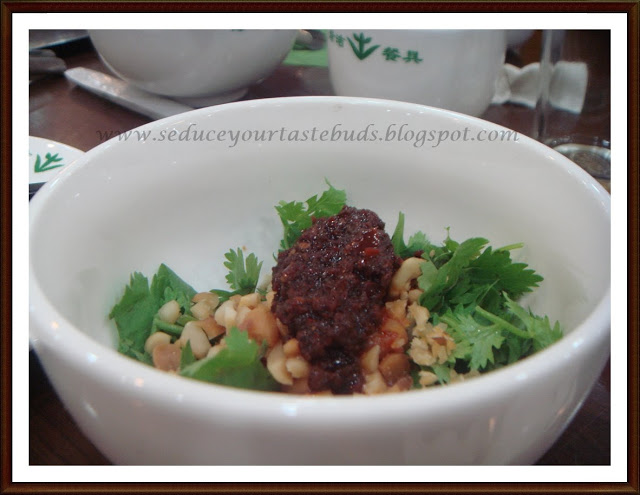 Xianlajiang / Spicy chilli paste with coriander and peanuts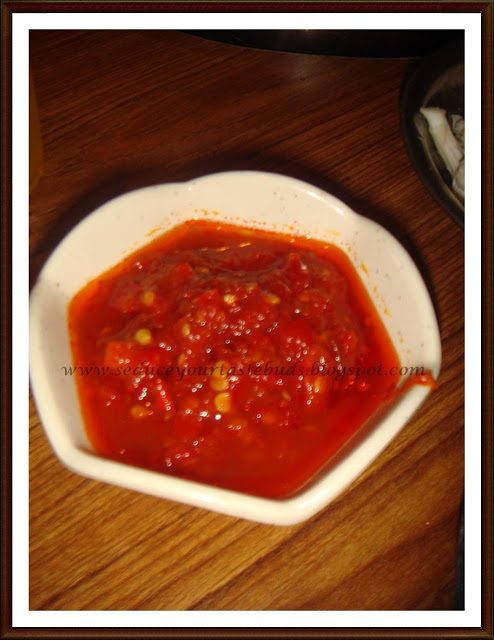 Tomato – Chilli paste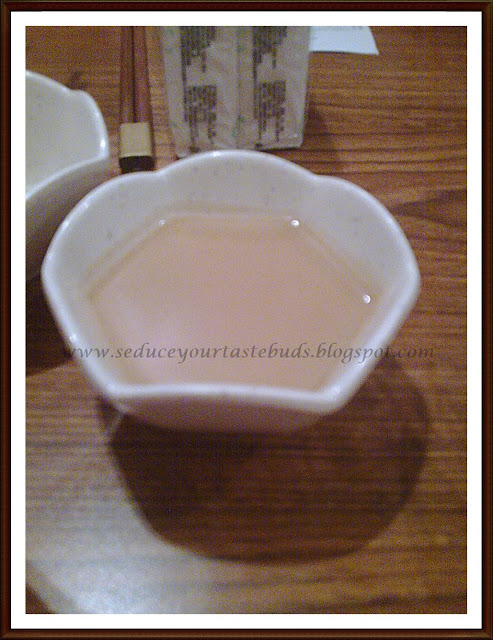 Peanut sauce
In some restaurants,they have a individual huoguo pots.This means you have one small pot for yourself [which is heated by candles] and u can add any flavoring you want to suit your taste.
When we visited Xian, an ancient city in China, we immediately picked up a hotpot restaurant from the list that was offered to us by our travel agent. But I was so disappointed at the individual pots. [We like the one that we are used to-a central pot.]
Our regular style hotpot is actually so much fun where you sit around it and talk and wait for the "dish" to be cooked and eat a bite at a time. Yes, the food is piping hot!!There are so many times when I have come home with a scalded tongue!!!
We dined out in a hotpot that has vegetarian broth for the soup and we go there almost every weekend. Weekends at our favorite hotpot is so crowded that we have to wait to get a table.[As I told you earlier,there are around 200 tables there!!!].Sine we are 'regulars' there and have a credit of being a 'foreigner', the floor manger bypasses the waiting list and gets us a table real quick!!!
I feel this is one kind of restaurant[hotpot ,in general] where I can overeat and still not feel guilty-The food is just veggies and also non spicy and no fat..What else can you ask for when you eat out !!!!
Hotpot has become was our favorite joint now anywhere we travel within China but the style of service varies slightly from place to place and even restaurant to restaurant with a city!
I strongly recommend anyone who can get a chance, to try out this Huo Guo restaurant. Its an experience to relish!!
Now that you have read this really long post, here is the visual treat….
Some other stuffs that go into the hot pot-Mushroom,Bean curd products,coriander[ for flavor],etc
Rice noodles
Mushroom and potato slices
Greens and black mushroom
My favorite (white) pumpkin
Just a few days short of our return to India, we found another restaurant – hot pot style and we decided to check it out. It was in one of the huge malls and the restaurant was a little classier than our usual joint.
The menu card had several pages and here is a sample…
The bowls here had three compartments. the centre one to keep the cooked food and on either sides for the sauces/ flavorings.
Here is a sample of what we ordered…
When I saw this in the menu card, I thought it was pappad and ordered it. Only after my friend explained it to me , I understood that it was fried tofu!! This was very new to me and it was good to eat as such instead of dunking it into the soup.
Another thing that amazed me in the new place was the number of sauces / flavorings/ spice mixes that were available. There was a separate room for the sauces, spice mixes and sides!They were placed on tables along the walls so that you can move around freely in the centre before selecting what you need .You just need to pick your bowls, walk over to that room and help yourself with the sauces / spice mixes / make your own combo!
Different types of flavored oils , chopped garlic, garlic sauce…..
One of the the side dishes- Sweet and Sour pickled Napa cabbage…
I hope you enjoyed your virtual dinner….
OK,now go back to the start of the post and read those two questions..I am sure you would have changed your mind by now!
Take a look at the Blogging Marathon page to check out what my friends are cooking in this A- Z series…



document.write('