One of the other alphabet that was hard to select a country from in the 30 day Culinary journey across the globe is X.As we did for W, we could select a city and prepare a dish which was famous in that region. I took a slightly different route here.Many a times I have heard Singapore being addressed as Xinjiapo in China and the people there consider this place a hot spot for vacations.So I easily settled for the alternate name which begins with X.
I made a simple dessert from Singapore and it also happens to be the 100th dessert recipe on the blog!!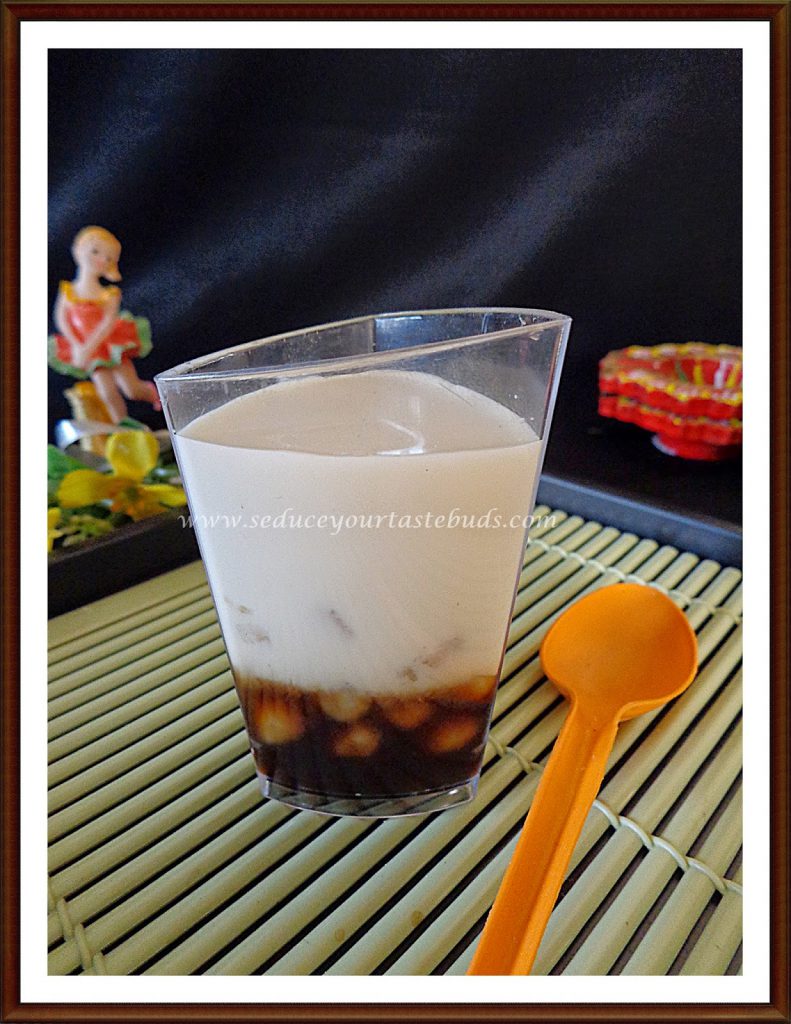 Singapore is another country I got to visit a few years ago.Lil Angel was around two years old and enjoyed the visit to the zoo and the long walk on Clarke quay among the other places. It was a short tour for just 3 days and we tried to cram in as many places to visit as possible.
Now to the recipe..
This is a sago based dessert made with Gula Melaka which is nothing but Palm sugar.I used large tapioca pearls and the regular sago ,small ones. can also be used here. This is a great make ahead dessert. The individual components can be made ahead and kept in the fridge. And it can be assembled just when you are going to serve.
A few of the recipes that I looked up suggested heating a pandan leaf along with the milk and then straining the milk and using it. Some site mentioned that it was optional. Since I can't find Pandan leaf here, I have omitted it.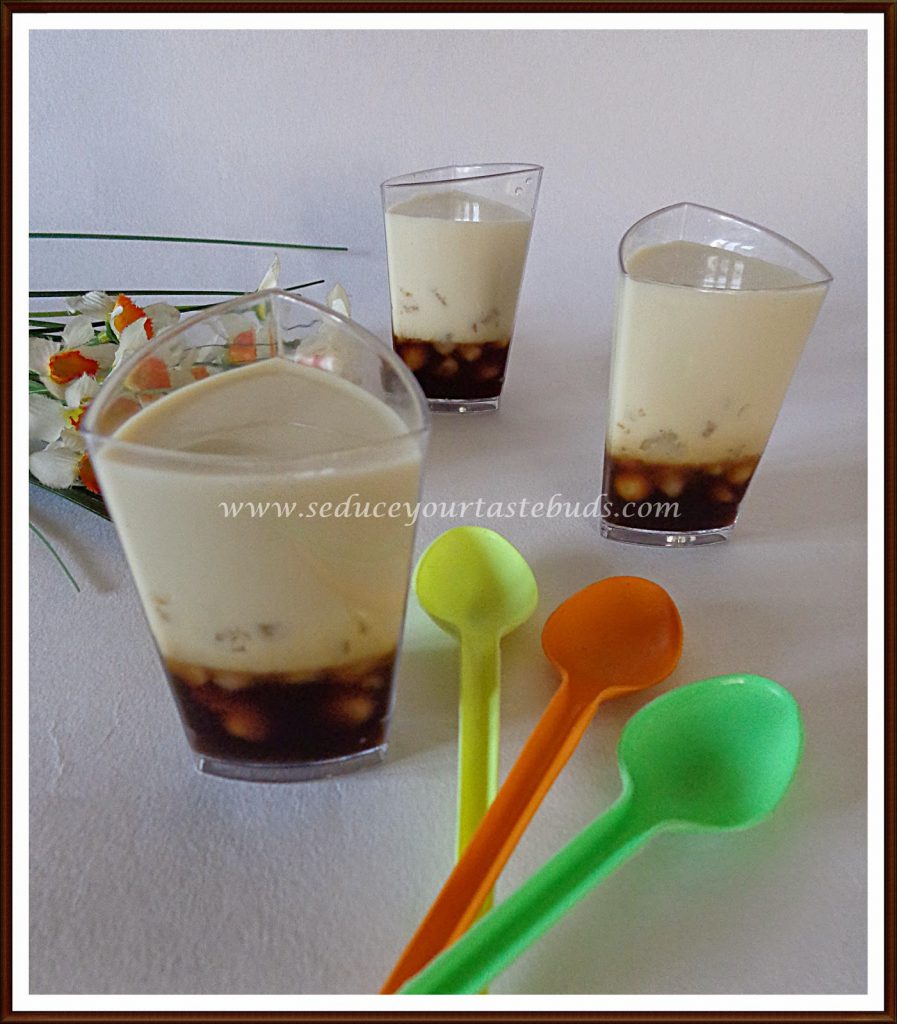 I used:
Sago – 1/4 cup
Palm sugar- 1/2 cup [adjust to taste]
Milk as needed
Soak the Sago pearls in hot water for half an hour, if using the big variety.Drain and add to a pan of water and cook till it is soft. After cooking it for a while in a pan, I realized that it was going to take forever to get it done. So I pressure cooked it for 15 minutes. If using smaller variety of sago, use a pan for larger pearls please use the pressure cooker.It saves a lot of time and fuel.
Once the sago is cooked, drain the excess water and pour cold water over it.Keep aside/ refrigerate.

Heat the palm sugar with a little water, just enough to soak it . Simmer till it thickens, drain and keep aside.

To assemble, take bowls/ glasses and add some sago, top it up with the palm sugar syrup and some milk.

The dessert is ready to be served. Tastes best when all the components are chilled before putting them together.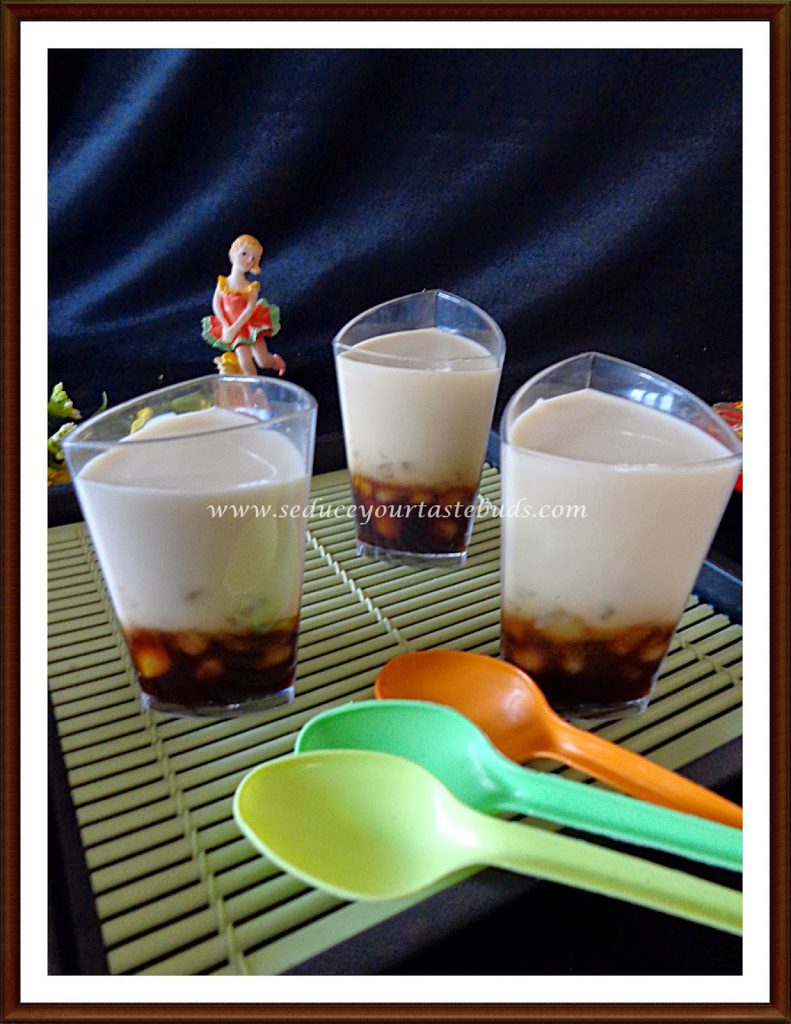 Bon Appetit…