When I started writing this post, my mind was so blank! It's not like the writers block or anything but I just did not know how to start this post. Then I turned to my dear guide- Ms. Google[Why should it be Mr.Google!] and I landed upon a few blogs that had posts with topics on how to start a post or some ideas to write a post.
From 100 blog topics I hope you will write, 101 Fabulous blog topics , 50 things to blog about, 20 ideas for writing a blog post , 101 blogpost ideas that will make you blog 'hot' ,NaBloPoMo's daily prompts , I got some ideas even though some of the ideas were similar in a few blogs.
Anyway, by the time I checked out those posts and some more browsing, I realized that I had spent some valuable time just going through stuffs and I still had a lot of writing to be done and a lot[really a lot] of blog hopping to be done.
So I will cut short this post and go straight to the recipe that I am featuring here today for BM #45, Week 2, Day1 with the theme – Kid's Potluck Party theme for the 6th Anniversary celebration of Srivalli Kid's Delight event.
This is one Lil Angel's favorite and I thought it is apt for the potluck theme. Very simple to make and equally healthy as it is a steamed dish and has some carrot and tomato to add to the nutrition value.
This can be served as a meal, packed for the lunchbox or served in small portion along with tea/ coffee/ drinks of the kids choice.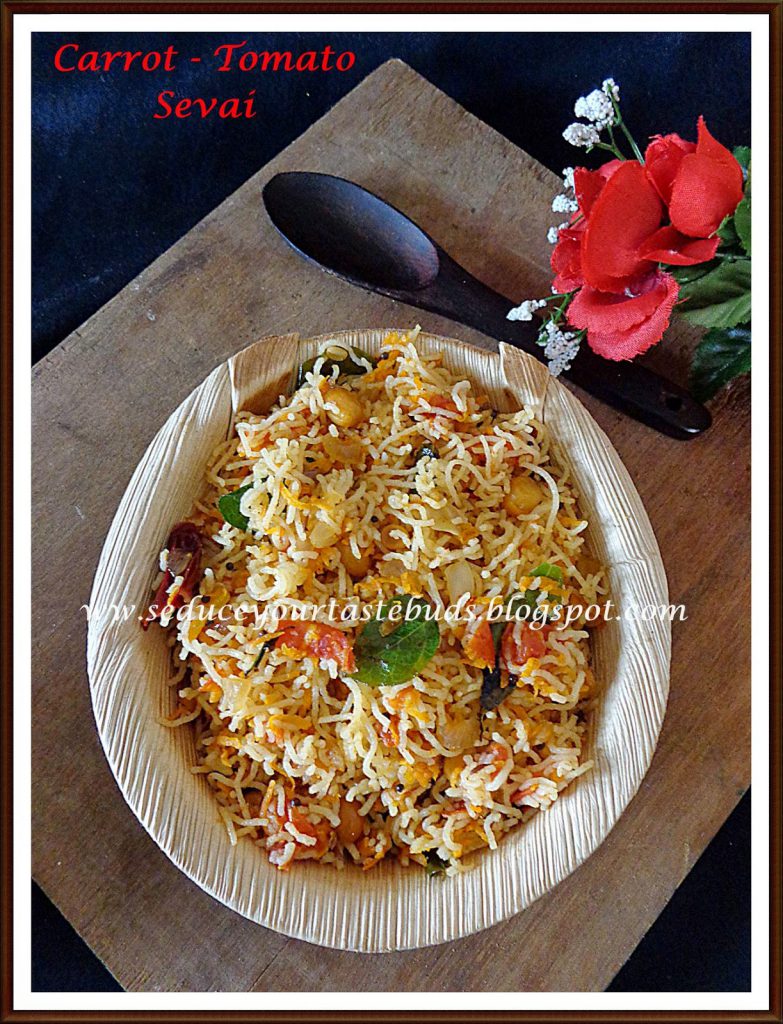 I used:
Ready to use Sevai / Steamed rice noodles – 1 packet
Carrot-1, medium sized, grated
Tomato-1, chopped
Shallots- 5, chopped
Mustard seeds- 1 teaspoon
Cumin seeds- 1 teaspoon
Gram dal-1/2 teaspoon
Urad dal-1/2 teaspoon
Red chili-1, broken
Sambar powder- 1 teaspoon
Roasted peanuts- a few
Curry leaves- a few
Salt to taste
Oil- 1 teaspoon
Heat oil in a pan and add the mustard, cumin, gram and urad dal .When the mustard splutter and the dal starts to brown, add the pweanuts, shallots,curry leaves and saute till the onion is soft.
Put in the carrot ,red chili and saute till the raw smell goes off. Add the tomato and cook till soft.Put in the sambar powder and mix.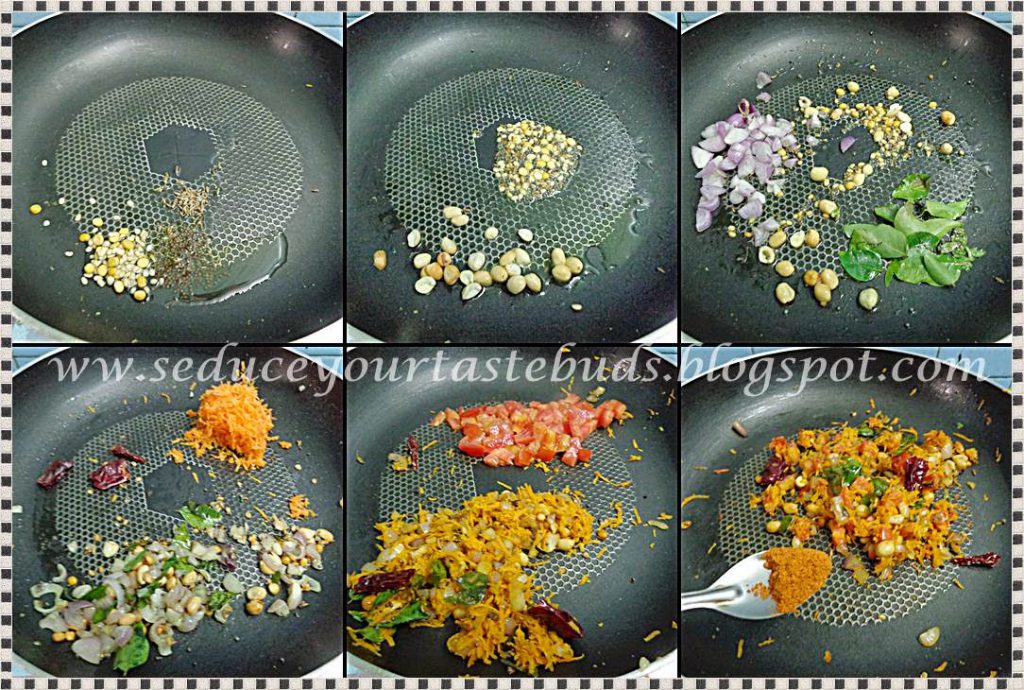 Add salt and a little water if the mixture is too dry .Put in the sevai / rice noodles and mix gently and reduce the flame to low.Let the flavors blend for a few minutes and remove from heat.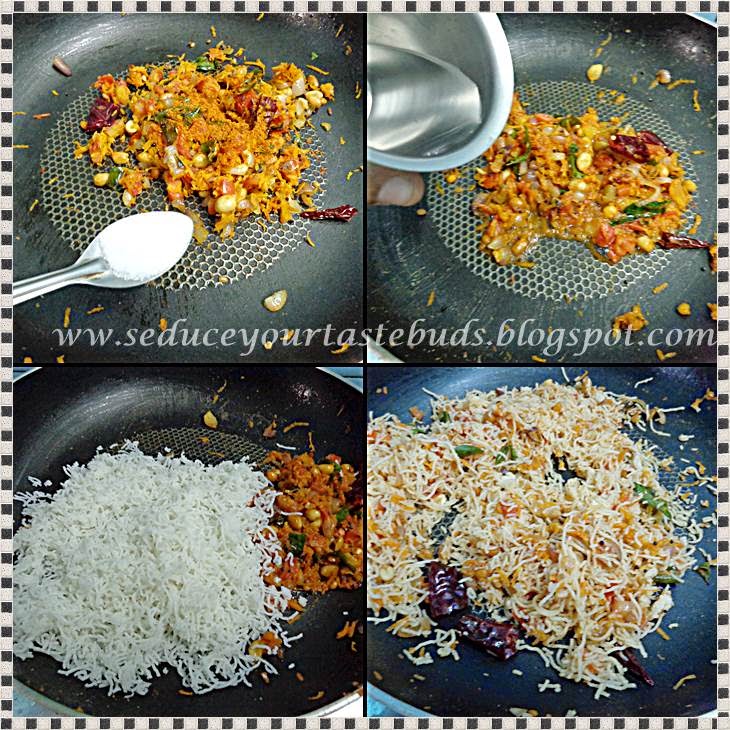 Serve…..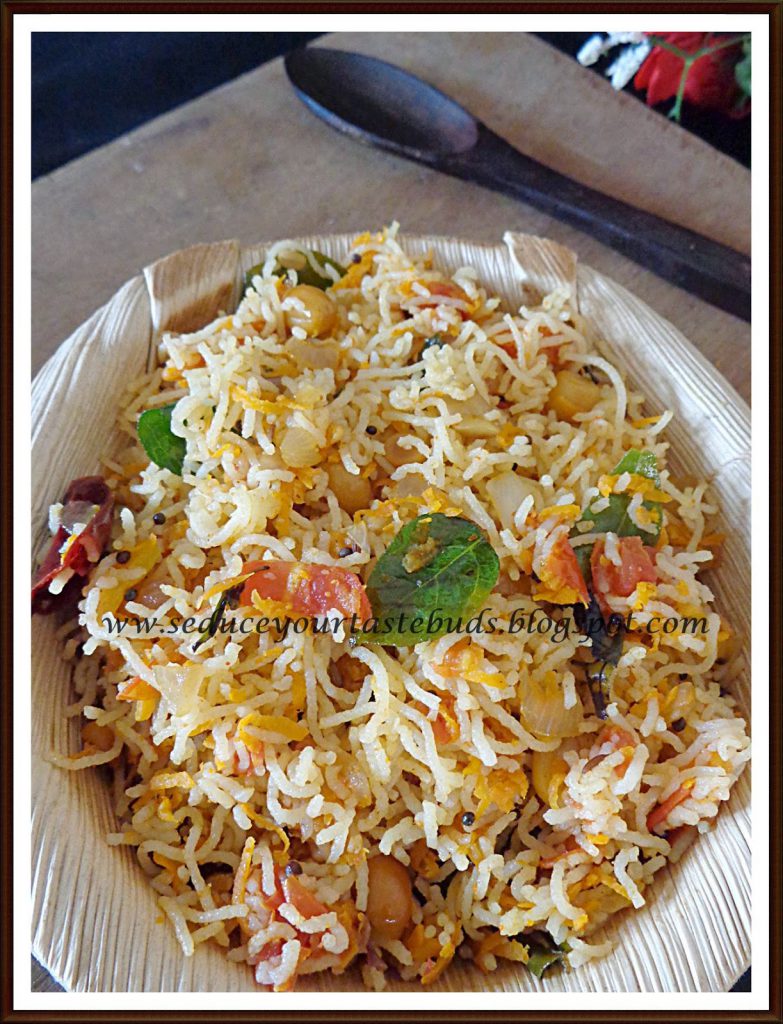 Note:
The day I made this, I was in a hurry to get the dinner ready for the kids. I had been out on some errands and so I picked up a pack of ready to use Sevai from the shop. You can use homemade sevai instead.
That one packet of ready made rice sevai is sufficient to feed and adult and two hungry little kids.
Adjust chilies to suit your taste.
You can use any other type of masala powder instead of sambar powder like garam masala, pav bhaji masala etc.
A few teaspoons of grated coconut can also be added to this dish while adding the sevai in the last step.
Roasted cashews can be used instead of groundnuts.
Bon Appetit…