A couple of months ago, we did a group event – Around the world in 30 days, a culinary journey across the globe. I had planned this noodle dish for China but somehow posted another dish. I knew this would come in handy so let it sleep in the drafts!
This really helped for Blogging Marathon #46, week 2, Day 3 under the theme – Pasta/ pizza/ noodles for kids.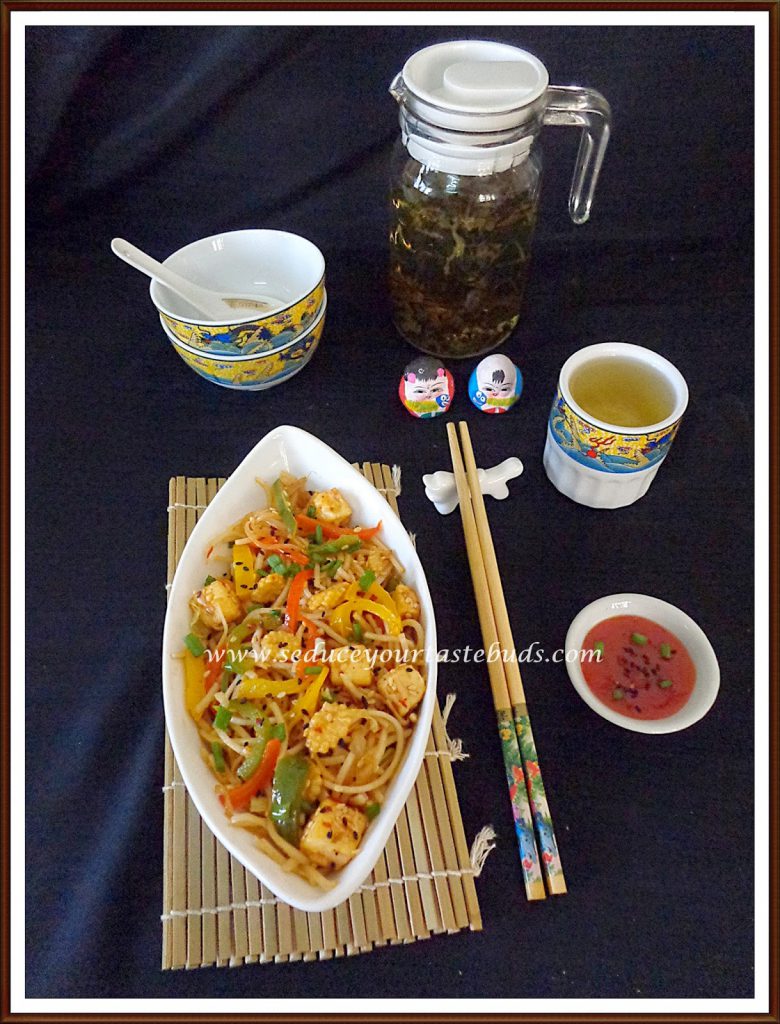 The process may seem a little lengthy but a few things like the sauce can be made ahead and the dish can be put together quickly. This is yet another dish that the kids enjoyed.
Schezwan /Sichuan is one of those few provinces in China that serve spicy food stuffs.And when I mean spice they really are quite fiery and something that the Indian palette would love.I made it a little less spicy for the kids to enjoy and it was loved by all at home.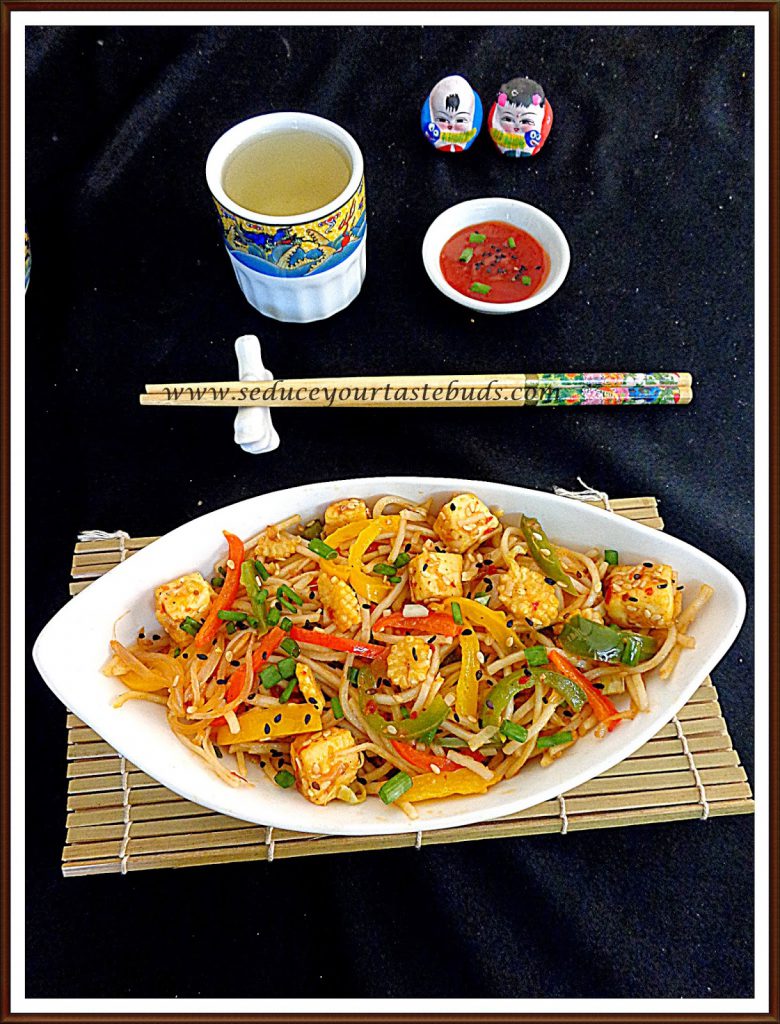 I used:
For the sauce:
Red chilies- 10
Garlic- 5 large pods
Ginger- 2″ piece
For the noodle dish
Noodles- 1 packet
Sesame seeds,white- 1/4 cup
Tofu cubes
Colored bell peppers
Cabbage -sliced
Baby corn-3
Garlic-3 pods, chopped
Onion-1, sliced
Spring onion-2 stalks, chopped, green and white portions separated
Soy sauce- 1 teaspoon
Pepper powder- 1 teaspoon
Salt to taste
Sesame seeds,black-2 teaspoons for garnish
Oil-1 tablespoon
Soak the chilies in hot water for half an hour.Drain and grind along with ginger and garlic to a fine paste. Add just a teaspoon of water if needed. Keep aside.

Boil noodles in plenty of water till just done along with a little salt and oil. Drain and rinse gently in cold water. Drain and spread on a plate. Keep aside.

Toast the white and black sesame seeds separately and keep aside.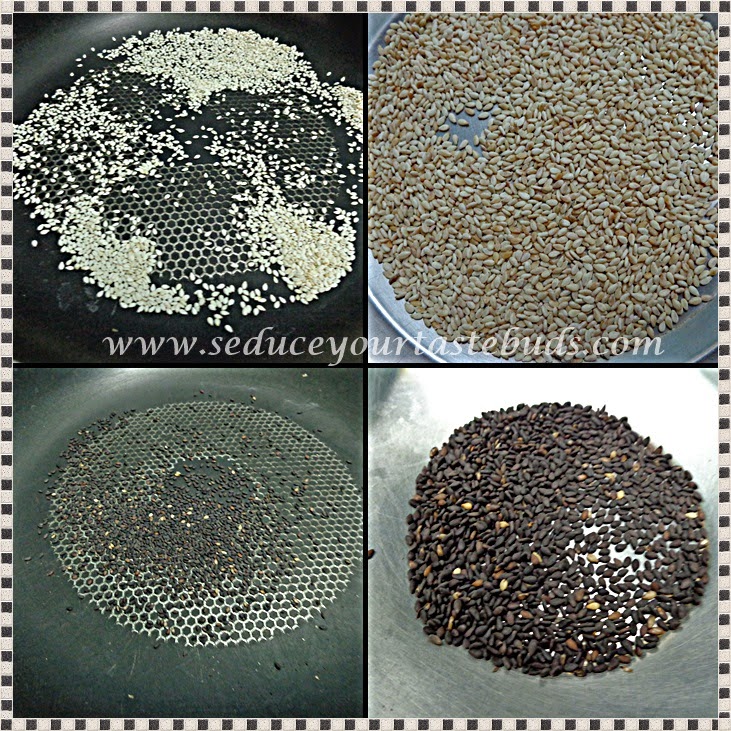 Cut the vegetables as shown…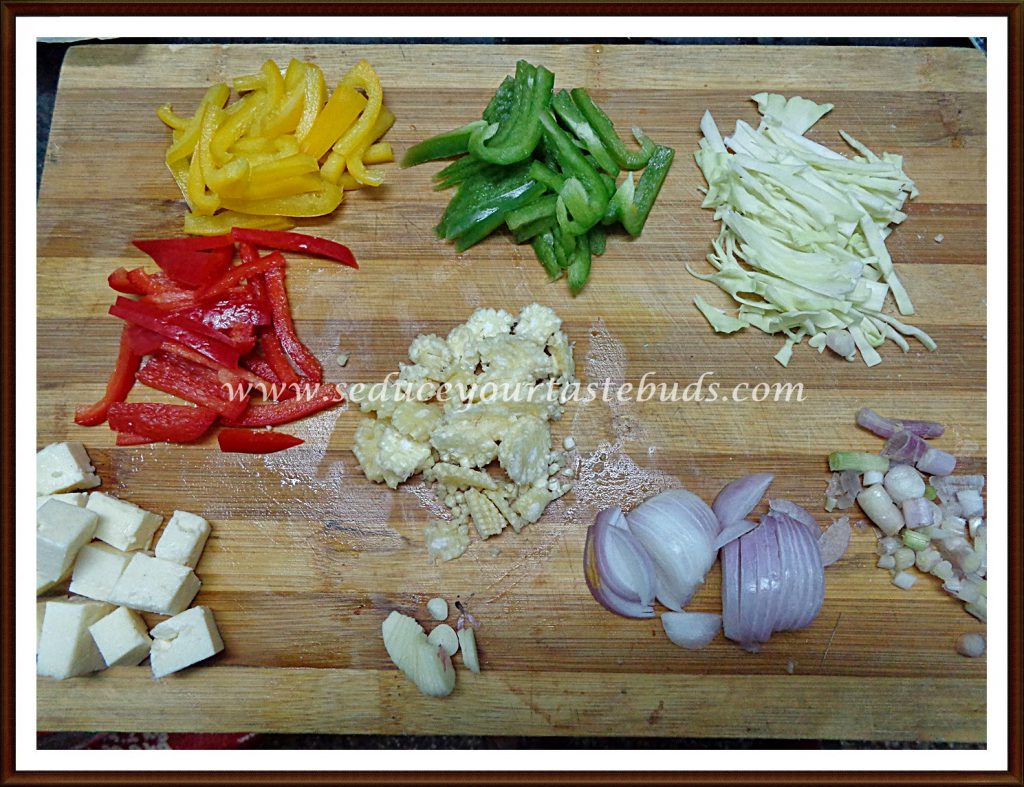 Heat oil in a large pan and add onion, white part of the spring onion and garlic. Saute till the onion is soft and add cabbage, bell peppers.
Add baby corn and saute for two minutes. Put in the sauce prepared in step 1. This can be added according to how spicy you want the dish to be. The remaining sauce can be refrigerated / frozen.Put in tofu cubes.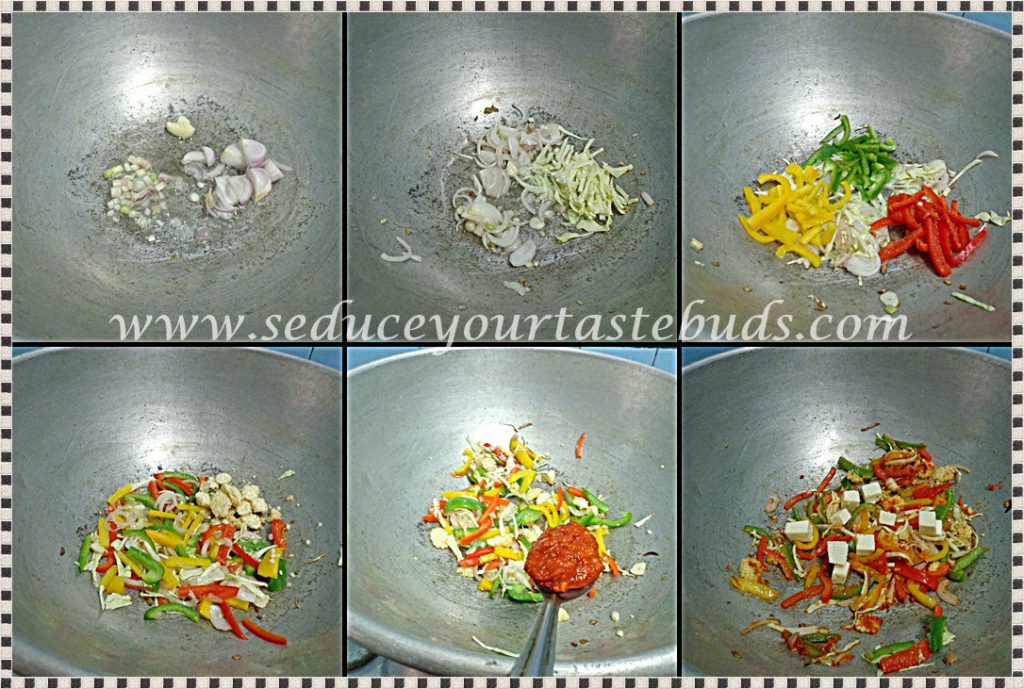 Saute for a couple of minutes on medium heat and add soy sauce. Mix and after a minute add the boiled noodles, salt, pepper powder and mix well gently.Let it cook on low flame for a couple of minutes for the flavors to blend. Add white sesame seeds,a portion of spring onion greens and stir once and remove from heat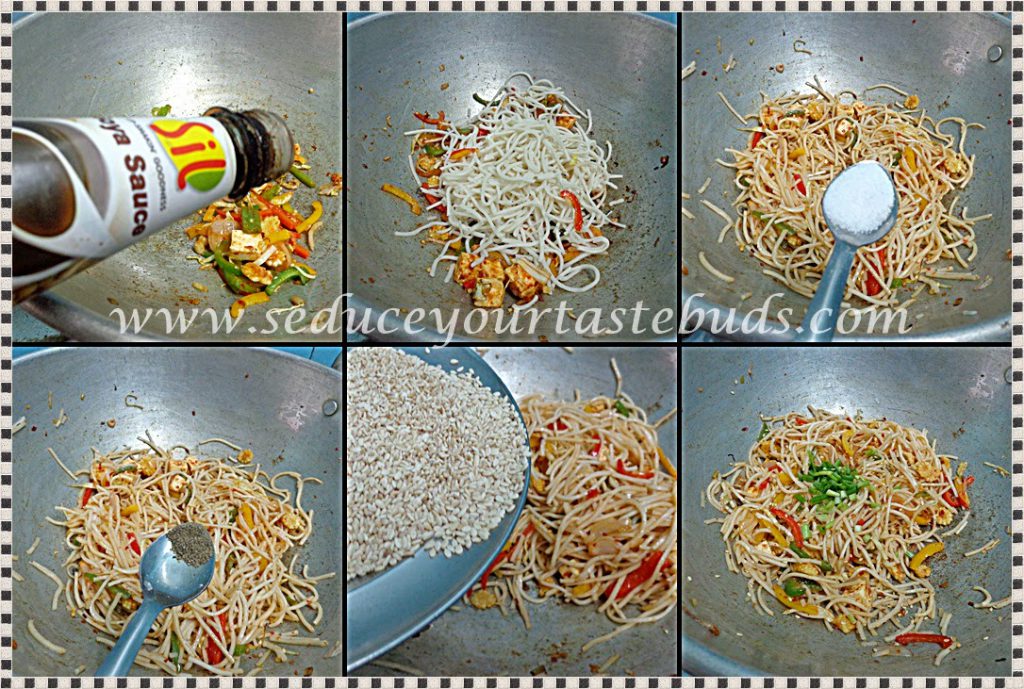 Serve garnished with more spring onion greens and black sesame seeds.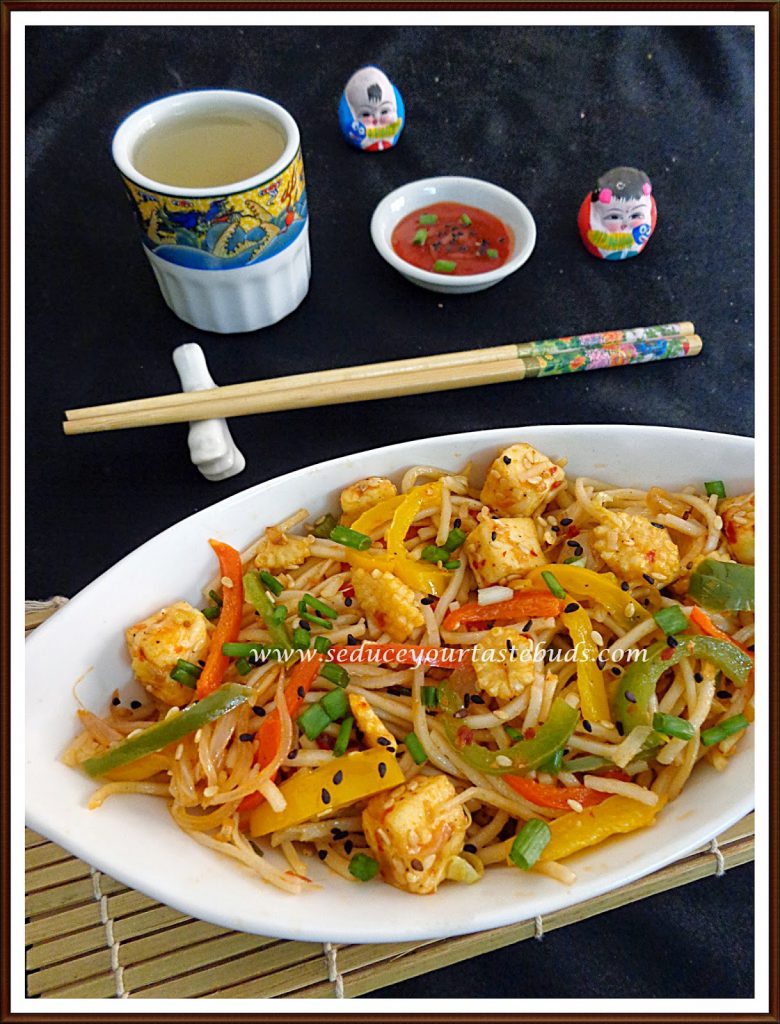 Spicy Schezwen sesame noodles is ready!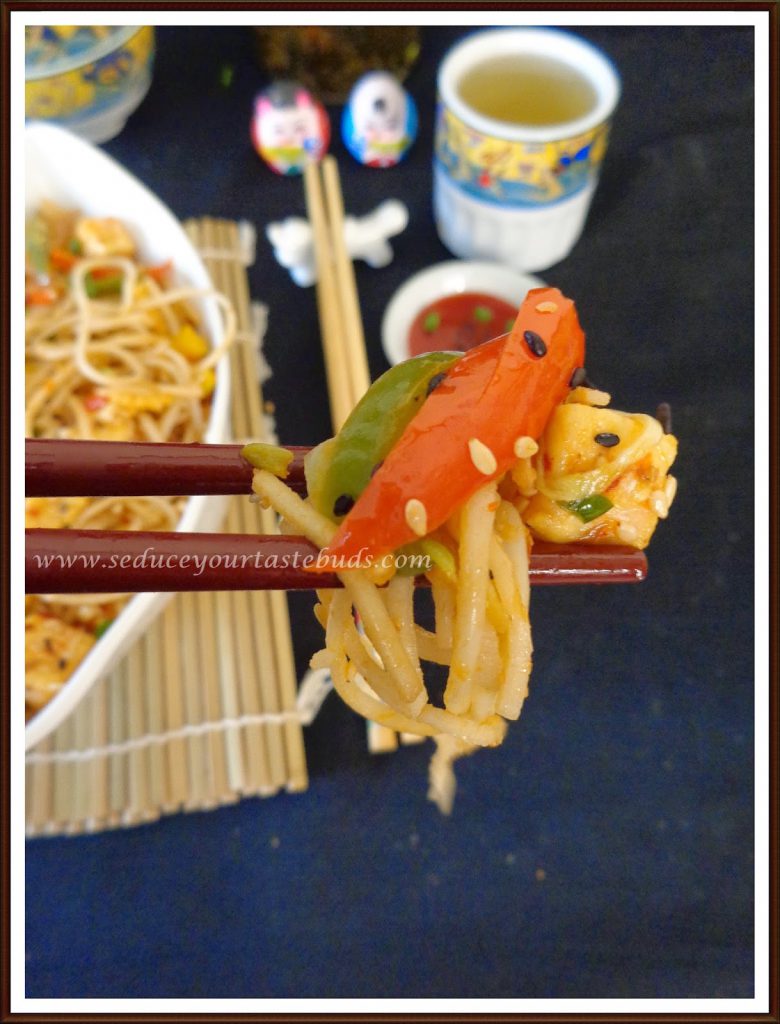 Note:
Paneer cubes can be used instead of tofu.
Any color sesame seed can be used. I used both colors as it would look nice on the dish.
The same sauce and method can be used to make fried rice.
I am sending this to Srivalli's Kids Delight event themed – Pizza, pasta and noodles hosted by Mir..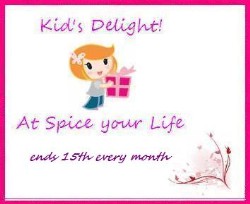 Bon Appetit…