After a soup and a pulao with puffed
lotus seeds
, I am back with yet another dish that features Makhana as the star ingredient.
This is a simple dal that has its origin in Orrisa. Dalma is a lentil-vegetable dish that is made on fasting days. This dalma had makhana!
A simple medley of moong dal, vegetables and puffed lotus seeds that goes well with Roti and rice. This was the dal that I paired up with Aloo Methi Paratha that was inspired by Srivalli after she posted it on her blog. Both the dishes complimented each other and this is yet another dish that I packed for Lil Angel's lunch box.
This simple dal is for Blogging Marathon #50, Week 2, Day 3, with the theme -One ingredient 3 dishes.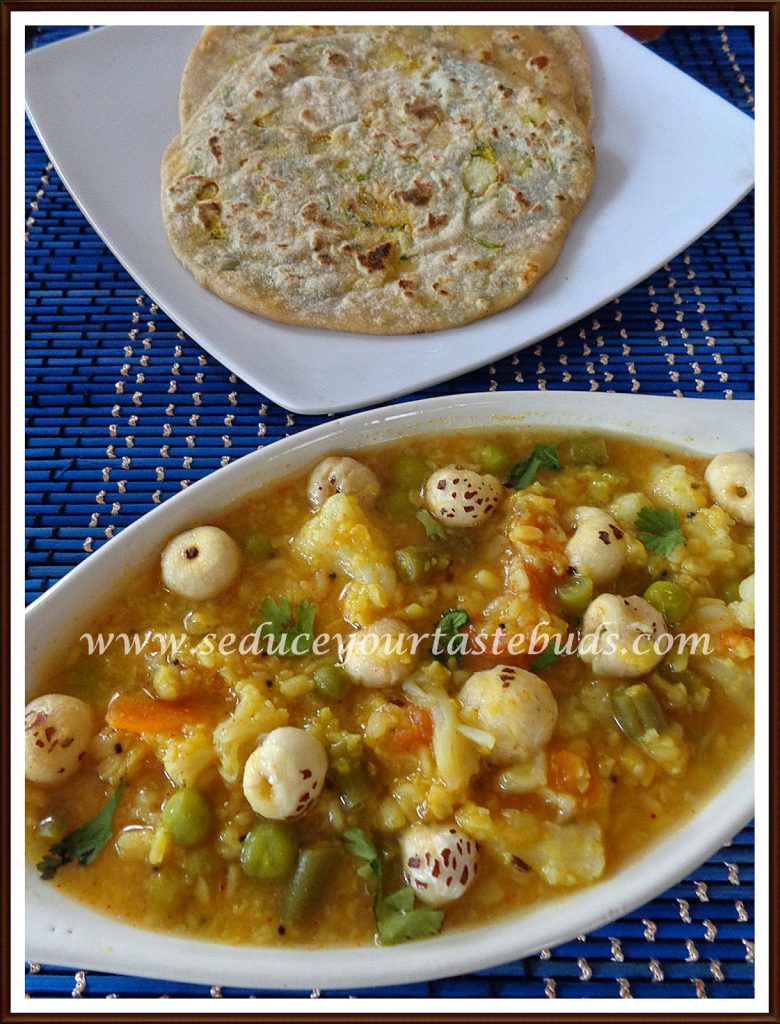 I used:
Adapted from – Oriya Rasai
Split Moong Dal-1/2 cup
Puffed Lotus seeds- 1/2 cup
Chopped miced vegetables- 1 cup
Tomato-1, halved
Mustard- 1 teaspoon
Cumin-1/2 teaspoon
Red chili-1 broken
Red Chili powder- 1/2 teaspoon
Turmeric powder- a pinch
Salt to taste
Oil- 1 teaspoon
Ghee -1 teaspoon
Coriander leaves to garnish
Heat ghee in a pan and add the lotus seeds. Roast it till
crisp and the color changes to light brown. Remove from pan and keep
aside.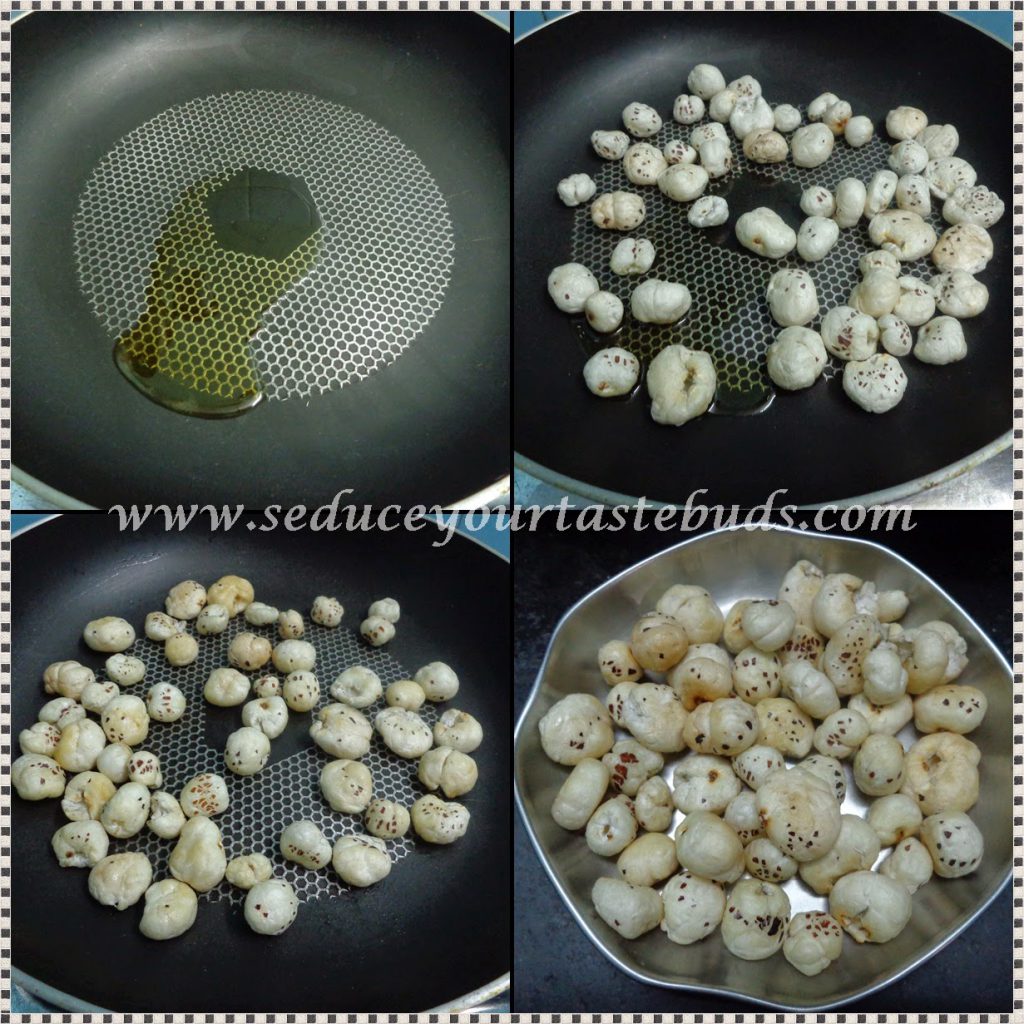 In a vessel put in moong dal, tomato and add 1 cup of water. Put in the chopped mixed vegetables and pressure cook it for 8 minutes / 2 hisses/ till moong dal is cooked but not mushy.Remove the peel off the tomato and discard. Keep the vessel aside.

Heat oil in a pan and put in mustard seeds, cumin seeds, red chili. When the mustard pops, add the cooked lentil-vegetable mixture and around 1/2 cup water[if the mixture is too thick],Mix and add the turmeric powder, chili powder and salt. Mix well and let it come to a boil.When it comes to rolling boil, simmer and add the roasted lotus seeds.Remove from heat after 2 minutes.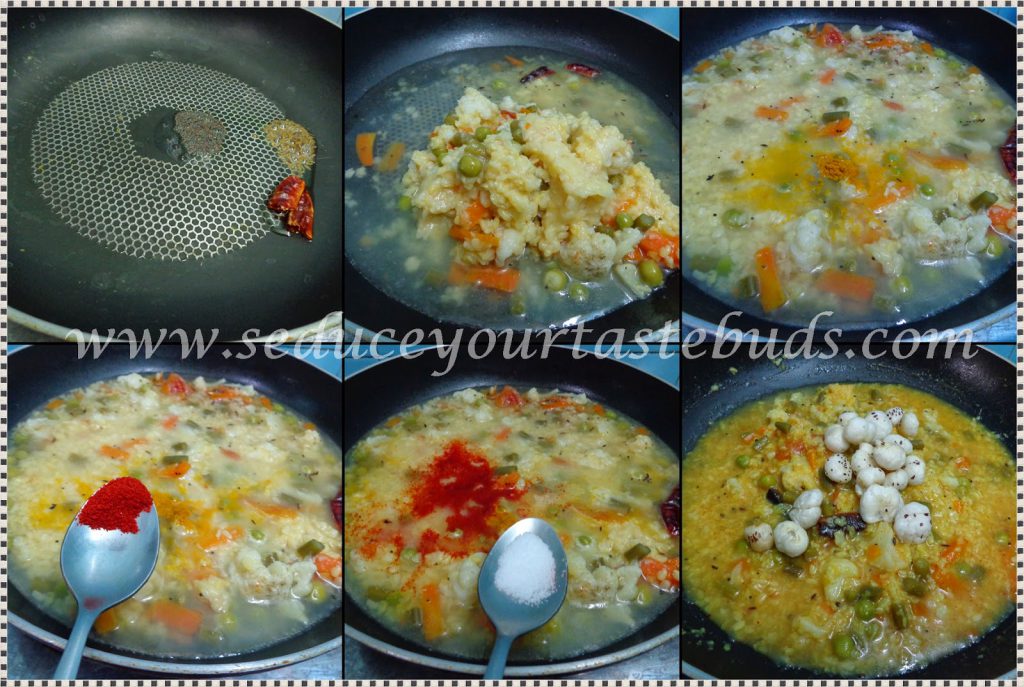 Serve garnished with coriander leaves.This goes well with Roti and rice…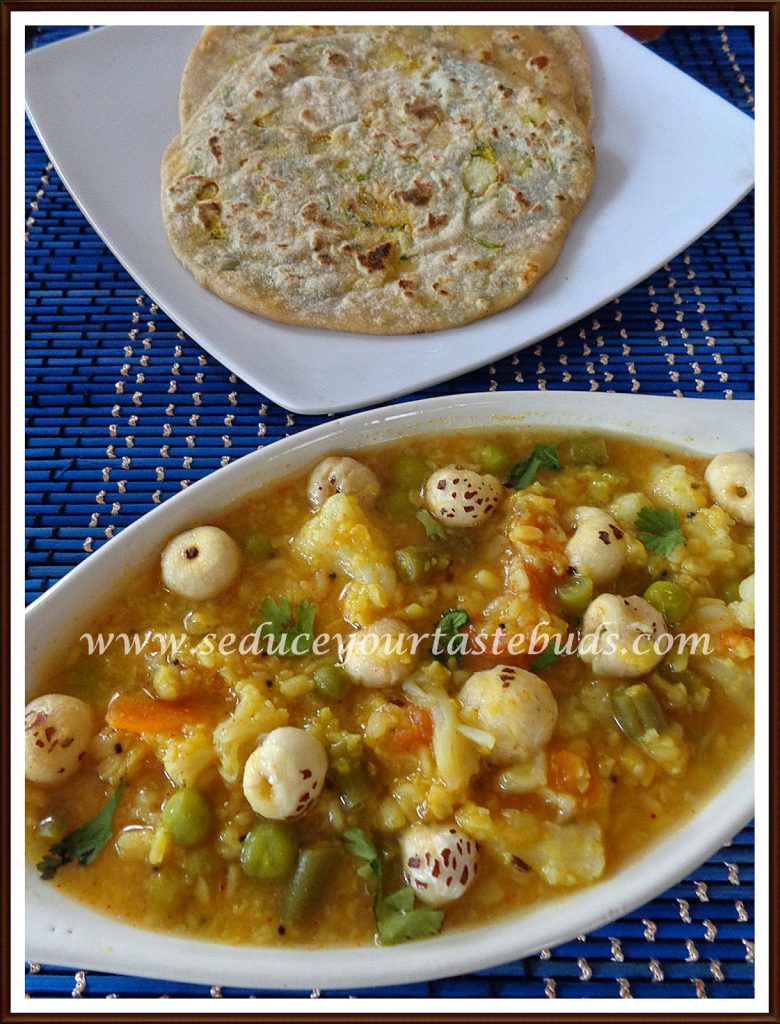 Note:
I used a mix of chopped carrots, beans, cauliflower and peas. You can add veggies that you prefer.
This thickens a bit on cooling. In such cases, add a little water, mix, heat through and serve.
This also goes to Susan and Lisa's My Legume Love Affair being hosted by Siri this month…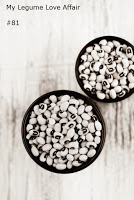 Check out the Blogging Marathon page for the other Blogging Marathoners doing BM#50
Bon Appetit…