Lots of people are turning towards various diets and diet plans and books are flooding the market on these topics. I browse online for book a lot and this book caught my attention because the tag line said – Yogic Lifestyle Diet.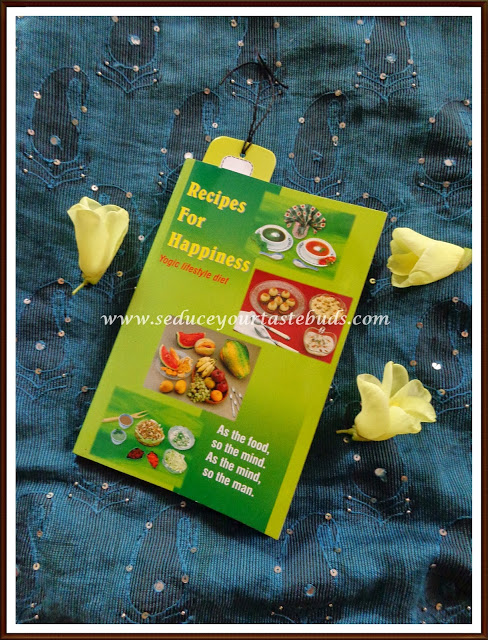 This is not just a book with recipes alone!Published by the International Board of Yoga, it contains a lot more information on how to lead a healthy life.
Contents:
Introduction
Weights and measures
Notes on Ingredients
Terms used in Cooking
Yogic Diet.In this section, a brief explanation is given on
Sattvic food
Rajasic food
Tamasic food
Times of eating
How much to eat
How to prepare herbal milk
Diet plan
State of mind while eating
Food and disease
Question and answers – This part offers a lot of answers for questions from simple things like food rich in vitamin,minerals and classification of fat, to diet during breast feeding, diet during that period,fasting, drinking tea/coffee/wine.This is the chapter I liked a lot.
Conclusion
Recipes
Soups – 10
Salads- 20
Vegetables- 46
Snacks- 14
Raita,sauces and dips-13
Sweet dishes- 12
Appetizers and drinks- 15
Rice and dal- 8
How to make curd
Abbreviations
English words with Hindi equivalents
Bibliography
My view on the book…
The science and theory behind healthy eating is clearly explained with a table of foods that is to be avoided and used freely.
The state of mind while eating and how the environment plays a role in over eating /unhealthy eating is given crisply.
Also the section on question and answer is enlightening. The answer to the questions are something that I have already read about [coming from a nutrition / dietetics background], but it will surely be useful for someone coming from the other walks of life
The recipes are quite simple and some are those that we prepare in our day to day cooking but it will helpful for those who are planning to enter the kitchen or just started cooking.
The recipes are quick to make and does not need fancy ingredients.Almost everything can be prepared with what is available in the kitchen.
I like books with glossy pics of the final dish. Here there is a pic of the dish at the start of each section.Since the recipes are common ones, I think one will know what the final dish look like.The lack of pics can be put behind when we consider the knowledge gained from the book and also for the healthy way of preparing the dishes.
This is my fourth book for Foodies Read 2015 Challenge where I have signed up for the Chef de Cuisine which is 14-18 books to be read and reviewed by the end of this year….
Happy Browsing….