A signed copy of a novel is sure to brighten the day of a bibliophile, right!That was exactly what happened when BlogAdda sent me a signed copy of Ravi Subramanian's latest novel -The Best Seller She Wrote.
I have read his earlier books and reviewed The Bankster and God is a Gamer here. I was eager to start right away but with some personal things cropping up I could pick up the book just last night .After tucking the kids into bed I started reading.My original plan was to read for a while and continue reading the next morning.
But guess what! I just could not put down the book and finished it in less than 4 hours flat! Wow!! The book is really unputdownable!![Is there a word like that!!]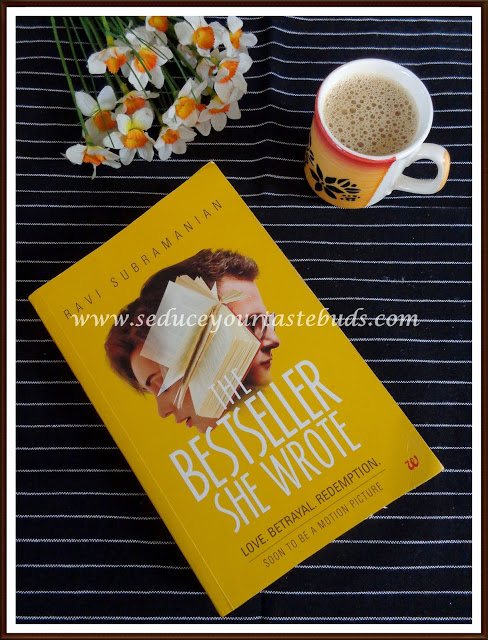 Story Line / Plot :
The story starts with Aditya Kapoor, nicknamed the Paperback King having 4 massive best sellers under his belt,a banker turned author,an alumnus of IIM Bengaluru being confronted by Shreya Kaushik, an IIM Bengaluru student while he is giving a talk at the campus on things like how to promote a book and him referring to book as a product which Shreya.
Things resolve when Shreya reads one of his books overnight and writes to Aditya apologizing for her behavior and also mentions she has changed her view on Indian authors.
Aditya who lives with his wife Maya and son Aryan lead a happy,contented and successful life with Aditya working at the National bank and Maya at Dhirubai Ambani International School.
Further encounters with Shreya in a book event tempts Aditya to persuade Sanjay, his long term friend and HR to hire Shreya as a management trainee.
Sanjay puts her in Aditya's team and Aditya cannot help but fall for Shreya. Shreya asks his help to write a novel so that she can become as successful as Aditya and he readily agrees.
She gives him the manuscript and nudges and convinces him to get in touch with publishers to get things rolling. She seduces him into doing everything she wants. This is one of her strong character traits – ambition driven and doing anything to get things done her way.
The two,Aditya and Shreya, meet at her home, at restaurants and even at his home when the wife and kid are away on a holiday and things start getting intimate between the two.
Aditya loves his family yet cannot get away from Shreya and also lies and hides everything about Shreya to Maya.
He keeps wondering if he loves Maya or Shreya or both or is he going through mid life crisis.He also does not understand why Shreya wants to be with him in spite of her telling him often that she understands that his family comes first for him and she accepts that as well.
Maya goes on a trip to Paris . She returns home and finds out the affair between the two.She falls sick at the same time and asks Sanjay to come over to help. She also confronts Sanjay asking him if he knew about the affair.While talking through these things,Aditya returns home after a business trip and she stops him by the door and does not allow him inside as she feels betrayed and terribly hurt.
At that very moment Maya also discovers she has contracted the deadly Ebola Virus on the trip to Paris. A severely sick Maya is admitted in the hospital and kept in isolation and that is when Aditya realizes how much he loves Maya and gets special permission from the Doctor to talk to his wife.He confesses his actions and also promises to leave Shreya and be the family.
Even in such situations Shreya has the nerve to talk to Aditya about her manuscript and the edits that need to be done.
This makes Aditya wonder if Shreya was using him just to write her book and if she really loves him.
Shreya does write a best seller but how she achieves it is part of the climax.
What happens when Maya finds out about the affair, how does Shreya react when she realizes Adiya knows her ulterior motive, what happens when media finds out about the affair, is the friendship between Sanjay and Adiya a real one,what happens to Diana,who is responsible for Aditya's actual downfall and misery,does he recover and how does he do it, Maya's decision on their future is all what you will find out when you read the book.
There is also a parallel story about Sanjay and Diana, a colleague at the bank , Sunaina-Shreya's best friend.
I must tell you one thing though -The climax comes totally out of the blue!
My view:
What I expected was something happening in the banking world and all that goes with it as in his previous book.But I was proved wrong.Along with the banking stuffs,this book has so many other elements – surprises, romance, friendship, betrayal,love,possessiveness, a lady's drive to get what she wants,fragility of relationships, enmity,vengeance, etc.It also gives us an ample view of the publishing world, media and the press.
There are a lot of references to real world people like Ashwin Sanghi,Chetan Bagat,Poonam Saxena ,Anurag Kashyap,etc which makes us believe that this story is real and happening.
The turmoils of the wife when she finds out her husband is having an affair is portrayed in a very emotive manner.
The sentiments and confusions of a married man when he enters into a relationship with another women is depicted candidly.And so are things like what happens when he is confronted by his wife and girl friend and how the guy is put to sufferings for his deed by the girlfriend and the havoc it wrecks in all aspects of his life is illustrated well.In short , it shows the man's point of view on extra marital affairs and how it affects him and his immediate circle.
What I liked :
Fast paced
Simple language
Elements of surprise
Twists and turns- a lot of them!
Thrilling
Unputdownable!
I felt the intimate scenes could have been cut down or taken down a notch .
All in all it is a very good read . Hat's off to the author for the way he has portrayed everything in this book,his attempt in romantic thriller genre which has proved to be a gripping read.
I would recommend you getting a copy of the book ,sit back [or on the edge of the seat] and go through all the emotions and feelings and see how the authors takes you to through the climax of the story.
To know more about the book and the author check out these links:
This is not a paid review.
I am reviewing 'The Bestseller She Wrote' by Ravi Subramanian as a part of the biggest Book Review Program for Indian Bloggers. Participate now to get free books!
Happy Reading…