This is my kiddos favorite lunch box menu – Curd rice with potato fry and pickle. It is a very easy combo to put together as well.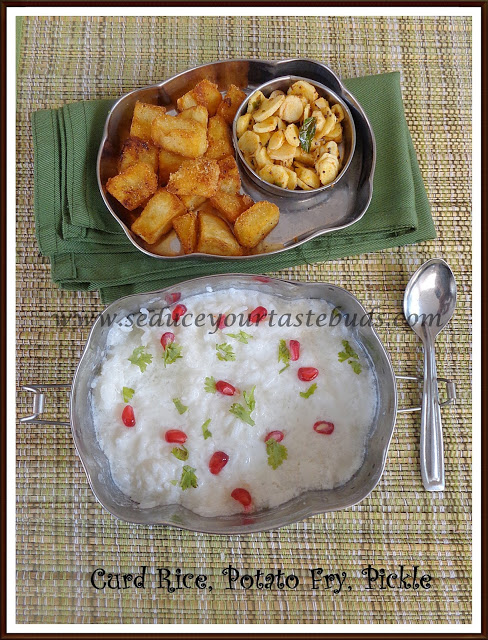 For the lunch box
Curd Rice
Maa Ingi Pickle [ Mango Ginger Pickle]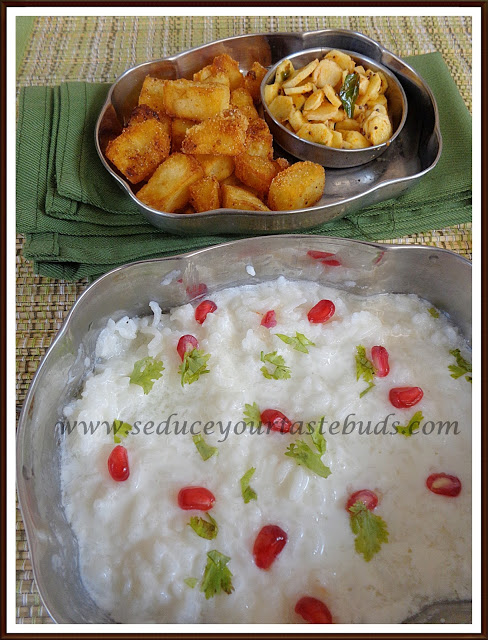 Note:
For the curd rice, I mix rice with milk and add a little salt and curd. The curd rice sets by the lunch time. In winter I make the curd rice, the regular way and don't add milk. But making it the regular way in summer will make it very sour to taste.
Sometimes I add pomegranate / finely chopped raw mango / cucumber and coriander leaves.
At other times I just add a seasoning of mustard, urad dal and cumin seeds.
This pickle is very mild and is made with very little oil.And its my daughter's favorite. In case you don't have this pickle, keep a side of crisps / any other dish the child likes / prefers.
Pre- Prep:
The pickle can be made ahead and refrigerated.
Potato can be boiled and kept in the fridge the night before.
The garnishing [pomegranate, chopped mango / cucumber] can be readied and stored in the box and kept in the fridge.