This pudding – Vanilla flavored Quinoa Basil seed Breakfast Pudding is quite a mouthful just talking about it!It is chokeful of nutrients and is equally delicious!
Once again I have used basil seeds here and added a sizable portion of cooked quinoa and fruits.
This pudding doubles as a breakfast as well as a dessert! And it takes very less time to prepare if,like me, you have a small stash of cooked quinoa in the freezer!!
This is my final post in Blogging Marathon #74,Week 4, Day 3 , where my theme is  – Are you pudding me?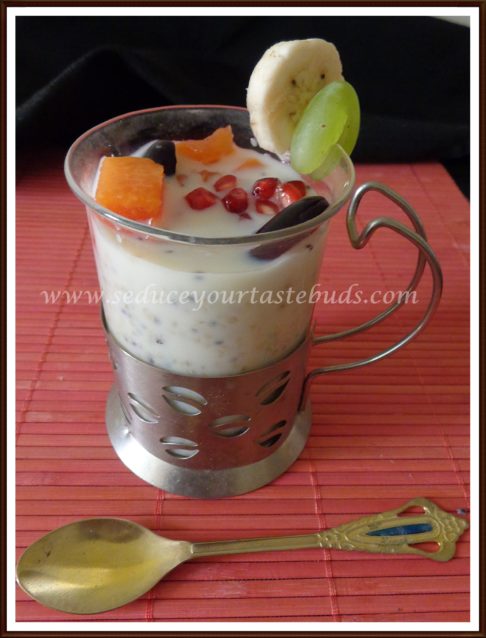 Step by step pictorial to make Vanilla flavored Quinoa Basil seed Breakfast Pudding
I used:
Serves:2
Basil seeds- 1 tablespoon
Cooked Quinoa- 1/2 cup
Milk as required
Vanilla essence- a few drops
Honey to taste
Fruits
Take 1/4 cup milk in a small bowl and the basil seeds to the milk. Keep aside for atleast3-4 hours / overnight for the seeds to bloom. Once the basil seeds have 'bloomed' transfer it to another bowl and add quinoa.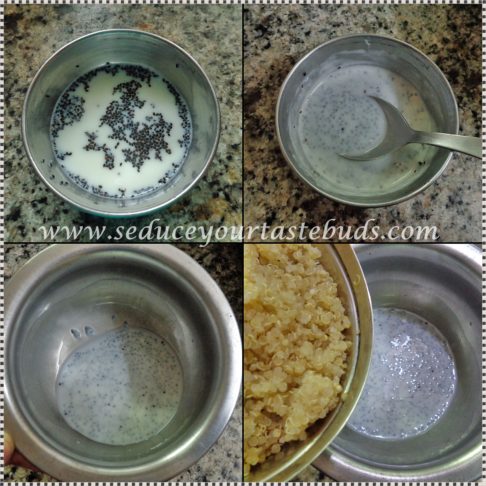 Add honey ,vanilla essence and some more milk to get the desired consistency.Serve garnished with fruits of your choice.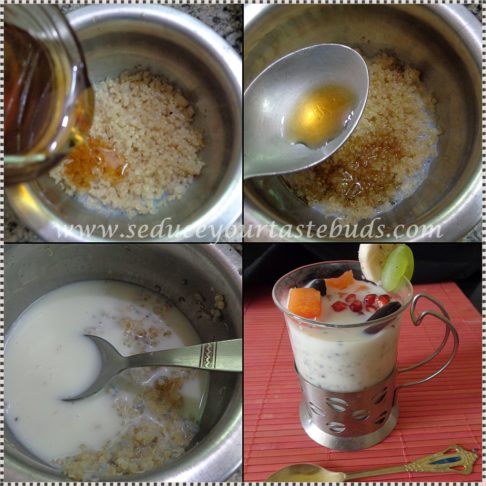 Healthy / filling / Delicious breakfast cum dessert is ready to be savored.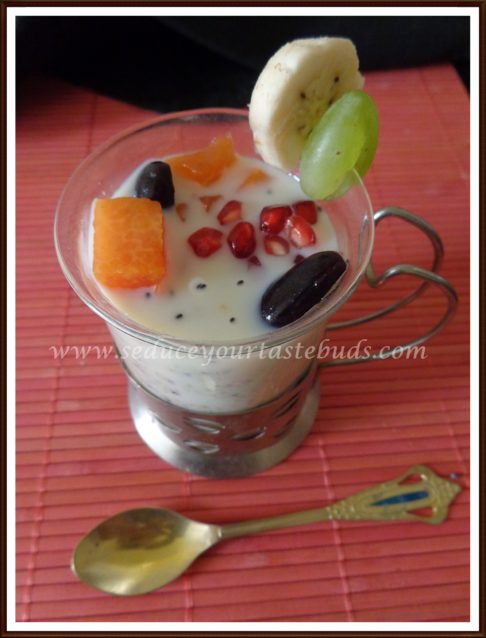 Note:
Chia seeds can be used instead of Basil seeds
Use any sweetener of your choice.
I used pomegranate arils,banana, grapes [green and black], papaya and mango. You can use any fruits / nuts of your choice.
Coconut milk can be used instead of regular milk.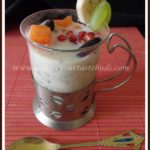 Vailla Flavored Quiona Basil Seed Pudding
A Breakfast / dessert that is healthy / filling and delicious!

Course:
Breakfast, Dessert
Ingredients
1

tablespoon

Basil Seeds

1/2

cup

Cooked quinoa

To

taste

Honey

A

few drops

Vanilla essence

1

cup

Milk

or as needed

Fruits
Instructions
Soak basil seeds in 1/4 cup milk till they bloom.


Transfer this into another bowl and add quinoa, honey,vanilla essence and milk.Mix well


Transfer to a serving dish and serve garnished with chopped fruits.

Check out the Blogging Marathon page for the other Blogging Marathoners doing this BM#74