I made this Carrot pulihora almost 5 years back in an attempt to coax Lil Angel into finishing off her lunch box. It was a success and then I used to make it once in a while. Then down the lane, it got replaced with her changing tastes.
After a really long, long time, I made it again a few months back and packed it for the kids lunchbox. Lil dude is not fond of rice varieties in the lunch box but his box came home empty because he likes carrots!!
I paired this with a simple beans curry which is one of the kids favorite side.
This is my first post for blogging marathon #79, week 2, day 1, with the theme kids lunch box dishes.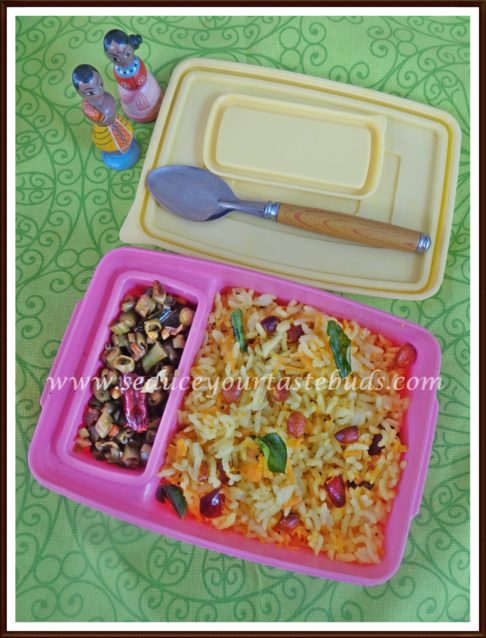 In the lunch box
Beans Curry [Flavored with kholapuri masala]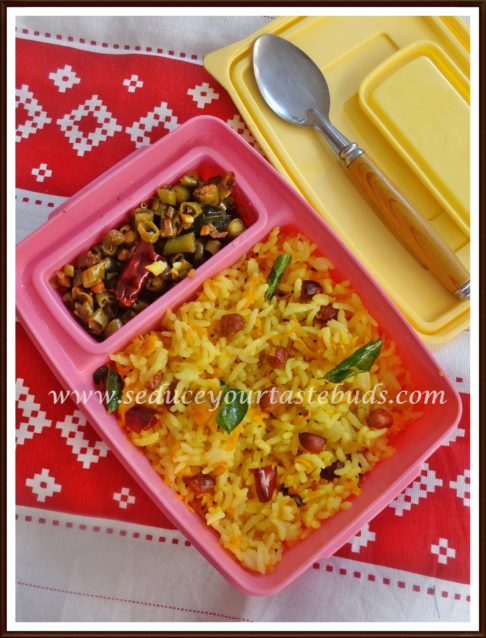 Pre- prep:
Chop beans and store in the fridge
Note:
In the procedure for the recipe as per the link, I have used black channa. In the lunchbox above, I have used roasted peanuts.
You can use any regular masala / red chili powder instead of kholapuri masala.
I use stainless steel boxes to pack the kids lunch.The ones used here are for the clicks only 🙂
Check out the other ideas for the kids lunch box here…
This is for Srivalli's Kid's Delight event, guest hosted by Priya Srinivasan, themed on Kids Lunch Box Recipes.
Check out the Blogging Marathon page for the other Blogging Marathoners doing this BM#79