Butterbeans Kuzhambu / Gravy Recipe
We have just completed the month long mega marathon themed – Protein rich dishes and here I am with yet another recipe with a protein rich ingredient.
The 81st edition of Blogging Marathon starts today and the theme for this week is Protein rich sides and salads.
This was made quite a few months [or years] ago. Back then, I did not do step by step clicks. Since I had this dish ready and was not able to prepare anything new for this series,I am going ahead with posting this today and will update it with step by step pictures when I made it the next time.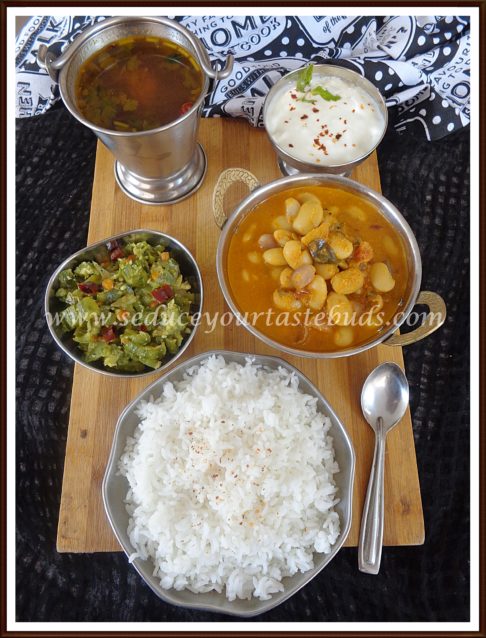 This Butterbeans Kuzhambu / Gravy Recipe  goes well as a side with rice and chapathi / Roti.
When pulses and cereals are taken together, it makes  an excellent way to obtain all the amino acids,thereby making it complete protein.Check out this post on proteins to learn more about the amino acids.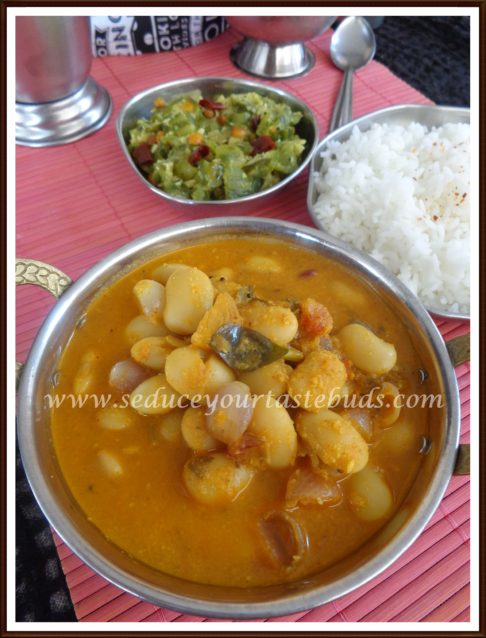 Here is how to prepare Butterbeans Kuzhambu / Gravy Recipe
I used:
Butterbeans – 1 1/2 cups
Shallots- 10 number,chopped
Tamarind paste- 1 teaspoon , dissolved in 1/4 cup hot water
Mustard-1 teaspoon
Curry leaves- a few
Turmeric powder- 1 large pinch
Asafoetida powder- a large pinch
Coriander powder- 1/2 teaspoon
Salt to taste
Oil – 1 teaspoon
For the masala paste
Shallots- 10 number,chopped
Garlic-5 pods, chopped
Tomato-1
Curry leaves a few
Urad dhal-1 teaspoon
Chana dal-1 teaspoon
Cumin seeds- 1 teaspoon
Coriander seeds- 1 tablespoon
Red chilies- 4 [adjust to taste.The variety I use is not spicy]
Coconut-2 tablespoons
Oil-1 tablespoon
Soak the butter beans overnight / 6-7 hours.
Let us prepare the  masala paste:
Heat oil in a pan and add the shallots, garlic and curry leaves. Saute for two minutes and add the channa dal, cumin seeds, urad dal and saute for another 2 minutes. Add the coriander seeds and mix. Put in the tomato,red chilies and saute till the tomato is soft. Add the coconut and switch off the heat and mix. Keep aside to cool. Grind to a fine paste adding a little water if needed.Keep side.
3.Heat a pressure cooker with oil and add the mustard. When it crackles, add the shallots and curry leaves. Saute till the onion is soft. Add the turmeric powder,asafoetida powder, coriander powder and the ground masala paste and mix well on low heat.
4.Add a splash of water and cook for a minute.Drain  and discard the water used to soak it.Put in the  soaked beans and add 2 1/2 cups of water [adjust according to consistency preferred]  and bring to boil.
5.Add salt, tamarind water and cover and pressure cook for 5-6 hisses / 15-20 minutes till the butter beans is  very soft but not musht.
Remove from cooker and serve with rice / roti.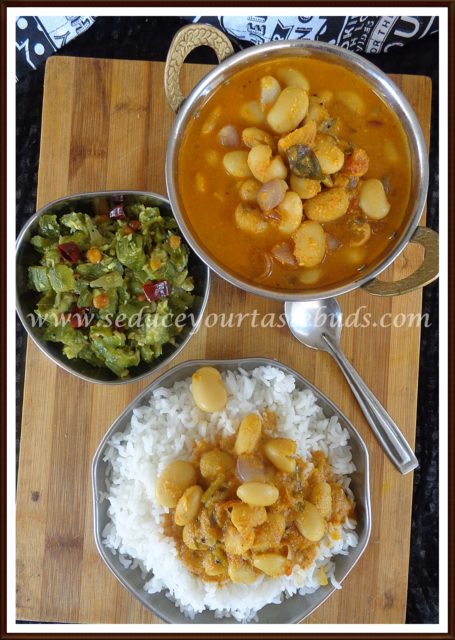 Note :
If the gravy is too watery, let it cook uncovered till the excess water evaporates.You can also mash up some beans so that it thicken up.Similarly, add more water if the mixture is too thick.
Check out the Blogging Marathon page for the other Blogging Marathoners doing this BM#78