Sakkarai Pongal Recipe with step by step pictures
When we lived in China, I used to call up mom and ask her the details on what should be done for festivals and menu that should be followed. I was on my own and wanted her guidance to follow the rituals on the particular day.
I have gathered a lot of details on customs and celebrations and posted here on my blog.
This dish too is one such ,where I had asked her how to make this pongal. Her instructions were so clear and easy and I felt it was the easiest dish to make!!
Sakkarai pongal recipe was originally posted in January 14 2010 and exactly 8 years later I am posting it with step by step photos and better clicks.
Here is the original intro….
This is a mandatory dish that is prepared for Pongal .The recipe is simple yet it is creamy and rich!It is mighty nutritious with rice and pulse to make a complete protein and also has Iron from jaggery.With so much goodness I wonder why people[including myself] usually make this only on Pongal day!!
Waking up earlier than usual,I prepared this sakkarai pongal,ambaday ,Ven pongal along with the regular lunch items to be packed for Hubby's lunch box.I would love to share some with you too..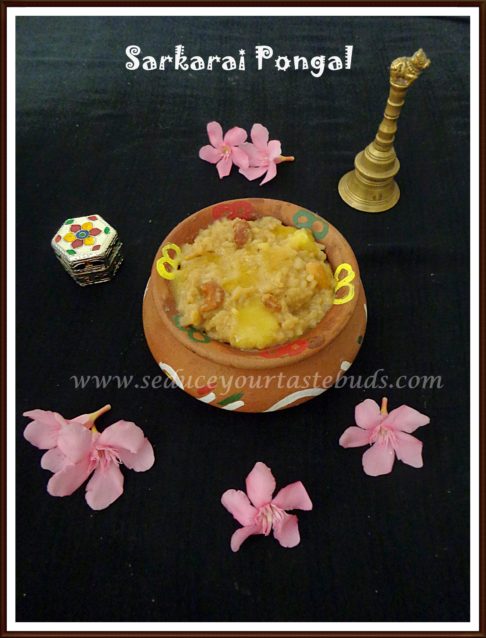 I used:
Rice-1 1/4 cups
Roasted moong dhal-3/4 cup
Milk-2 cups
Water-3 cups
Jaggery-1 1/4 cups,powdered
Cashews
Raisins
Ghee-1/4 cup
Roast the rice and moong dal separately and transfer into a large vessel.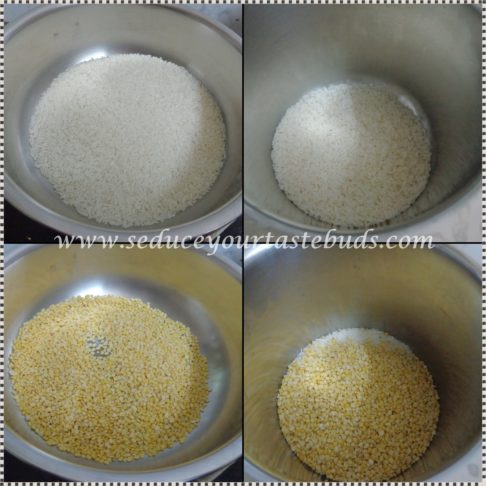 Pressure cook moong dhal and rice with 3 cups water+ 11/2 cups milk for 10-15 minutes or will well cooked and mushy.

When the pressure valve releases,transfer the contents into a large vessel  and mash well.While it is still hot,add the jaggery, and mix well. Now add the remaining milk and cook on low flame for a few minutes, stirring so that the contents of the pan do not burn.Remove from heat after 5 minutes.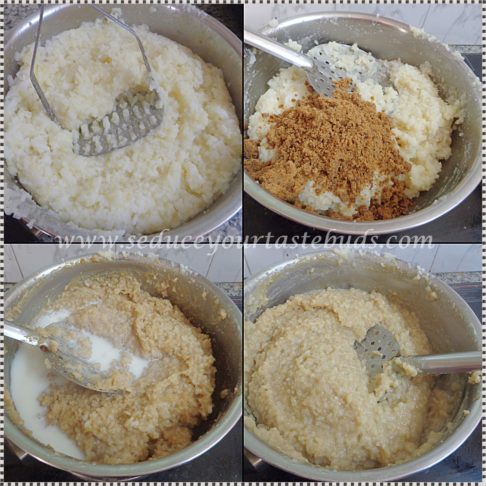 In a small pan,heat 3/4 of the ghee and roast cashews and raisins separately. .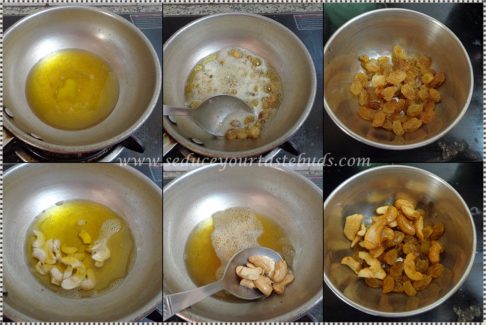 Add this to the pongal and pour in the ghee used to roast the nuts.Mix well.

Drizzle the remaining ghee while serving the Sakkarai Pongal.
Note:
Add more ghee will make the dish even more tastier!
If it thickens on cooling,add warm milk to get the desired consistency and mix well.
Roasted moong dhal gives a lovely aroma to the dish but it is purely optional.In case you prefer to use the roasted one,roast till the dhal turns a little brown and aromatic.
Roasting rice is optional too. Most of the times I don't roast it.
Some like the pongal to be gooey.In that case add more milk/water.
The jaggery sometimes has impurities.If you are sure that it is clean add it as such or else dissolve the jaggery in a little[yes,just till it dissolves] water and wait for a few minutes,filter and use the liquid to sweeten.
A few strands of saffron soaked in a tablespoon of warm milk / a pinch of cardamom powder can be added at the end.
Happy Pongal…