Ennai Kathirikkai Kuzhambu|Baby Brinjal In Tangy Gravy recipe with step by step pictures
Here is yet another dish, that also happens to be mine and Lil Angel's favorite dish, that is being updated with better pics for Blogging Marathon #85, Week 4, Day 3.
This post was originally published in March 2018. Though I prepare this dish quite often, it is only now that I took step by step pics to update the post.
——————–
The saying – 'The way to a man's heart is through is stomach' may be very true but what if that food affects his heart??? Scary thought, huh?? Each and every day we hear about 'cholesterol, heart blocks, low fat diets …… '.The list is endless.A tasty dish does not necessarily mean it has to be laden with oil. Even the traditional recipes that use loads of ghee or oil can be modified to 'low fat / fat-free' and still be lip-smacking.
This is one such dish which is very delicious when cooked in lots of oil .It is originally called 'Ennai kathirikkai' meaning brinjal cooked in oil!.But I have modified it and used very little oil just for seasoning without compromising the taste – Thanks to the microwave!!!
So ,here is a low fat delicious dish….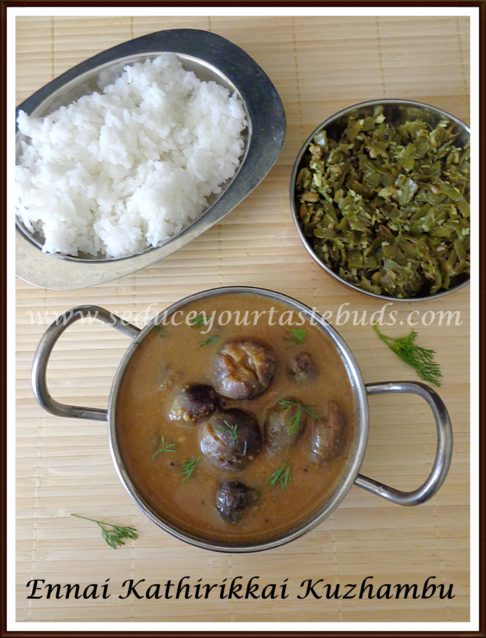 You need :
Tender baby brinjal – ½ kilo
Tamarind – big lemon size
For the spice mix:
Gram dhal – 5 teaspoons
Urad dhal – 5 teaspoons
Red Chillies – -4-5 [adjust to taste]
Asafoetida – a pinch
Sesame seed – 2 teaspoons
Seasoning:
Oil – 1 teaspoon
Mustard – ½ teaspoon
Urad dal- 1/2 teaspoon
Gram Dhal – ½ teaspoon
Curry leaves – a few sprigs
Salt to taste
Step by step method to prepare Ennai Kathirikkai Kuzhambu|Baby Brinjal In Tangy Gravy recipe
Soak the tamarind in warm water. After 10 munutes, squeeze out the juice from the pulp. Add more warm water and repeat once more. Strain and keep aside.

Roast sesame seeds in a pan and once it starts to pop, remove onto a plate and keep aside. In the same pan, add oil and put in gram dal, urad dal, red chilies and asafoetida. Roast till dal turns brow.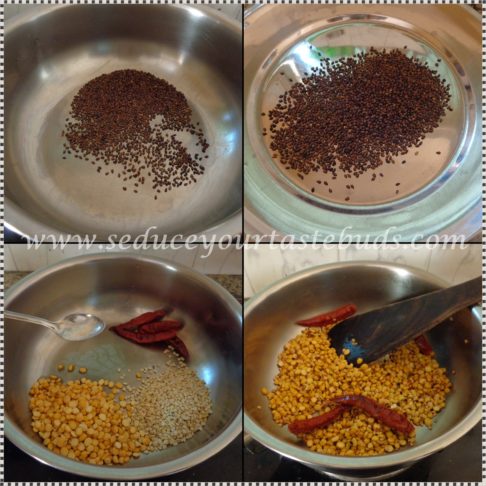 Transfer this to the plate with sesame seeds. Let it cool. Powder this mixture. Add salt and mix well. Remove onto a plate and keep aside.

Wash and drain the brinjal. Remove the crown of the brinjal and cut as shown.Check for worms.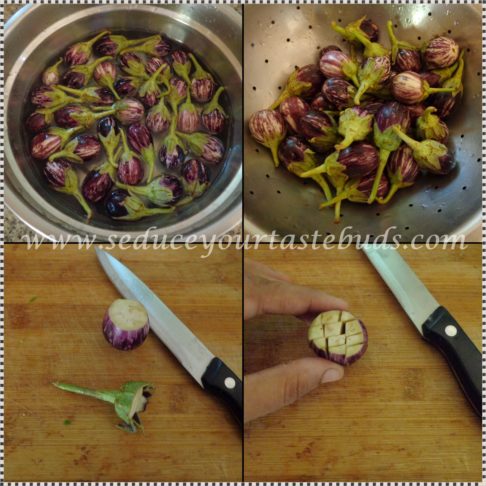 Fill the brinjal with the spice mi prepared in teh previous step and arrange the stuffed brinjal in a microwave proof bowl. Microwave on high for 10 minutes / till just tender. Do not over cook it.

Heat oil in a pan and add mustard, gram dal, urad dal and curry leaves. Once the dal turns brown, add asafoetida powder.Add the cooked brinjal and saute gently. Now add the tamarind pulp,around 1 cup.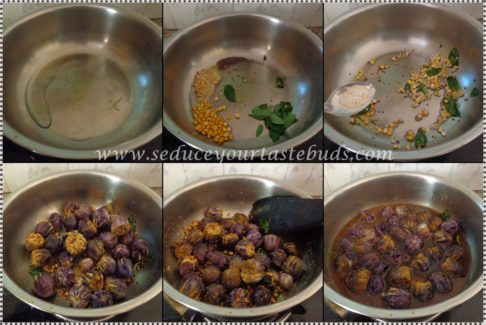 Add turmeric powder and bring to a boil.Add salt and simmer for 2 minutes.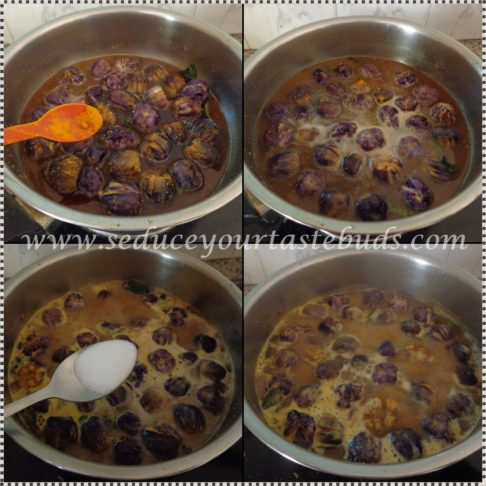 To the remaining spice mix, add a little water and add to the simmering gravy. Do a taste test, and add water if needed. Add a little jaggery powder to bring down the tartness. This is optional. Also you can add a little red chili powder if needed.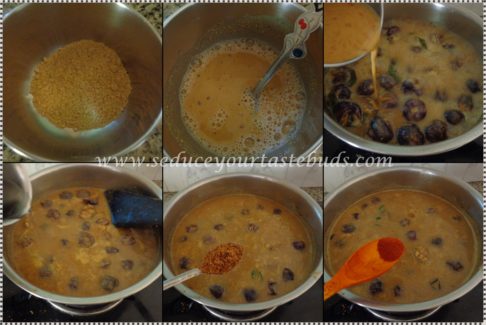 Remove from pan and serve with steamed rice.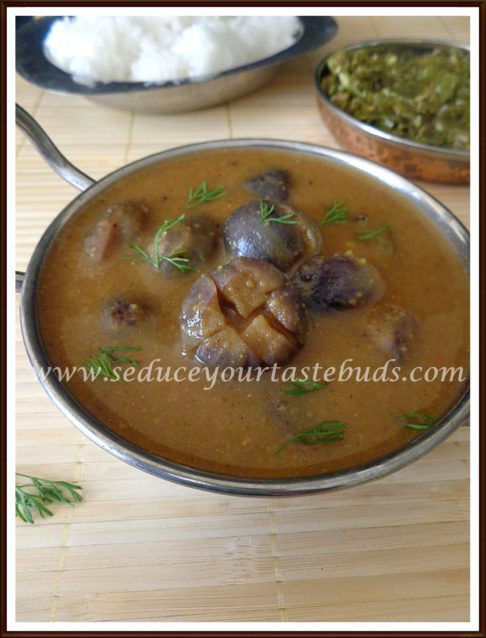 Note:
Do not microwave the brinjal till tender as they will also get cooked in the tamarind sauce and fall apart.
There is another way of preparing the same dish. Spices like saunf, cinnamon, cloves can be added while preparing the powder and also the slits can be made from the other end keeping the stalks intact.