Lemon Leaf Tea Recipe with step by step pictures
It is interesting to see how the same thing contradicts in opinion of different people!!
I know the opener sounds like a puzzle! I have a small incident to share and you will surely understand what I meant.
A year or so back, a small lemon tree came into existence in mom's place. It is right near the front gate and we still wonder how it started growing there of all places!
When the plant grew to a noticeable height, one person who came home for the first time exclaimed that we have placed the lemon sapling in the perfect spot and that it is good for the well being of the house and its members!
After a couple of days another person came home, again for the first time, and mentioned that thorny plants should not be placed near the entrance of the house and that it is not good. That person also went ahead to tell us that it must be uprooted and thrown away!!
I was really wondering how the poor little lemon plant got such contradicting views just because it was near the gate!
Anyway, we did nothing about it. It is still growing in the same place. Once in a while, it is full of plump caterpillars and all that is left is just the thorny branches. Then new leaves grow back and the plant returns to its former glory.
So as you would have guessed, this incident comes to focus as I am posting a recipe using the leaves from the controversially positioned lemon plant.
This week I am posting 3 ingredient dishes for  Week 2 in the Blogging Marathon #85th edition
Related recipe – Lemon leaf flavored buttermilk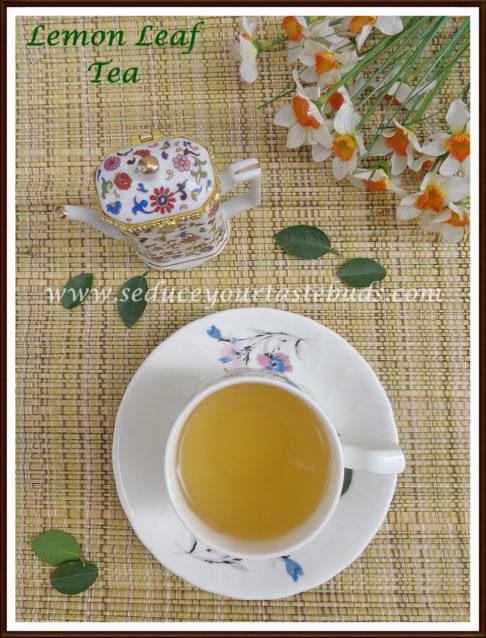 Lemon leaves are being used in Thai, Greek and even in African cuisine.Even in the Indian cuisine there are recipes that make use of Lemon leaves. Vepillai katti is a South Indian dish which uses curry leaves and lemon leaves to make a chutney of sorts that goes very well with curd rice.I have also bookmarked some Bengali recipes that uses this leaf in its preparation.
Now coming to the dish of the day – Lemon Leaf Tea Recipe…
Lemon leaf is said to posses some medicinal properties and is said to be useful in nervousness, insomnia etc. There are other ailments as well in which this leaf provides relief!But I am not going to go into them in detail.
This tea has a very fresh flavor and is a nice palate cleaner as well. Lil Angel shared a portion of this tea and liked it as well.
Let us prepare this Lemon Leaf Tea Recipe
Heat 2 cups of water in a pan. When it comes to a boil, add 5-6 torn lemon leaves.Be sure to wash the leaves well before use.

Once it comes to rolling boil, simmer, cover and let it boil for 5 minutes.

Strain the tea and add honey to taste. Mix well.

Refreshing Lemon leaf tea is ready to be served!!!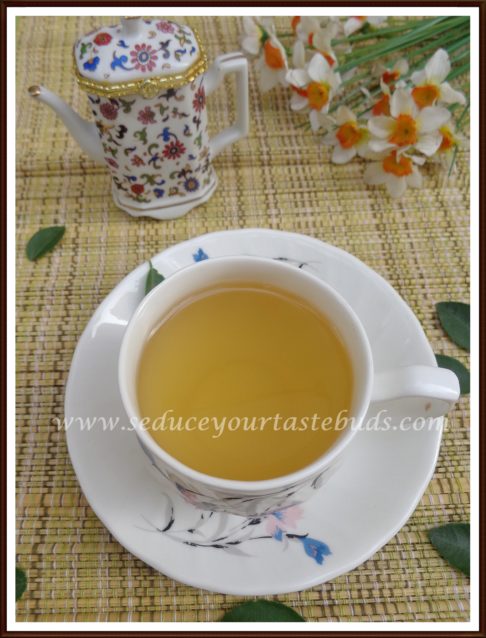 Check out the Blogging Marathon page for the other Blogging Marathoners doing this BM#85