This afternoon,I was lazily browsing through FB on my mobile when it threw up a memory from 2016[ the picture of which is at the end of the post]. And that's when I remembered that I had not posted the recipe of the rasam which was in that click 2 years back!!!
I felt so nostalgic when I saw the pic and was surprised how much I had cooked that day apart from the lunch spread!
This recipe is from Jeyashri's Kitchen. I still remember how delicious is tasted with steamed rice and a dollop of ghee! That FB memory also reminded me that I have not made this in a long,long time!
This rasam is an Iyengar style dish and it does not use the regular rasam  powder or the mandatory tamarind!
The recipe uses ground spices but does not taste like Jeeraga Milagu rasam either. Kalyana rasam recipe is a must try if you really love to have rasam with your everyday meal!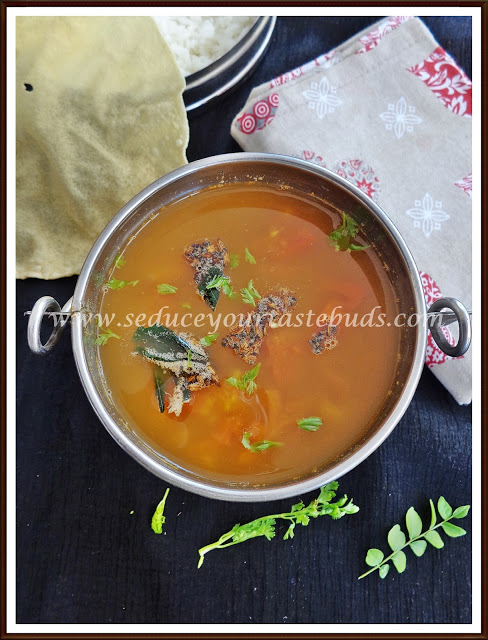 Here is how to prepare Iyengar style Kalyana rasam recipe:
I used:
Tomatoes-3, ripe
Toor dal-1/8 cup,cooked
Mustard seeds-1/2 teaspoon
Cumin seeds- 1/2 teaspoon
Asafoetida powder- a pinch
Turmeric powder- a large pinch
Curry leaves- a few
Coriander leaves- a few sprigs
Salt to taste
Ghee-1 teaspoon
For the spice mix :
Toor dal-1 tablespoon
Black peppercorns-1 teaspoon
Cumin-1/2 teaspoon
Red chilies-3 [adjust to taste]
Oil-1/2 teaspoon
Roast the ingredients mentioned under spice mix with a little oil.Cool and grind to a fine paste adding a little water.
Puree 2 tomatoes and chop the other tomato and keep aside.
In a vessel take the tomato puree, ground paste, asafoetida, turmeric powder,salt and mix well.Bring the rasam to a boil.
Mash and dilute the cooked toor dal with 1/2 cup of water and add to the rasam mix.
Cook on low flame and when the rasam turns frothy, add the chopped tomato and switch off the heat. The tomatoes will get cooked in the remaining heat.
Heat ghee in a small pan and add mustard and cumin seeds.
When they splutter, add curry leaves and pour into the rasam
Garnish with coriander leaves and serve with steamed rice.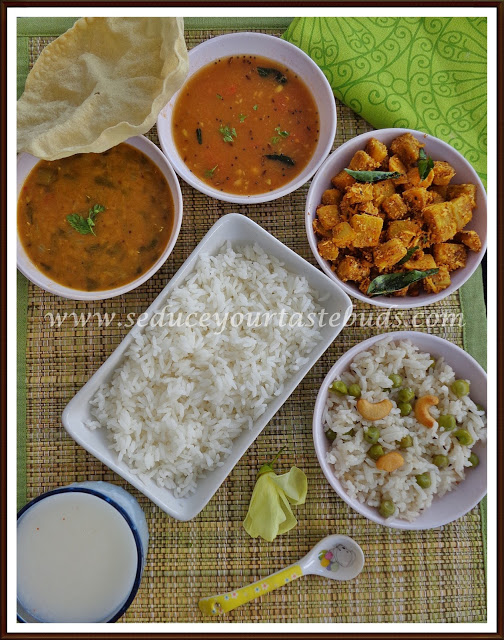 So, this is the pic that popped up on FM=B memories – Rice with
Murungai keerai sambar
,kalyana rasam,vazakkai porriyal, peas pulao, appalam and buttermilk…
I don't think I have posted the other 2 recipes that are on this pic. Will dig them up and post them in the coming days….