Tenth Avatar : A Quest for Knowledge -Book review
Book– Tenth Avatar :A Quest for knowledge.
Author – Dr. Kanchan Joshi
Pages– 242
Publisher – The Write Place
ISBN – 978-8-19342-993-8
Price– INR 350/-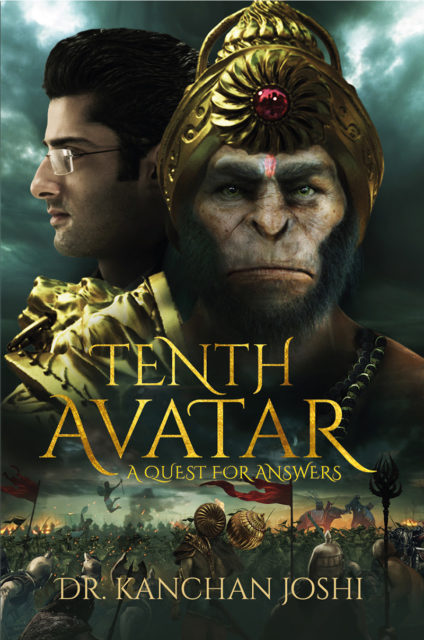 In the book selection process I am drawn towards mystery, thrillers and mythology. When this book came up for review I was intrigued by the category that it falls into – Science -Mytho fiction! The Mytho part pulled me into reading this novel.
The author is a scientist and no wonder that he has used his field of expertise in weaving this story.
The story is written in 17 chapter with each chapter having a title and an adage below it.
The story starts with Hanuman asking his father, General Kesari, to tell him a story of the famous battle that he fought in.Through this story Hanuman learns about the history and beautiful geography of their homeland.
In the next chapter we are introduced to Krishnanujam, one of the rising stars of theoretical physics and mathematics and also the other hero of our story, who is at present in modern day California.
Often Krish, as he is referred to by his friends and colleagues, experiences some out-of-body events that baffles him. He does not know how and why they occur!
Krish is working out a way to explain the happenings / secrets of the Universe through complex mathematical formulas.
The government is after is his research paper on Quantum Communication and so are some other groups who want to get their hands on the research paper and use it for their gain!
His life is in extreme danger and people around him get killed.There are several attempts on his life! Even the FBI agent sent to protect him is killed while on duty.
Fed up with all these happenings around him, Krish flies home to India to meet his parents and the girl with whom he had fallen in love years before.
Finally, he gets married to the girl of his dreams, Prisha and now concentrates on finding the self taught mathematical genius Ramanujam's lost formula, which he believes will lead him to more answers towards unlocking the mysteries of the universe.
He gets back to work and after a while a depressed Prisha joins him in the US after losing her start up company that she had worked on with so much passion.
She has severe mood swings and even attempts suicide!Slowly Krish nurses her back to normalcy with the help of meditation and soon all his colleagues and friends join him in the meditation sessions.
He does unravel the mystery of the Universe and is set to receive the Nobel Prize!!But that's where the twist lies!! Read this book to see how it ends! And also to know what happens to the world and the Universe after the climax.
And all through Krish's story till the very end, there is a parallel story of Hanuman, Rama, Sita and Ravana running along!!
What I like about the book:
Obviously the mythology part and I liked reading parts of the Ramayan again.
The story runs in parallels, between Hanuman's era and the present day, each having a similarity in the story line. The author has brought together the similarity of events of two different eras very effectively.
It is fast paced and thrilling
The language is simple and straightforward.
India has been practicing meditation and yoga since since immemorial but was forgotten somewhere in the middle ages. Now it is again coming into limelight since it is gaining popularity in the west. In this book, the importance of meditation or rather how is it is helpful has be brought about beautifully in this book.
Even if one is new to Indian Mythology, the author has given a one line intro to all the mythological characters that appear in the story.
The last page of the book is really intriguing especially with the – to be continued… line. So I guess the sequel is somthing I will look forward to reading.
Frankly I am not too much into Science. So the parts where Krish explains things related to Physics / mathematics had to be read twice before I could relate to it! And the other thing is that the author has not revealed about the other group who tries to kill him or the person / people behind the nuclear bombing.
But finally, 'Tenth Avatar – A Quest for Answers', is a fast paced book full of action, adventure, romance, hard science with an undercurrent of spirituality and deep, profound exploration.
Pick it up as it comes form a different genre and if you are into thrillers and mystery novels with a touch of mythology, you will definitely like it.
About the Author
Dr. Kanchan Joshi
Born and brought up in India, Kanchan Joshi was always intrigued by the history and mythology that surrounded him. He earned a Ph.D. in Chemical Engineering from the University of California. He has lived in the US for more than 15 years, working in Research & Development. Thus, he has been exposed to ancient history, spirituality, as well as scientific rigor that inspired him to write this book.
——————————–
Check out the 50+ novels and coobooks in the Book Review page that have been reviewed so far…