Most of last summer ,I spent my time making popicles. The kids loved it , it was a super easy way to chill out, they got to help making the pospicles and then it was a good way to keep them engaged! We tried to make Popsicle out of every possible ingredient. And one of the quests led to this Jamun Fruit | Nagapalam Popsicle Recipe
Based on each ones favorite, we came up with different popsicle recipes. Buttermilk popsicle was mom's favorite, the 2 ingredient mango popsicle was Lil Angel's favorite and the fruit shunning dude loved the grape juice popsicle!
Lil Dude hates fruits and the only way I can get to make him eat fruits is masking them in various dishes. Like all other kids , he loves popsicles and hence, most of the fruits turn into popsicles!
It tastes so good that no one will believe the fruit that went into it! This delicious Popsicle is for BM #93, Week 1, Day 3 with the theme 1 ingredient 3 dishes.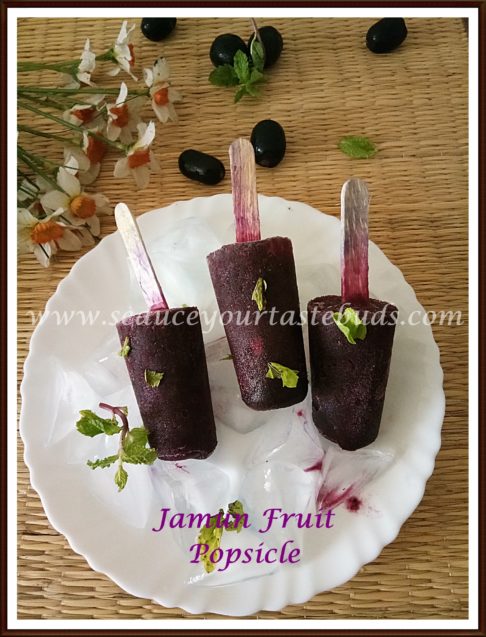 Here is how to prepare the Jamun Fruit | Nagapalam Popsicle Recipe
I used:
Jamun fruit – 1 cup, chopped
Mint leaves- a handful
Chaat masala- 1/2 teaspoon
Powdered jaggery -as needed
Take the jamun and mint leaves in a mixie jar.
Blend well and strain.
Add powdered jaggery and chaat masala
Fill into Popsicle moulds, cover and refrigerate till set
When ready to serve, show the popsicle mould under running water and remove the Popsicle gently
Enjoy the delicious Popsicle!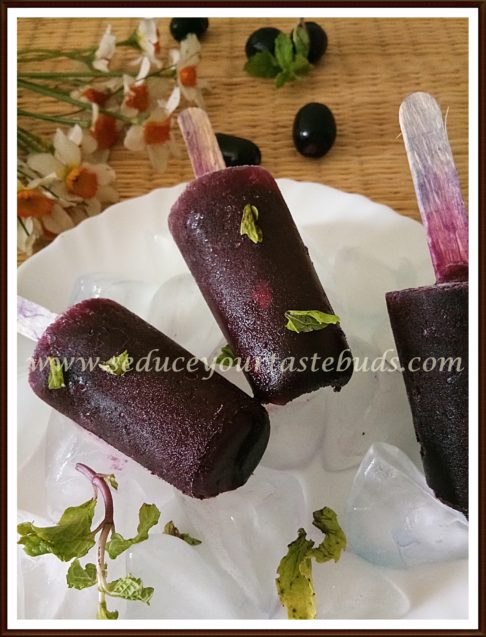 Note:
The fruits were slightly tart, so I did not add lemon juice.If the fruit is too sweet , add a little lemon juice.
You can use sugar / honey / any sweetener of your choice
If you don't have a popsicle mould, pour into small paper cups  and cover with cling wrap / aluminium foil.Insert popsicle sticks when half frozen and then freeze till set.
Check out the Blogging Marathon page for the other Blogging Marathoners doing this BM#93