The climate is cloudy and dull. Looks like there will be downpour within a few hours.But here I am posting a popsicle recipe!This Jamun Yogurt Popsicle recipe was prepared during the jamun fruit season ,around May-June.And I am posting this for the Blogging Marathon theme – Colorful dishes.
Like I have mentioned earlier,Jamun fruit is also called Black Plum / Java Plum. Locally [in tamil] it is called Nagaa Palzham / Naaval palzham. Other names include Jambolan,   Neredu, Nerale, Jambul, Jamali.
It comes from the tree Syzygium cumini .This tree is native to the Indian subcontinent and its adjoining regions. It is said to have spread to the other countries through Indian emigrants.
It is in season during summer and has numerous health benefits.It has a slightly sweet taste with sour and astringent undertones.
If you find this fruit in summer be sure to try out these dishes with it…
This is a very simple recipe and uses just 3 ingredients!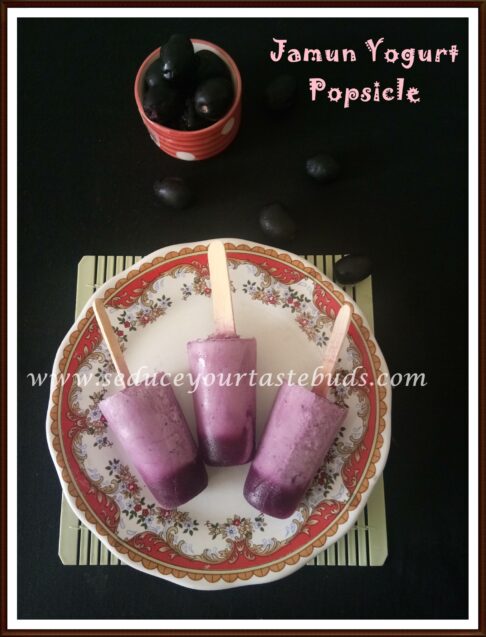 I used:
Chopped Jamun fruit- 1 cup
Fresh,thick yogurt – 2 cups
Honey – to taste
Blend all the ingredients in a blender.
Pour into popsicle moulds
Cover and freeze till set
When ready to serve, show the Popsicle mould under a tap and remove the popsicle gently.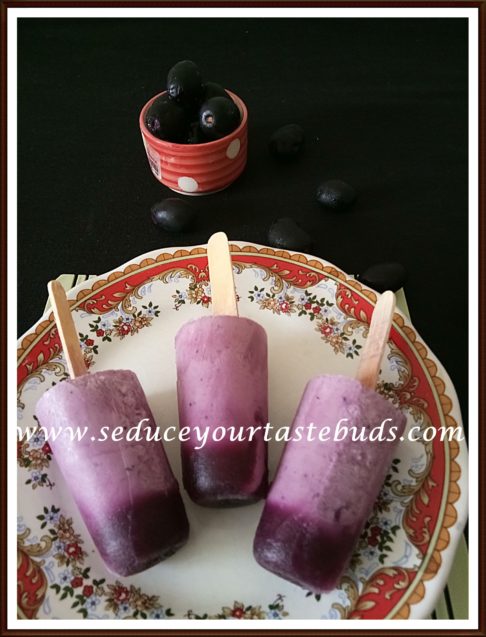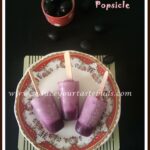 Jamun Yogurt Popsicle Recipe
A colorful and healthy summer treat!
Ingredients
1

cup

Chopped Jamun fruit

2

cups

Thick,fresh yogurt

Honey to taste
Instructions
Blend all the ingredients together

Pour into popsicle moulds and freeze till set

When ready to serve, show the mould under running water and gently remove the pospicle

Enjoy the colorful and healthy summer time treat!
This post is for Blogging Marathon #94, Week 4, Day 3, where I have chosen the theme – Colorful dishes
Check out the Blogging Marathon page for the other Blogging Marathoners doing this BM#94
If you like the recipe rate us at the end of the post.Do try out this recipe and share your results in the comments section.
And don't forget to use those share buttons!