This Oven Roasted Cauliflower Recipe is something that I have been wanting to try for a long time.
I have seen so many varieties and variations in making this dish and each one is equally tempting.
So finally when I decided to joined Bakeathon event,apart from the cakes and cookies that the kids wanted, I was eager to make some savory bakes as well. So the first thing that came to my mind was to prepare an Oven Roasted Cauliflower Recipe.
I decided to make a small portion to see how it goes or how t turns out and then planned on making more based on the outcome.
The dish came out so well and I was so impressed. After making this I just kept it in a box after taste testing. When the kids got home,seeing the box, they eagerly opened it to find the roasted florets.
The lil one who hates all vegetables except a select few, was happily munching it. Lil Angel was bowled over and my parents just got a few for tasting!
Had I known that it would be such a hit, I would have made a bigger batch!
Although the taste was great, I am not sure how many times I will be making this again as the time taken is a bit more and I am not patient enough!!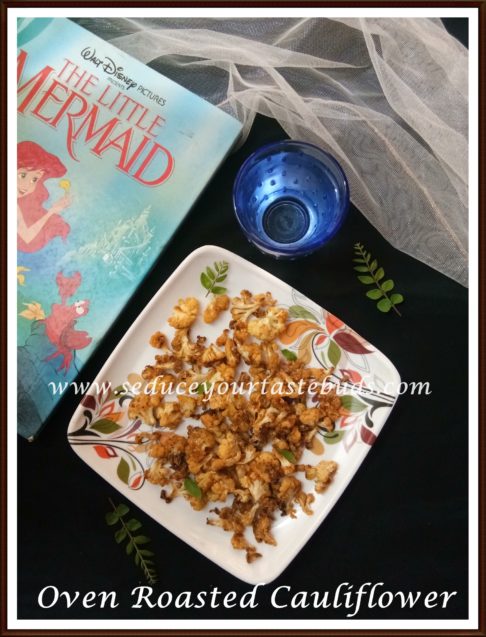 Here is how to prepare Oven Roasted Cauliflower Recipe
I used:
Cauliflower- 1 small, florets separated
Sambar powder- 1 teaspoon
Corn flour- 2 tablespoons
Turmeric powder- a large pinch
Salt to taste
Oil-2 tablespoons
Take all the ingredients in a bowl and mix to combine.
Place the cauliflower florets on a baking tray and spread it out evenly.
Bake at 180 degree C in a pre heated oven for 15 minutes.
Switch over to broil mode and bake to another 15 minutes, stirring the contents on the tray twice in between.
Once the cauliflower turns crisp, remove from oven and serve.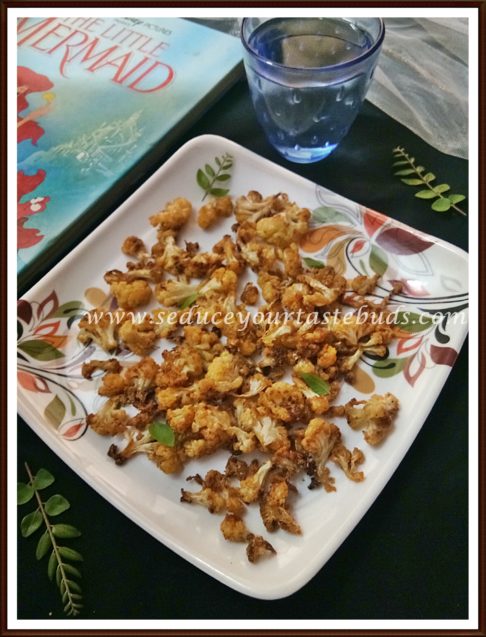 Note:
The baking time will vary on the size of the florets.Mine were small sized.
The quantity of corn flour will depend on the size of the cauliflower.Adjust to suit the quantity.
I baked it in the middle rack and broiled it in the upper rack.
Add any spices to suit your taste. Pepper powder / garam masala / Chili powder etc are good options.
Be sure to move around the florets in the tray so that they don't get burnt.
Don't over crowd the tray with florets. If making a large portion, bake in batches
Check out the other bloggers doing this Bake-a-thon
Loading InLinkz ...