Curry leaf is something hard to find here and so when I left India mom made sure I carry atleast a little.She picked ,washed and pat-dried and packed them.She also prepared tasty curry leaf powder to use instead of curry leaf or just mix it with some hot rice drizzled with ghee..Just the thought makes me drooollll… Today though, I wanted to have curry leaf powder and rice with a difference so this is what I did…
You need:
Rice -1 cup cooked and grains seperate
Curry leaf powder -2 tablespoons or more
Green peas-1/2 cup
Roasted peanuts-1 tablespoon
Mustard-1 teaspoon
Jeera-1 teaspoon
Red chillies-2,broken into bits
Ghee-1 tablespoon
Salt to taste
Boil the peas and keep aside.
Heat oil in a pan and add mustard and jeera.
When it splutters,add the red chillies,roasted grounduts,cooked peas.Saute for a minute.
Add the rice and sprinkle curry leaf powder over it
Mix well and check for salt and add if needed.[Curry leaf powder already has salt]
Serve hot with a raita/crispy.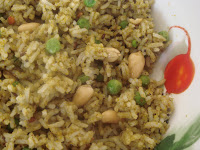 Sending it over to Srivalli's Rice mela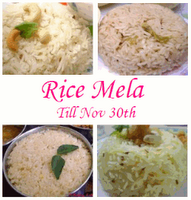 Also in the rice mela…
Rice Sevai
Lemon sevai
Aval Upma
Curd rice
Ridgegourd rice
Capsicum Rice
Fusion Rice
Carrot Rice
Pepper flavoured rice
Check out my team mates on RM # 2 day 30
1) DK 2) Siri 3) Srivalli 4) Ranji 5)PJ [That's me]6)Curry Leaf 7)Medha 8)Priya 9)Bhawna 10)Raaji 11)Ruchii
12)Anu 13)Kamala 14)Roopa 15)Divya Kudua 16)Rekha 17)Divya M 18)Lakshmi 19)Raaga 20)Lakshmi Venkatesh 21)Sripriya22)Viji 23)Kamalika24)Pavani25)Karuna26)Roochi