With the basic rice sevai you can prepare so many varieties of yummm breakfasts like ell sevai[sesame flavored],Jaggery flavored,coconut sevai,curd sevai etc.What I'm posting today is lemon sevai which is easiest if u have the basic recipe ready.
You need:

Seasoning:
Mustard seeds
Urad dhal
Gram dhal
Roasted groundnuts
Green chillies
Ginger
curry leaves
turmeric powder
lemon juice
salt
Oil
Heat the required quantity of oil in a pan and add the mustard seeds and let it crackle
Next add the urad and gram dhal and let it turn golden brown.In goes the ginger ,curry leaves,green chillies,turmeric powder,groundnuts.
Fry for a few seconds and remove from heat
Put in the Rice sevai and add salt and mix
When slightly cool add lemon juice and mix well and serve with coconut chutney/sambar/pickle
You can also use coriander leaves for garnishing.I have not given the measurements for the seasonings coz I didn't measure the quantity of rice sevai I used.Use the appropriate amount of seasonings depending on the quantity of sevai and to suit your taste.
This goes to Rice mela being conducted @ Srivalli's blog.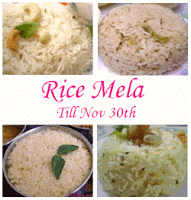 The other recipes that went into Rice mela –
Rice Sevai
Aval Upma
Now lets go n peek into my team mates kitchen to see what they are doing in RC #2 day 7
1) DK 2) Siri 3) Srivalli 4) Ranji 5)Curry Leaf 6)Medha7)Priya 8)Bhawna 9)Raaji 10)Ruchii 11)Anu 12)Kamala
13)Roopa 14)Divya Kudua 15)Rekha 16)Divya M 17)Lakshmi 18)Raaga 19)Lakshmi Venkatesh 20)Sripriya
21)Viji 22)Pavani