I was really surprised when I realized that I had not prepared semiya upma for a long time.The packet of Semiya that traveled with me from India was lying there in the pantry almost forgotten,behind other 'popular' food stuffs.I picked it up for breakfast a few days ago.
This is one of the quick fix breakfast/dinner dish and we can make it as interesting ,I mean,tasty as we want. The things you put in to this upma can range from carrots,beans,peas,corn to any of your favorite vegetable to roasted groundnuts,cashews etc.
I used:
Vermicelli/Semiya-2 cups
Mixed boiled vegetables-1 cup[carrots,peas,potato,beans]
Onion-1 sliced
Tomato-1 small chopped
Ginger-1/2 a teaspoon grated
Red chillies-4
Curry leaves- a few
Mustard-1 teaspoon
Jeera-1 teaspoon
Oil-2 teaspoons
Salt to taste
Roasted cashew-a few to garnish
In a pan roast the semiya till ti turns brown.Keep aside
In the same pan heat oil and put in mustard,jeera and when it splutters add the red chillies and curry leaves.
Put in the onion and ginger and saute till onion is transparent.
Next in goes the tomato and cook till soft.
Add the boiled vegetables and 3 cups of water and bring to a boil.
Put in salt and simmer.
Add the roasted semiya little at a time and stir to mix.
Cook till the water is absorbed and the semiya softens when a few strands are pressed between the fingers.
Remove from heat and serve garnished with cashews.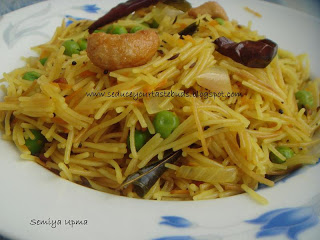 This can be served with sambar / coconut chutney / pickle / plain yogurt. It tastes well on its own too..
Note:
Pre roasted varieties of vermicelli are available and they can be used directly.
While boiling the vegetables cook till they are almost done as they will further cook along with the vermicelli.I usually microwave the vegetables and in the mean time roast the vermicelli and chop onions and tomatoes.You can also pressure cook the vegetables.
Usually,the quantity of water to be added will be given on the pack.Adjust accordingly.If too much water is used,it will turn mushy.
Happy cooking…