This is a flavorful and easy dish to go with steamed rice from.Its actually a Palakkad Iyer dish.Here the greens are ground to a paste and mixed with dal and some ground spices.Paired with steamed rice and some crispies / pappad , its a hearty meal….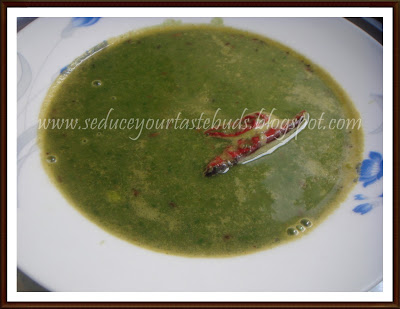 I used :
Spinach -1 large bunch,roughly chopped
Toor dhal-3/4 cup
Red chillies-2
Mustard -1 teaspoon
Coconut oil -1 teaspoon
Salt to taste
Roast with 1 teaspoon oil and powder :
Urad dhal-2 teaspoons
Grated coconut-4 tablespoon
Cumin seeds-1 teaspoon
Red chillies-2
Pressure cook dal mash well and keep aside..
Cook the spinch with a little water till it starts to wilt.Cool and puree.
In a pan put in the mashed dal,pureed spinach,ground masala,salt,enough water to bring it to a pouring consistency.Mix well to avoid lumps.
Bring to a boil and simmer for a couple of minutes.
Transfer to a serving dish.
Heat oil in a small pan and put in mustard seeds,red chillies.
When the mustard pops pour over the greens.
Mix and serve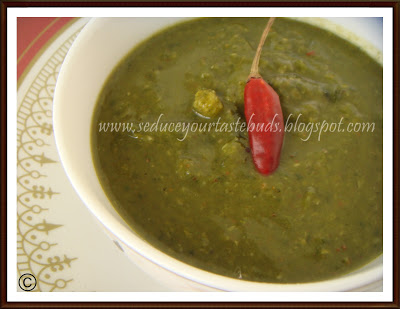 This is a very simple recipe that can be put together quickly.
Keerai Molagootal with steamed rice and pappad…
Its nice to go back and see what I cooked…This day that year…
2009 – Spicy brinjal curry born out of the desperation to make a brinjal curry that hubby would love and he did!!!
Bon Appetit…