Peas and Paneer are an eternal favorite in our household.And it goes without saying that these two need to be prepared often, either in combo on on their own to please the taste buds of the Lil one at home.And of course the adults in the family are always pleased when Roti is served with any thing other than the usual masal / kurma.
Today being the third day of Cooking From Restaurant Menu for Week #4 of Blogging Marathon 24 , I chose Cheese Peas Curry from the India House Vegetarian Restaurant menu card.
As I said earlier, the restaurant dishes are creamy and I made this gravy rich and creamy by adding cashew paste and ghee is used to get a richer taste. I made this in the pressure cooker to reduce the cooking time.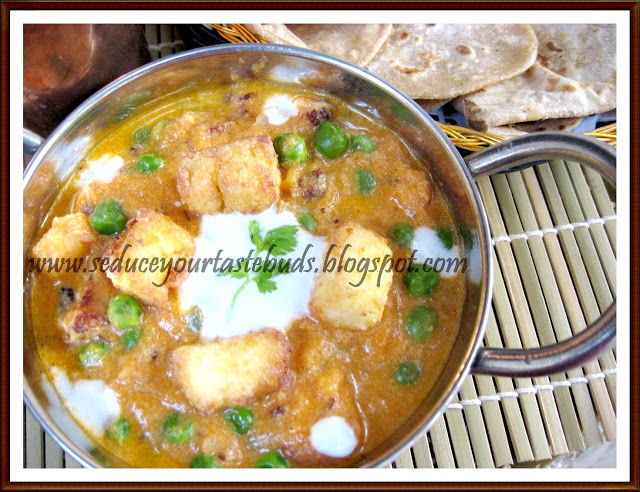 I used :
Fresh paneer – prepared from 1 liter milk, cut into cubes
Peas- 100 grams
Tomato puree from 4 tomato
Onion- 1,grated
Ginger garlic paste – 1 teaspoon
Cashew paste from 10 cashews
Red chilli powder- 1 teaspoon
Garam masala 1+ 1/2 teaspoon
Cumin seeds -1 teaspoon
Kasuri methi – 1 teaspoon, lightly roasted
Milk- 1 cup
Ghee – 2 teaspoons
Fresh cream – 2 teaspoons
Coriander leaves to garnish
Pan roast the panner cubes till golden brown on all side.[ You can also deep fry it if you prefer. In that case,dip the fried panner in a bowl of water for a few seconds and squeeze out the water gently and use.]
Heat ghee in a pressure cooker.Add the cumin seeds.
When it splutters, put in the grated onion and ginger garlic paste
Saute till the onion turns brown.
Add the cashew paste and mix well.
Put in the tomato puree, red chilli powder, garam masala,salt and cook till the masala emits ghee
Add milk and simmer.
Put in the peas and fried paneer. Pressure cook for 1 whistle.
When pressure releases,check for the consistency.Add water / milk if needed to get the gravy consistency.
Simmer and add roasted kasuri methi and sprinkle garam masala
Remove from heat and serve garnished with fresh cream and coriander leaves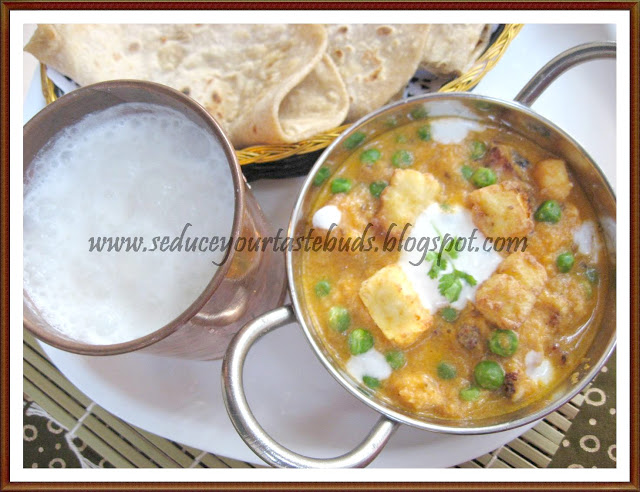 Note :
If the paneer is fresh, it will crumble while cooking.Dust the cubes with corn flour / rice flour and then fry.
Can be made low fat by replacing with low fat paneer,low fat milk and omitting the cream.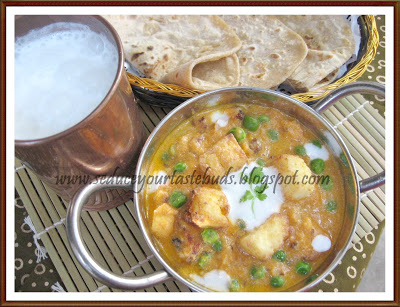 Chapathi with Shahi Mutter Panner
and Buttermilk
Take a look at the Blogging Marathon page for the other Blogging Marathoners doing BM#24
Bon Appetit…