While I was looking for recipes for this week's edition of Blogging Marathon with the theme Cheese, I came across a few facts about this ingredient from the Britannia 100 cheese recipes book from which I picked up the mushroom soup.
Cheese is a lot like chocolate, if you use good quality cheese, a small amount goes long way. Hence, when indulging make sure you choose the best.
Cheese is high in calcium, rich in protein, fat and amino acids, essential vitamins and minerals and prevents osteoporosis.
It is a good source of proteins to the vegetarians
And contrary to the popular belief, it even helps in burning fat.
So these are some delightful details about the chosen ingredient of the week.
Coming to the theme for today, it is a breakfast combo. Today I have used the regular cheese and paneer.
The chosen recipes are Cheesy Golden Finger's from Tarla Dalal's Finger food for kids and the Wake up shake from Nutritive cooking for children by Dr.Shaila Santhanam.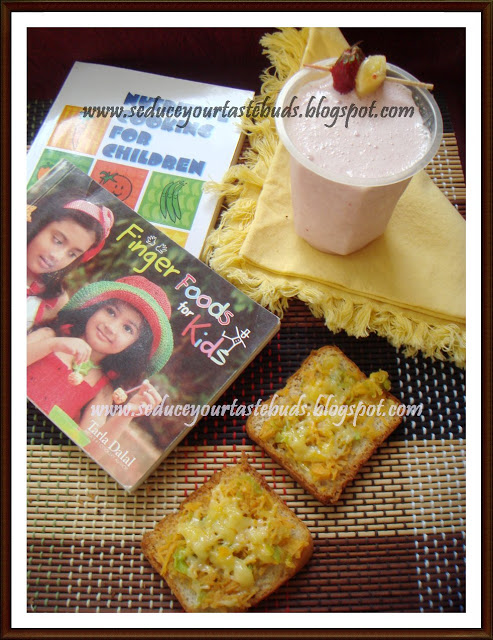 Though the book says finger food for kids, I made this as a breakfast dish and with the wake up shake it was a wholesome and filling meal.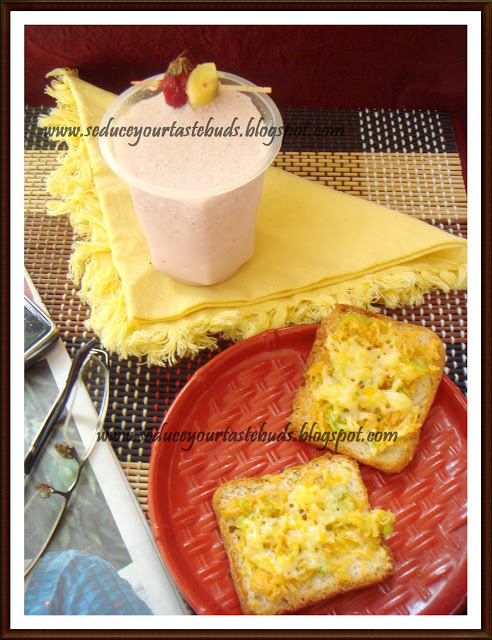 Cheesy Golden Toast:
Mini bread slices – 2
Capsicum-2 tablespoons,grated.
Carrot – 2 tablespoons – grated
Cheese- 2 cubes- grated
Butter – 1 tablespoon
Heat a griddle.
Mix together capsicum and carrot. Keep aside
Spread butter on one each of each bread slice.
Toast it on the griddle.
Flip it over and on the toasted side, spread the Carrot- Capsicum mixture.
Lower the flame and top the vegetable mixture with grated cheese.
Cover and cook till the cheese melts.
Serve immediately.
Note :
In the original recipe, the toast was supposed to be topped with vegetables and cheese and then baked till the cheese melts. Due to these unscheduled power cuts I made it on the griddle.
Also Chili paste was used in the original recipe. I used Capsicum instead.


For the wake up shake I used:
Banana -1 ,roughly chopped
Strawberries- 4
Paneer – ¼ cup
Milk- 2 cups
Honey to taste
Blend all the ingredients and serve immediately.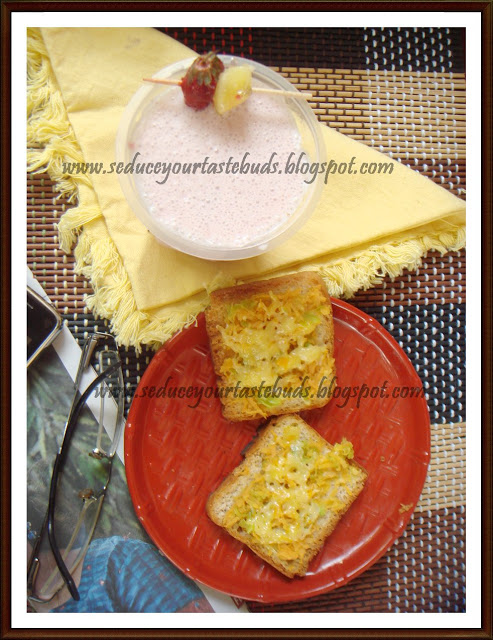 While blending, you can add ice cubes. I omitted it.
Take a look at the Blogging Marathon page for the other Blogging Marathoners doing BM#26
Bon Appetit…