We had a 9am to 6pm power cut yesterday.This happens every month and they say its for maintenance purpose. So the whole day you just carry on with all the things that does not require electricity. Lil Angel is having her quarterly holidays now and she was obviously bored.
A chat with SIL was all that was needed to make plans for the evening. We went to one of the huge shops in the city that sells anything and everything,well almost!
I had plans just to buy instant yeast, something that I am searching for a long time but can't find anywhere!And I had no plans to buy anything else. So the moment we entered the huge yet crowded shop, we started looking for Instant yeast, but to my luck, all I could find was dried yeast. I am not so satisfied with its result so did not buy it.
Since we had lots of time to kill, we wandered through each floor and I ended up buying a lot of thing! Some of them, like the moon cake moulds, were stuffs I have been looking out for a long,long time.
In the crockery and cutlery floor, I literally wanted to buy each and every thing. I loaded my shopping cart with dozens of cute and different shapes of ceramic mugs but before I got to the billing counter, took them off! I knew I did not have space to store them and the quantity that I picked up was sure to cost me a fortune.I picked up a few cake pans and knives,a few moulds and I was happy to have got them yesterday.
On the way out, on the ground floor,is a section for chaat and other snacks. We hungrily gobbled up some samosas, downed a glasses of cool Rose milk and packed up a mushroom Pizza for Lil Angel.
Though I was tired, the kids had fun running around the shop and discovering new stuffs on sale…
Now, coming to the alphabet of the day, I prepared this for Ganesh Chathurti a few weeks back. Undrallu sundal and Undrallu Payasam is the Andra name for seasoned rice dumplings and rice dumplings in milk / rice dumpling kheer.
Initially I had made Gooseberry pickles and wanted to post it as Usirikaya Uragaya but then I changed it to this one.
U – Undrallu Sundal & Undrallu Payasam
Theme – Regional
I made these as a part of the Ganesh Chathurti Prasad….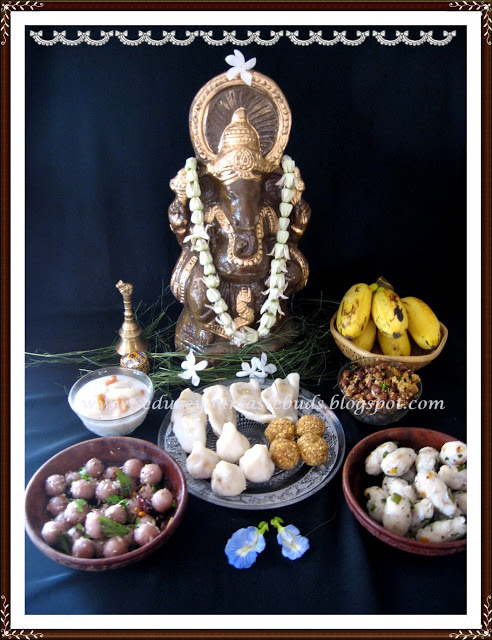 Undrallu sundal is also called Undrallu Guggilu / Ammini kozhukkatai. I have used Red rice flour and the Lil ones loved it. Generally these are shaped into tiny balls, but I made them a little bigger, both to save time and to get small bite sized pieces.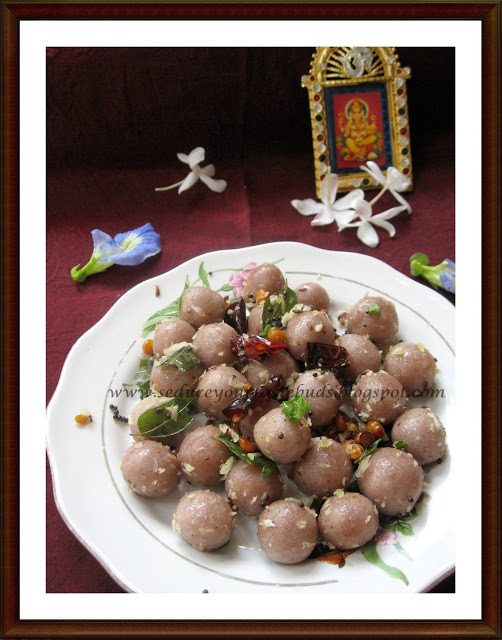 I used
Red rice flour- 1 cup
Water- 1 1/2 cups
Salt to taste
Oil-1 tablespoon
To season / Tempering
Oil- 1 tablespoon
Mustard- 1 teaspoon
Cumin seeds- 1/2 teaspoon
Asafoetida powder- a pinch
Channa dal-1 teaspoon
Urad dal-1 teaspoon
Curry leaves -a few
Red chili -2,broken
Grated coconut-2 tablespoons
Coriander leaves – to garnish
Heat water in a vessel and add salt and oil.
When it comes to a rolling boil, turn off the heat and mix in the rice flour.Stir well ensuring that lumps are not formed.
Keep stirring till the dough comes together .
Test it by taking a bit of dough and shape into a ball.The ball should not break.This is the right stage,the dough it is done.Let it cool a little.
When it is cool enough to be handled,grease your hands and knead well for 5 minutes
Roll into small balls and place them on a steamer vessel.
Steam them for 10 minutes or till you get the nice cooked aroma of the rice flour.
Remove from the steamer and let it cool a bit.
Meanwhile, heat a pan and put in the oil for seasoning.
Add the mustard, cumin and asafoetida powder.
When it splutters, add the urad dal, channa dal, curry leaves,red chilies and cook till the dals browns a little.Put in the steamed balls and mix well.
Add the grated coconut and coriander leaves, give it a stir and remove from heat.
Serve as a Prasad to Lord Ganesha or as a snack ….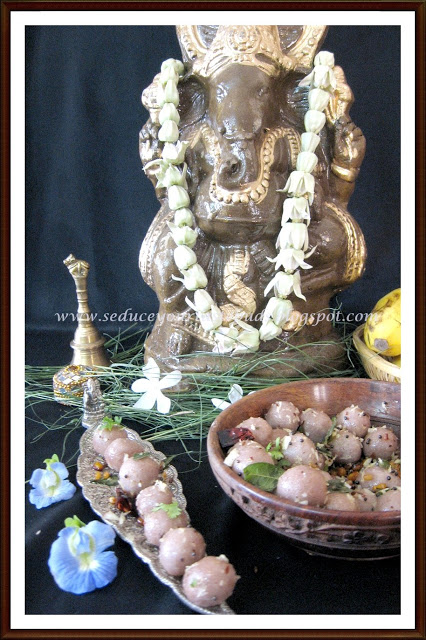 Note :
Each type of flour absorbs different quantity of water. So add 3/4th the mentioned quantity and then add more depending on the consistency of the dough. Also it is advisable to have some extra hot water handy in case the rice flour absorbs more.
You can use the regular rice flour instead of red rice flour
Usually these are rolled into really tiny balls,but I just made them a little bigger to get the work done fast 🙂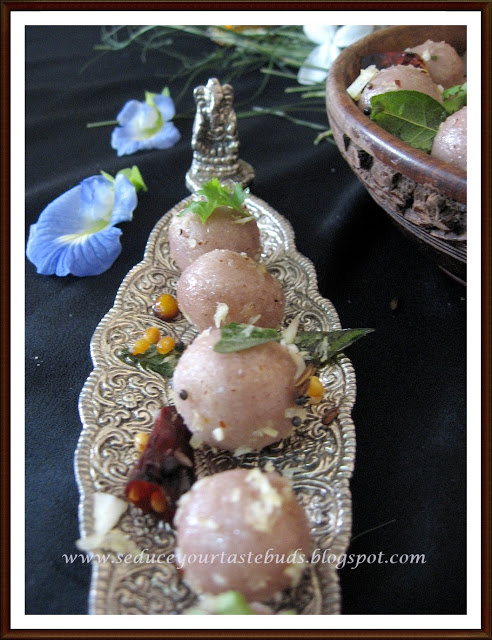 The next recipe with the letter U is this Undrallu Payasam also known as Paal Kozhukkatai.I have posted another version here…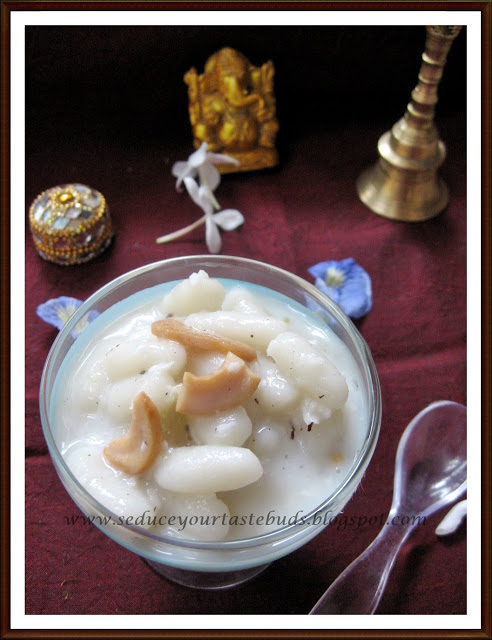 I used:
Processed rice flour – 1 cup
Salt – a large pinch
Milk-2 cups or more depending on the consistency.
Grated coconut-4 tablespoons
Cardamom powder-a pinch
Sugar to taste
Grind to a fine paste:
Poppy seeds- 1 tablespoon
Grated coconut- 2 tablespoons
Cashew- 5 numbers
Cashews roasted in a little ghee to garnish
Mix salt and processed rice flour.
Heat 1 1/2 cups of water in a heavy bottomed pan.
Bring to a boil ,simmer and slowly stir in the processed rice flour.
The dough has to be stirred continuously to avoid lumps.
Keep stirring till the dough comes together as a ball and is glossy.
Test it by taking a bit of dough and shape into a ball.The ball should not break.This is the right stage,the dough it is done.
Remove from heat and let it cool a little.
When it cools enough to be handled,grease your hands and knead well for 5 minutes
Make small elongated rolls of the dough and steam them for 10 minutes.
Remove from the steamer vessel and keep aside.
Heat milk in a pan and simmer.
When it comes to a boil,add sugar, powdered cardamom and the ground paste and stir once in a while.
After 5 minutes add the coconut and rice balls.
Simmer till the milk reduces a little.Don't stir too often as the rice balls may break.
Remove from heat and serve warm or chilled garnished with cashew nuts….
I loved the chilled version!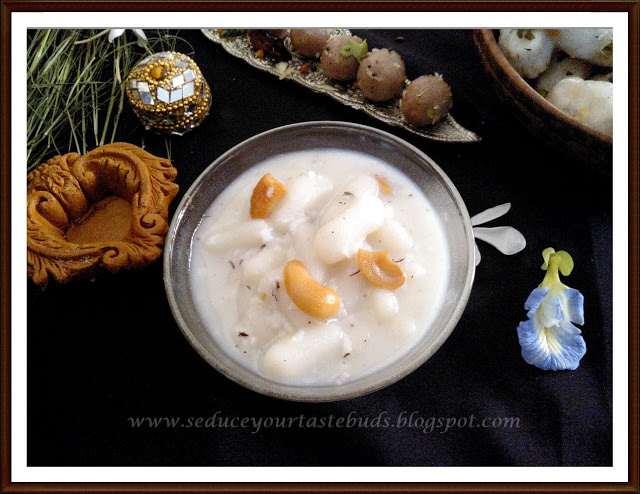 Take a look at the Blogging Marathon page to check out what my friends are cooking in this A- Z series…




F
–
Falooda
– Ice cream Falooda And Kulfi Falooda – Regional / N.Indian
N – Nannari Sherbet – Regional / Tamil Nadu
O – Olo Kobi Bhaja – Regional / Odisa
document.write('