Authentic Chinese cuisine is one of my favorites and you can find many recipes here on my blog. When I lived there, it was so hard to find some of the famous Chinese dishes in the vegetarian version so I started experimenting and replaced the meat with what I thought would be nice and tasty.
Sometimes I would ask my Chinese friend to request the chef to give me a vegetarian version of the dish and at all the times this request has been met with a smile!So I got to taste how it was and what all went into the dish and it was easy to recreate it at home.
Dumpling was one of our favorite there.I used to buy loads of the frozen ones and have them when ever I felt I needed a dumpling fix, and that happened quite often. Lil Angel and me used to always fight over the last piece. We got a whole dozen for a throwaway price ,so I never bothered to make it at home.The vegetarian version that I used to get often had tofu, spinach and mushrooms.
When I wanted to make wantons for W, I wondered how it may be different from the dumplings. After a little research, I learnt that both dumpling and wantons are made of dough, a fact that we all are aware of. The basic difference between the two are that wantons are always filled i.e. have a filling and are a type of dumpling. A dumpling ,on the other hand, may or may not have a filling.
So, the moment I announced that I am going to be making dumplings, Lil Angel was jumping with joy. It has been over two years since we tasted one and she was asking me each and every day when I will be making them.
I did not tell her that I was actually making, what is technically called, wantons as it makes no difference to her and did not want to confuse the lil one with different names.
The day I made this , she had just the wantons and was beaming with joy! All the efforts that went into the dish was well rewarded indeed…


W- Wanton Noodle soup
Theme – International/ Chinese


Unlike the vegetarian dumplings that were available, Wanton noodle soups never came in the vegetarian version and somehow I never asked anywhere to be served the veggie version. Coming to think of it now, I guess I had settled for the other options and did not care about it that much.
On my frequents walks , I have noticed the noodle stands and some of them have this version of wanton and noodle soup. I did not mean to peek into other people's bowl while they were eating. But the small tables and chairs are on the pavement where you walk and its hard not to notice them!
Some people use egg noodles or other noodle varieties and I have used the healthy Moong Noodles.
Moong noodles are made from green bean or whole moong dal. It is transparent and hence it is also known by the names – glass noodles / cellophane noodles.You can get this is various thickness.It is used in soups, main dishes and salads.This is used extensively in Chinese and Thai cuisine.
Since this noodle is quite bland,it takes in the flavors of the other ingredients that go along with it in a dish.Hence it is very versatile to use.
Soak the required quantity of moong noodles in a bowl of hot water. Let it sit covered for at least 15 minutes.This will soften the noodles.Drain the water and add to the pan/ pot along with the other ingredients….
No wonder it is called 'glass noodles'..Can you see how transparent it looks in a bowl of water…



You can use ready made soup mixes but I made this from the scratch….
Water- 500 ml or more as required
Carrot-1, roughly chopped
Maggie seasoning cube -1
Garlic-2 pods, crushed
Cabbage- a few leaves,torn
Spring onion greens and whites , roughly chopped
Soy sauce-1/2 teaspoon
Coriander leaves
All purpose flour – 1 cup
Hot water as required to knead the dough
Salt to taste
Carrot- finely chopped / grated
Cabbage- finely chopped / grated
Spring onion whites and greens, finely chopped
Mashed tofu
[All the above ingredients together amounting to around 1/2 a cup]
Salt to taste
Oil to saute
Though these can be shaped into into types of Wantons, this one is the easiest and is called 'Nurses Cap'
Apply a paste made of all purpose flour and water around the edges.
Place 1/2 teaspoon of the filling inside
Bring the opposite edges together and press well to seal the ends.
Take one corner and bring it to the centre..
Bring in the other corner to over the other fold. press gently or dab a little APF paste so that the two corners stick together…
Prepare wantons in the similar manner with the remaining flour and filling and keep them covered with a damp cloth[not wet]
To cook the wantons
Heat plenty of water in a pan and bring it to boil.
Place a wanton on the ladle and lower it into the water. Don't immerse it into the water and take out the ladle immediately. Let the wanton remain in the ladle for a few minutes and then lower it into the water. The trick is that the wantons won't stick to the bottom of the pan while getting cooked and the contents won't spill out…
Cook all the wantons in the same way.
Keep adding more water if the water level reduces.
The wantons are done when they start floating on water. Remove them slowly with a slotted spoon and drop it into the soup or into the bowl if serving immediately…
For the noodles…
Put the moong noodle block in a bowl of hot water and let it sit covered for 15 minutes or till soft. Since they are very thin, don't let it sit unattended for a long time.Keep checking to see if it is soft enough or else they will turn mushy.Drain and keep aside.
From the apartment where we stayed, I could see the small push cart shops that sold all kind of street fare. I used to stand by the kitchen window that was overlooking the streets and from the 4th floor I could catch a pretty good picture of the shops.
As for the soup noodles stall-They usually had everything ready and when people came to eat, cooked the wantons. The soup was constantly simmering and the noodles were ready. They used to assemble it just as I have written here…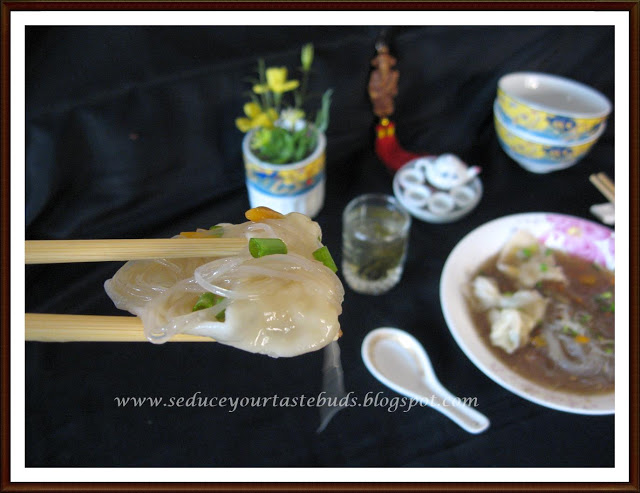 Want a bite….
There may be so many ways to make this but I love this method as it brings back so many fond memories…
Take a look at the Blogging Marathon page to check out what my friends are cooking in this A- Z series…



N – Nannari Sherbet – Regional / Tamil Nadu
O – Olo Kobi Bhaja – Regional / Odisa
document.write('