This is going to be a long post. So before we go to the recipe let me treat you with the pics. This is a Dal Paratha and Sev Raita combo that I cooked a couple of days back.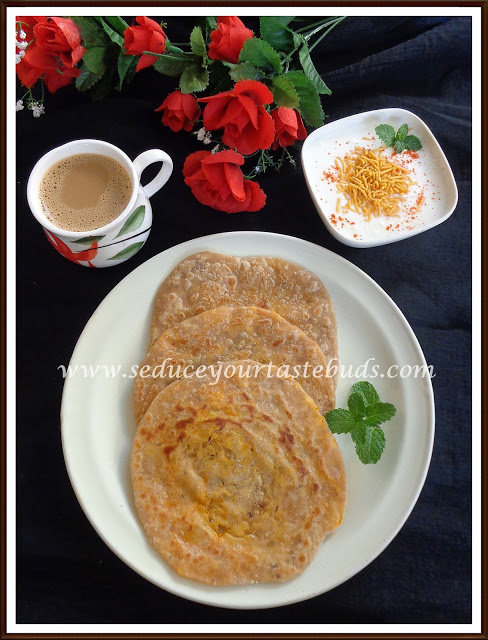 Today is Srivalli's birthday.The lady behind Spice your life and Cooking for all seasons blog and the brain behind the events like Blogging Marathon,Indian Cooking Challenge,Cooking From a Cookbook challenge,Kids delight, etc.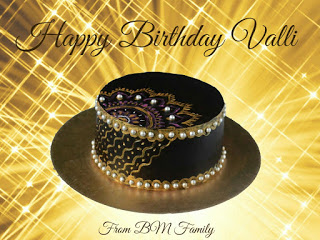 If you are new to this space, then I have to tell you that Srivalli,whom we fondly call Valli, initiated an event called Blogging Marathon.Members sign up and post thematic recipes.I have to tell you that the themes are so challenging yet fun to do and we always are eager to know what the theme would be for the next edition.
We started out doing month long marathons but after a few editions we have come to do 3 days a week marathon for 4 weeks each month and in April and September we do a month long marathon.All these are theme based and it is great fun and inspiration to cook and write for each theme.
Our group met for the 25th and 50th edition and we had a blast!!This month we just completed our 61st edition.
All through this journey, which I am proud to say that I have been on this team right from the 1st edition, Srivalli has been a great source of inspiration and an awesome friend.
Through the years, within this group, we have waded through personal tragedies, celebrated baby showers, birthdays, anniversaries and what not!!We chat on Whatsapp and keep in touch through calls and mails too.Everything from jokes to suggestions on menu planning for parties are discussed!
Age, language, social status has never come between us and we proudly call ourselves – BM family!
Vaishali, one of our dear friend in our group suggested we give Srivalli a huge surprise on her birthday and we went behind her[Srivalli's] back planning things for the day. We decided to cook a dish from her blog and post it on the big day.
A couple of years back I made this Pappad stuffed parathas on her birthday as a virtual treat, when I came to know that she usually ,makes stuffed parathas on her birthday.So this time too, I chose a stuffed paratha from her blog!
This parathas was planned to be packed into the kids lunch box, but somehow plans changed[don't they always!] and I made it for dinner instead.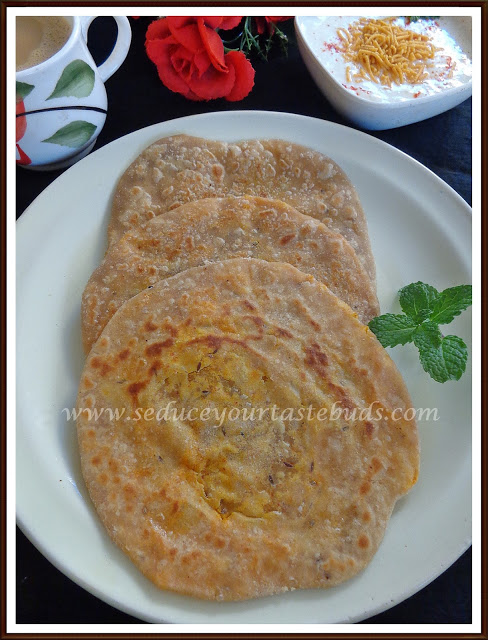 I used:
Adapted from – Cooking 4 all seasons
Wheat flour – 2 cups
Salt to taste
Water to knead the dough
For the filling:
Moong dal- 1/2 cup , pressure cooked till soft with just enough water.
Cumin seeds- 1 teaspoon
Turmeric powder- a pinch
Asafoetida powder- a large pinch
Chili powder- 3/4 teaspoon
Salt to taste
Oil- 1 teaspoon
First let us prepare the filling…
Heat oil in a pan and add the cumin seeds. When it splutters, add the dal , red chili powder, salt, turmeric powder and asafoetida.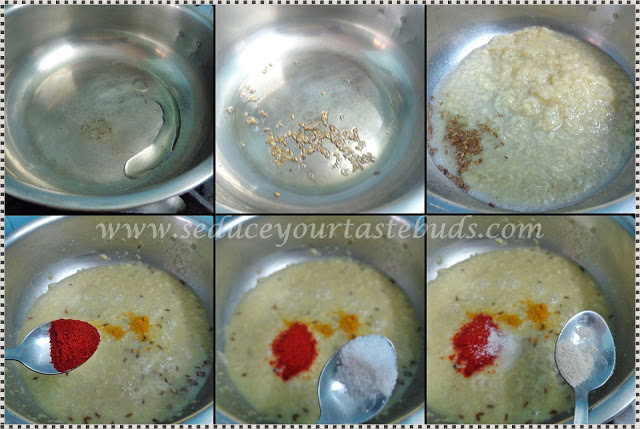 Mix well and keep cooking till the mixture thickens and becomes dry.Remove into a bowl and keep aside to cool.

Mean while, take the wheat flour and salt in a bowl. Add water little by little and knead to a smooth dough and keep aside.

Once the filling has cooled completely, we can start making the parathas.
Take a small portion of the dough and flatten it a bit. Place a tablespoon of the filling and close it up by bringing the edges together.
Roll it out gently into parathas. Dust a little flour if needed. Cook on a heated griddle on both sides till brown spots appear.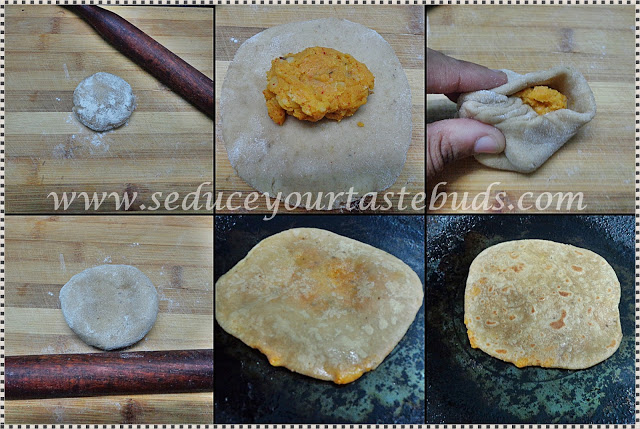 Serve hot with a side dish of your choice. We had it with Sev raita…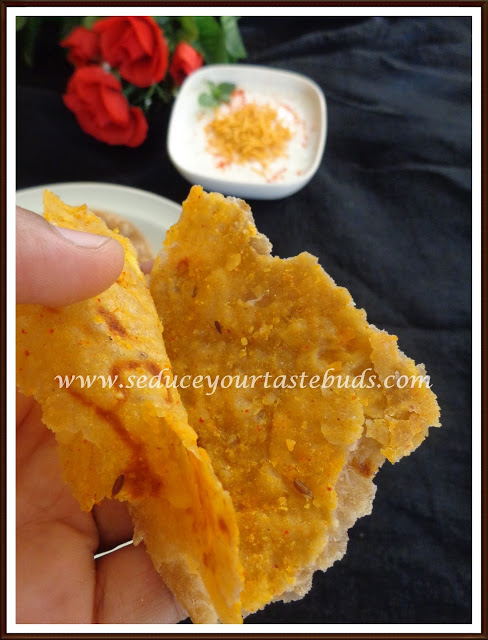 Bon Appetit….