Nanari Popsicle Recipe
The kids and me have been turning all possible juices into Popsicle this summer. It is a treat for them to make their own Popsicle and eat it too!This was one of the ways to keep the kids engaged at home during summer.
Last year, I posted the Nannari Sherbet recipe and used the same to make this Popsicle too.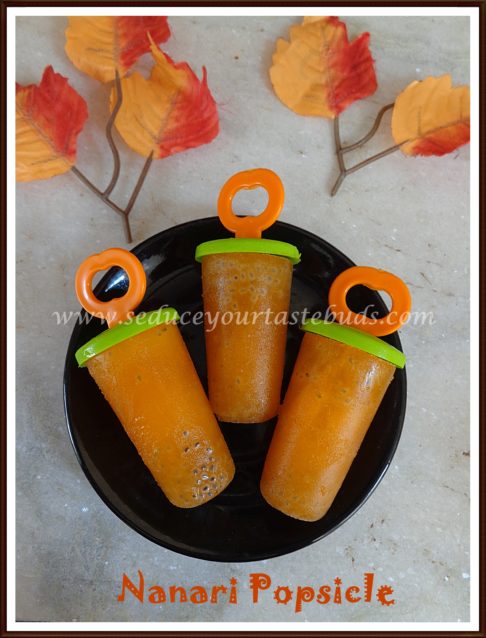 The ingredients that go into this sherbet / Popsicle are so beneficial to health, especially in summer. They contain ingredients that are body coolants and maintain the body temperature.
The main ingredient – Nanari is a root from which the concentrate is made. It is widely used in Ayurvedic medicine.
Nannari is known by the Scientific name – Hemidesmus Indicus.The other names include – Anantamuulah / Balyam / Dughgarbhaa[Sanskrit] / Anantamul [Hindi] / Narunrrndi  / Nannari [Malayalam]/ Sugandhi[Telugu],Anamtamula [Kannada] / Suguddimalo[Odiya]
Generally while we make the Nannari sherbet, the concentrated juice is mixed with water and served with a few ice cubes. But I have made this with Almond gum/ badam pisin and Basil seeds/ Sabja seeds.
You can read more about the health benefits of these ingredients in the Nannari Sherbet recipe post.
How to make Nanari Popsicle recipe
I used:
Nanari concentrate [It has sugar, so no need to add extra]
Chilled water
Soaked almond gum
Soaked basil seeds
Lemon juice
In a bowl, add syrup and make it up with chilled water as mentioned on the bottle.
Add soaked almond gum and soaked basil seeds.
Mix in a little lemon juice as per taste
Fill into Popsicle moulds and freeze.
/when ready to serve, show the mould under running water to loosen it up.
Enjoy the delicious Popsicle!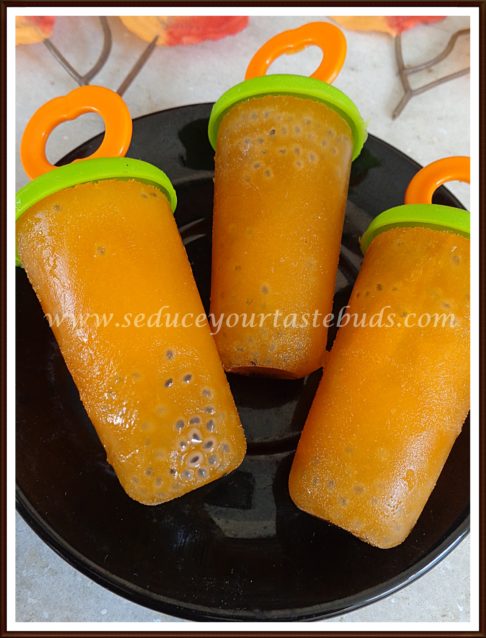 Note:
There are several varieties of nanaari concentrate in teh market.Some come with a premix of sugar and other spices / herbs like cinnamon, cloves, mint, lemon juice etc. Mine was plain but premixed with sugar.
The color of the Popsicle will depend on the color of the nanari concentrate.
Adding almond gum and sabja seeds is optional.
This is for Srivalli's Kid's Delight event, themed on themed on Frozen Food.
This Popsicle also the post for Blogging Marathon #77, Week 3, Day 2 , themed Frozen foods.
Like I mentioned yesterday, I still have a few more Popsicle recipes to share. So do come back tomorrow to find out what I will be posting in this series.
This Day That Year
2012 – Punjabi Rajma Masala
2013 – Chocolate Cracker Bite
2014 – Black Urad Dal Dosa
2015 – Eggfree Lemon Bundt Cake and Watermelon Popsicle
2016 – Quick Paneer Pulao and Pineapple Raita