The Eggless basic cookie dough that I discovered some years back is like have a genie in the pocket! I have made so many varieties of cookies using this basic dough and here is yet another one – Eggless Black Raisin Cookies Recipe.
I had a huge pack of Dark raisins and thought of using it in something so that it can feature as a post on the blog. When I was looking for cookie ideas I saw a similar one on Tarla Dalal's site and decided to make mine with the cookie dough batch I made for this event – Bakeathon.
I usually make a batch and divide it into 5 portions and cling wrap each portion and freeze. When I need to bake, I thaw it on the kitchen counter and use flavors / add ons as needed and the cookie is done in a matter of minutes!!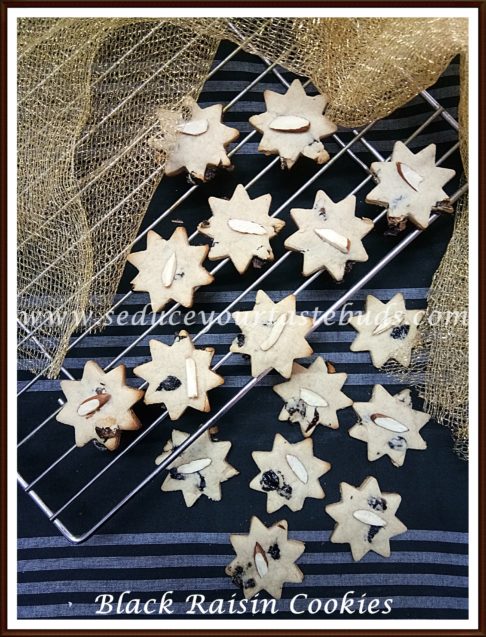 Here is how to prepare Black Raisin Cookies Recipe
I used:
Eggless basic cookie dough – 180 grams
Dark / Black raisin, finely chopped- 3 tablespoons
Slivered almonds as needed
Take the cookie dough and the chopped raisin in a bowl and mix to combine. If you have difficulty bringing it together, add a few drops of milk.
Divide the dough into 2 balls and roll out each into a 1/2cm thickness sheet.
Use cookie cutters to punch out different shapes.
Place them on a tray lined with parchment paper.
Place an almond sliver on each cookie.
Bake at 180 degree C in a pre heated oven for 8-10 minutes or till the bottom and the edges is light brown
Transfer onto a cooling rack.Store in an air tight container once cooled.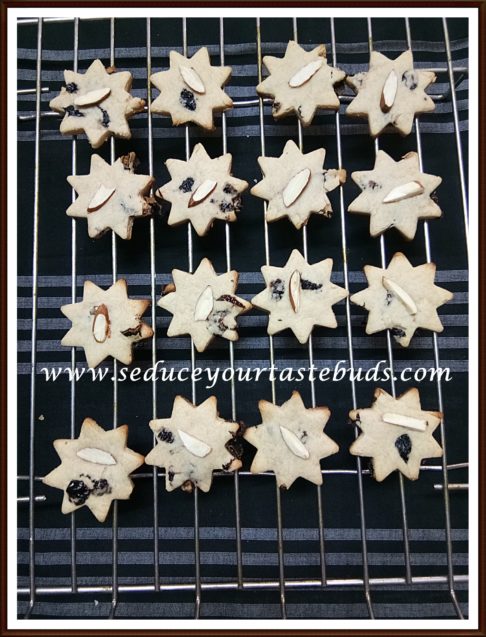 Note
The cookies will be soft as soon as they are baked. It will turn crunchy once it cools down.
The yield will depend on the size of cookie cutter used.
The baking time will vary depending in the size and thickness of the cookie.
Using Almonds is optional but it adds a nice crunch to the cookies.
Check out the other bloggers doing this Bake-a-thon
Loading InLinkz ...