Recipes Posted today-
Dal Pakwan
Punjabi Rajma Chawal
Petho
It was one of those days when I found a small pack of Rajma safely hidden behind some grocery jars.I soaked it without even thinking of what I will be preparing.Then suddenly I remembered this recipe from DK's Chef In You and tried it out for lunch.It was yum!!!
This hearty Punjabi meal has the goodness of both legumes and rice.A dish that can be prepared as a lazy Sunday brunch or pair it with Roti/Chapathi..Either way it tastes good.I made it in one go in a pressure cooker and used tamarind paste instead of amchur.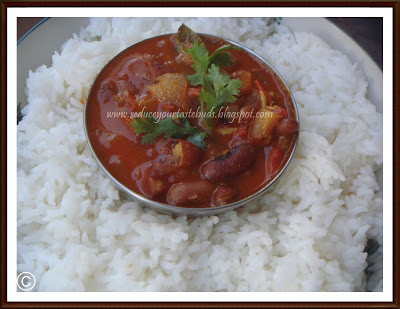 I used:
Rajma / Kidney beans- 1 cup,soaked overnight
Onion-1,chopped
Tomato-2 large, chopped
Fennel seeds-1 teaspoon
Ginger-1″ piece,chopped
Turmeric powder-a pinch
Cumin Coriander powder-1 teaspoon
Tamarind paste-1 teaspoon
Salt to otaste
Oil-2 teaspoons
For the spice bag
Cloves-4
Cardamom-2
Cinnamon-2″ stick
Bay leaf-1
Peppercorn-5
In a pressure pan,heat oil and put in fennel seeds,ginger,onion and saute till the onion is transparent.
Put in the tomatoes and cook till soft and mushy.Add a little water if required.
Put in turmeric powder,salt,cumin coriander powder and mix well.
Add enough water to cook Rajma[i used 3 cups],soaked rajma,spice bag,tamarind paste and bring to boil.
Cover and cook for 15 minutes or till rajma is soft.
When the pressure releases,take out the spice bag and check the consistency.Add more water if required.If its watery mash a handful of cooked beans and bring to a boil and simmer till you get the desired consistency.
Serve with Piping hot steamed rice…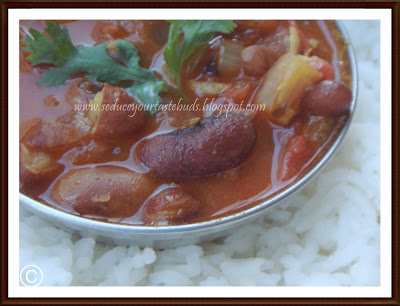 Sending this to Sandhya who is hosting BSI-Kidney Beans
Bon Appetit…