A couple of days ago,I was browsing through my blog archives and I was surprised to to find that I had missed writing about 'Ven pongal'! 'Ven Pongal' or simply 'Pongal' is one of the famous breakfast dishes in South India.It forms trio with Idli and vadai. Typically,these three[Idli ,vadai and pongal] are present in the breakfast menu served at wedding in Tamil nadu,South India and is common to see them together in the restaurant menus as well. But now times are changing and so are the breakfast menus at the weddings..
Coming to the recipe,it is a perfect mix of rice and pulses and I would call it fast food as its really quick to prepare but nevertheless tasty.
You need:
Rice-3/4 cup
Moong dhal-1/4 cup
Turmeric powder- a pinch
Cumin seeds/Jeera-1 teaspoon
Black peppercorns-1 teaspoon,lightly crushed
Ginger-1 teaspoon,minced
Curry leaves – a few
Roasted cashew – a few
Salt to taste
Oil- 2 teaspoons[If you are not a vegan or don't mind the extra calories,use Ghee-It gives the dish a delicious flavor]
All you need to do is…
1. Heat a pan and roast the moong dhal till you get a good aroma and lightly brown.[You can also skip this step but dry roasting moong dhal imparts a lovely flavor to the dish]
2. Wash rice and put in the moong dhal along with turmeric ,salt and water[2 cups] in a vessel that fits into the pressure cooker and pressure cook for 15 minutes. The quantity of water depends on what kind of texture you like the pongal to be.If you want a grainy pongal add the same amount of water you would add when u cook rice,if you want it a little mushy,add more water.
3. Once the pressure is released,remove the vessel from the cooker and mash the contents lightly.
4. Heat oil in a small pan and put in jeera and peppercorn. [Take care the peppercorns might just pop right on you].
5. Put in minced ginger,curry leaves and wait for the curry leaves to crisp.
6. Pour over the pongal and mix well.
7. Serve warm garnished with roasted cashews.
Traditionally it is served with sambar and coconut chutney, but I served it with sambar and a 'black beauty'!Keep guessing till I write about it tomorrow!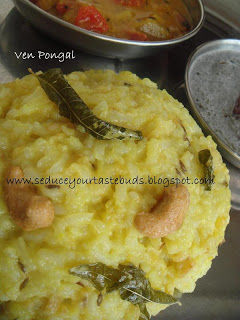 Sending this traditional South Indian dish to Graziana,who is hosting this months edition of -Its a vegan word,an event started by Vyshali of Holy cow