When I started this blog, I wanted to write down the recipes that triggered a lot of childhood memories. I love to walk through the memory lane and that's exactly the theme that was chosen for Recipe Redux this month!
First Cooking Recollections
Stir up some of your earliest culinary recollections. Did you
stand at your grandmother's elbow to learn to cook? Or did you learn by
stumbling through a cookbook by yourself? Share a healthy recipe and the
accompanying story about one of your first cooking memories.
I used to stay with my grandparents during the summer and winter holidays and they would make it their life's mission to add on a few kilo on me. I was a bit on the thinner side and with the hectic school work, I looked thinner than ever even though mom was constantly feeding me with all that is best and nutritious. I was not a fussy eater but I guess I just inherited the 'thin' gene!
But grandparents, being grandparents, are bound to feel that I should look atleast a little more plump!So grandma used to cook up all sort of delicacies and keep feeding me all through the holidays. Back in those days , I used to feel burdened with so much of food, yet I ate them all. Did that add a few kilos you might ask. Well, truth be told, it just added a wee bit and not more which was promptly lost as soon as I went back to school!
So, when I with my grandparents, I used to stand beside my grandma and watch her cook and run small errands around the kitchen. IT was nice watching her cook and talk about her childhood!
One memory that is so fresh is that of grandma and I pressing out fresh rice noodles out of the Sevai maker / rice noodle machine. She used to make a huge batch and divide them into small portions and flavor each one differently so that I would not get bored eating just one. There used to be sesame flavored one, lemon flavored, coconut flavored one,Karnataka style seasoned one etc.
When I saw the theme for this month's Recipe Redux, I wanted to make something with Rice Noodles and here is one with vegetables and my Lil Angel's favorite.
This dish is very easy to digest and if you have the ice noodles ready, you can just season it and the dish is ready in minutes. These days you get ready to eat unseasoned rice noodles in the stores here and it makes the work all the more easy though I prefer the home made version.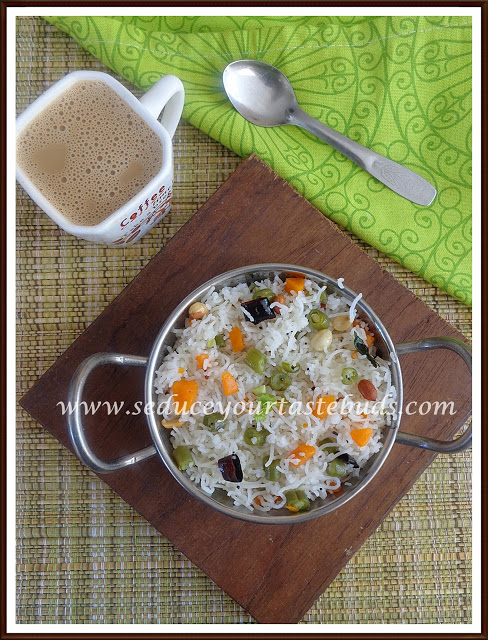 I used:
Sevai / Rice Noodles – 200 grams
Chopped mixeed vegetables- 1/2 cup
Mustard seeds- 1/2 teaspoon
Channa dal-1/2 teaspoon
Urad dal- 1/2 teaspoon
Roasted peanuts- a handful
Red chili-, broken
Curry leaves- a few
Oil- 1 teaspoon
Salt to taste
Coriander leaves to garnish
Pressure cook / microwave / steam the vegetables. Drain off the excess water[and use in soup/ add a pinch of salt and drink it up]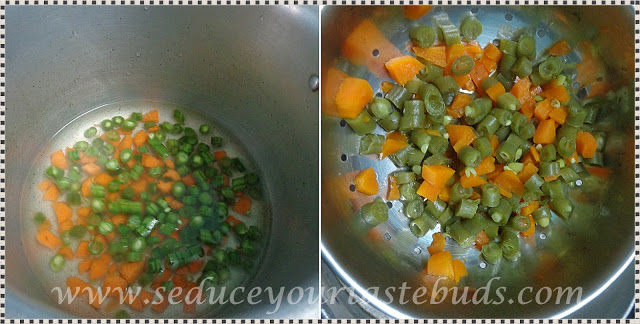 Heat oil in a pan and add mustard, channa dal ,urad dal, curry leaves and red chili. As soon as the mustard pops, add teh groundnut and cook for a few seconds.

Add the vegetables, rice noodles,salt and give it a minute on the pan. Remove from heat and serve.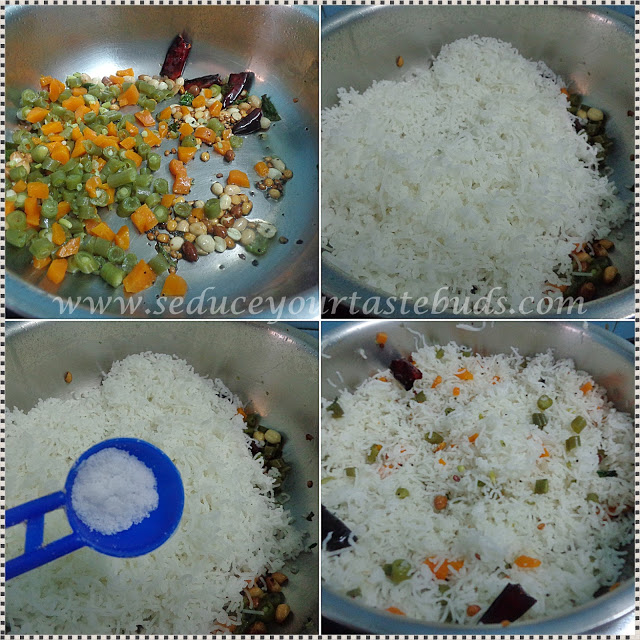 Serve as a tea time snack or as breakfast…